In our Guide to Puerto Vallarta we will share with you lots of inside information on the best places to see and things to do in this booming gem of a place. We have compiled tips on everything from accommodation to restaurants, activities, when the best time to go is, what the beaches are like, as well as nightlife. Having always been a very popular tourist destination, today with a very cosmopolitan crowd, it has a very special and ultra-genuine energy. So let's delve into this stunning resort town!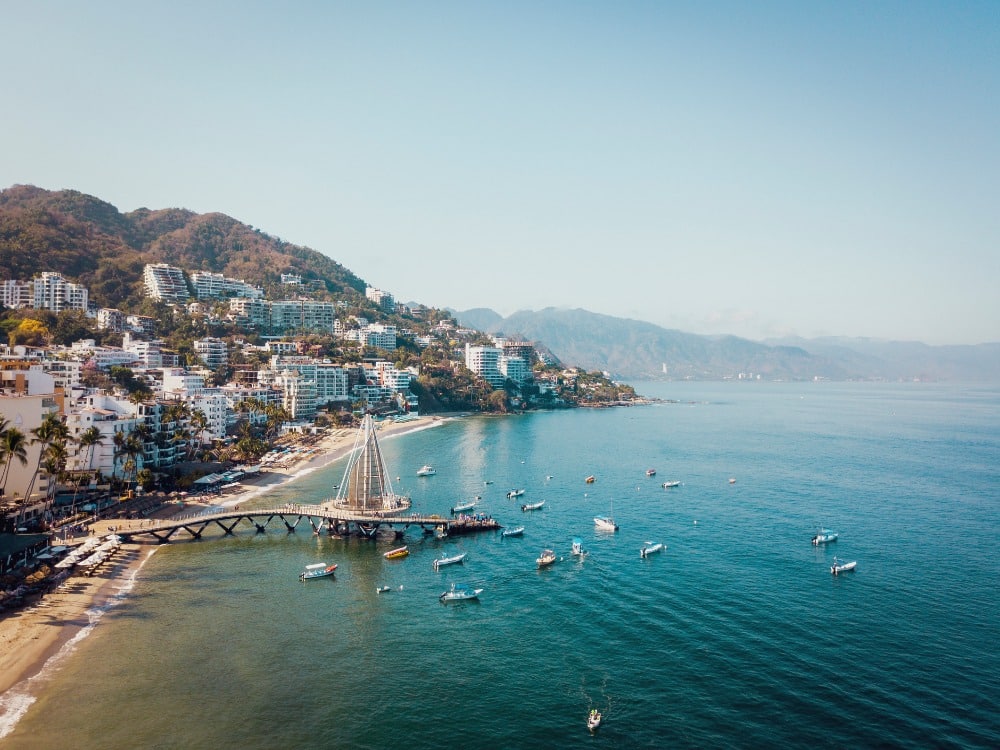 Where is Puerto Vallarta?
Puerto Vallarta is a beach resort town on Mexico's Pacific coast, in the state of Jalisco. It stretches along the sparkling blue ocean, and is backed by lush palm-covered mountains. It's small, and so you can walk everywhere!
Why Visit Puerto Vallarta?
Puerto Vallarta is one of the most popular holiday destinations in the world. The weather is always beautiful, it has an abundance of marine life, spectacular beaches, water sports, top notch resorts and restaurants.. the list goes on. It is a great place to visit with a young family, as an adventure trip with friends, or as a romantic location with your partner.
When is a good time to go to Puerto Vallarta?
A good time to visit is between April and June when the weather is lovely and hotels are affordable. At this time the chance of rain is slim, and there are fewer tourists than during the winter months. After that the rainy season begins, and it can get extremely hot. However, if it's whale watching you're after, it's best to go between December and March!
Where to Stay in Puerto Vallarta?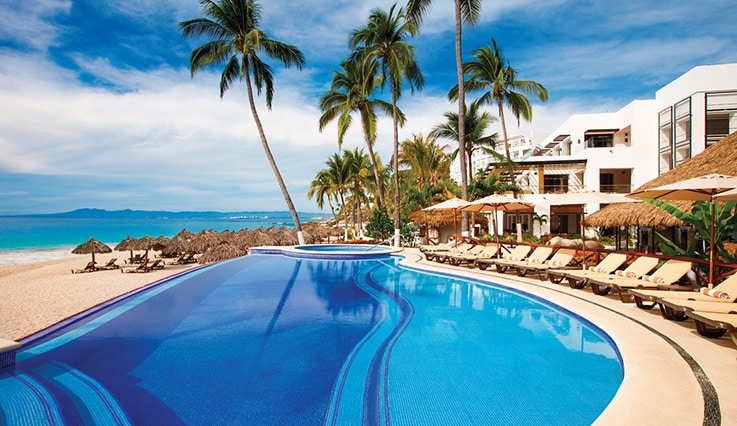 For ideas on family friendly resorts, romantic locations or budget friendly hotels, check out our recommended choices in our blog on Where to Stay in Puerto Vallarta. There is something for everyone.
Things to do in Puerto Vallarta
There is so much to see and do, from swimming with dolphins in the wild, to walks, art, food, drink, water sports, beaches and wildlife. For lots of tips and inspiration, take a look at our blog on Top Things To Do In Puerto Vallarta.
Puerto Vallarta Restaurants
There are many incredible Puerto Vallarta restaurants just waiting for you to explore. Take a look at our breakdown of choices for all budgets in our blog Where to Eat in Puerto Vallarta.
What Are The Beaches Like In Puerto Vallarta?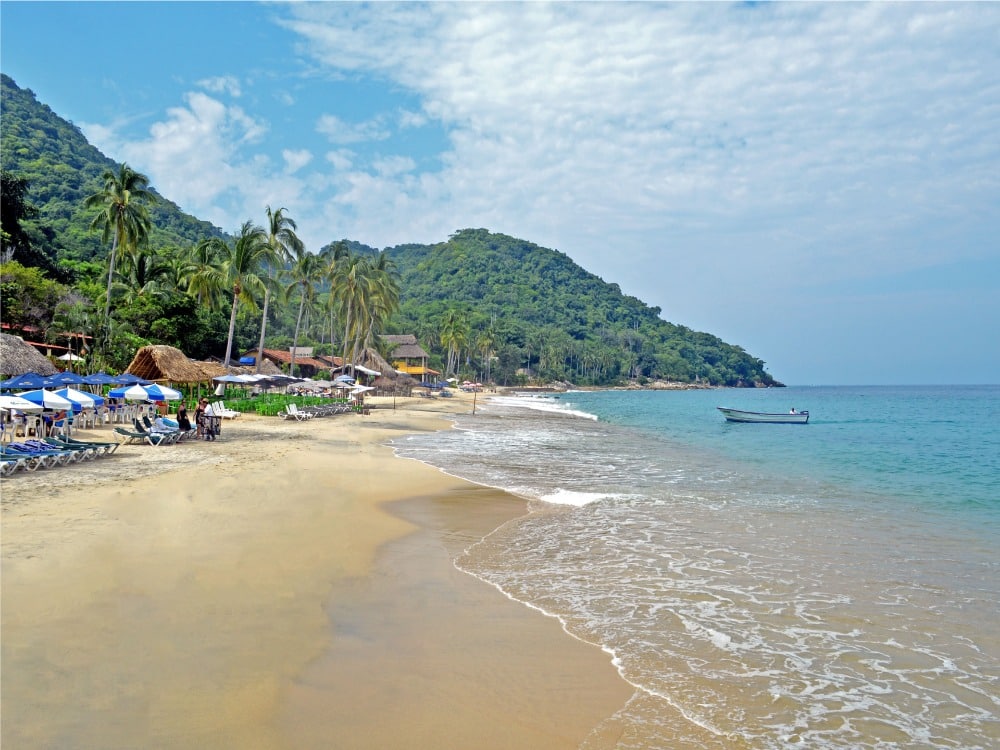 If you take a bus to Boca de Tomatlan and then walk to the small dock, you will be able to hop on the fishing boats ready to take you onto one of the spectacular beaches along the coast. These beaches are reachable only by boat, and we think the best one is Quimixto Beach. Others worth mentioning are Majahuitas (for snorkeling, kayaking or paddle boarding) , the small secluded beaches of Yelapa, the "Playita del Amor" (Little Beach of Love) at Tehuamixtle, Colomitos Beach, "Playa Escondida" (Hidden Beach) and "Playa del Amor" (Beach of Love) on the Marietas Islands.
What's The Nightlife Like In Puerto Vallarta?
Other than doing relaxing things after dark in Puerto Vallarta, such as walking everywhere, watching the sunset, eating at one of the many restaurants, there is also a bustling nightlife. There are plenty of hidden cocktail bars, beach bars, LGBT-friendly bars, local craft breweries as well as the big pulsating nightclubs. It's no wonder the Spring Breakers like it so much!
Here are a few of the best places Puerto Vallarta have to offer. El Solar (for fun on Los Muertos Beach), El Colibri (for cocktails), Los Muertos (for pizza, beer and sports), Mr. Flamingo & La Noche (best gay bars), Incanto (open mic, salsa, piano), and the Malecon Clubs on the seafront (Mandala, La Vaquita, Zoo). What's the nightlife like in Puerto Vallarta? Pretty amazing!
See a show
Another one of the best things to do in Puerto Vallara is to see Rhythms Of The Night. You hop aboard a private luxury yacht across the bay to a candle and torchlit private beach hideaway. There you get treated to a spectacular theatre show of dance and music before dining under the stars by the sea. It has been rated Puerto Vallarta's no.1 dinner and show by the New York Times and many travel publications. It's a very popular tour and will often be sold out, so do book several days in advance.
We hope you've enjoyed this Guide To Puerto Vallarta, and would love to hear your recommendations and thoughts on any of the above in the comments section below. We'd also love to see your travel pics! Don't forget to tag us with #granluchito.
For similar blogs please see: Where To Stay In Puerto Vallarta, Where To Eat In Puerto Vallarta, Top Things To Do In Puerto Vallarta, Things To Do In Cabo San Lucas, Places To Stay In Cabo San Lucas, Where To Eat In Cabo San Lucas, Guide To Baja California, Things To Do In Baja California, Guide To Pacific Coast Mexico, Guide To Caribbean Coast Mexico, Things To Do in Oaxaca, Things to do in the Yucatán, Guide to Riviera Maya Mexico, Things to do in the Riviera Maya, Guide to Cancun, Things to do in Cancun, Where to Stay in Cancun, Cancun Restaurants, Guide to Tulum, Where to Stay in Tulum, Tulum Restaurants, Where to Stay Playa Del Carmen