In our Guide to Puerto Vallarta we will share with you lots of inside information on the best places to see and things to do in this booming gem of a place. We have compiled tips on everything from accommodation to restaurants, activities, when the best time to go is, what the beaches are like, as well as nightlife. Having always been a very popular tourist destination, today with a very cosmopolitan crowd, it has a very special and ultra-genuine energy. So let's delve into this stunning resort town!
Where Is Puerto Vallarta
Puerto Vallarta is a beach resort town on Mexico's Pacific coast, in the state of Jalisco. It stretches along the sparkling blue ocean, and is backed by lush palm-covered mountains. It's small, and so you can walk everywhere!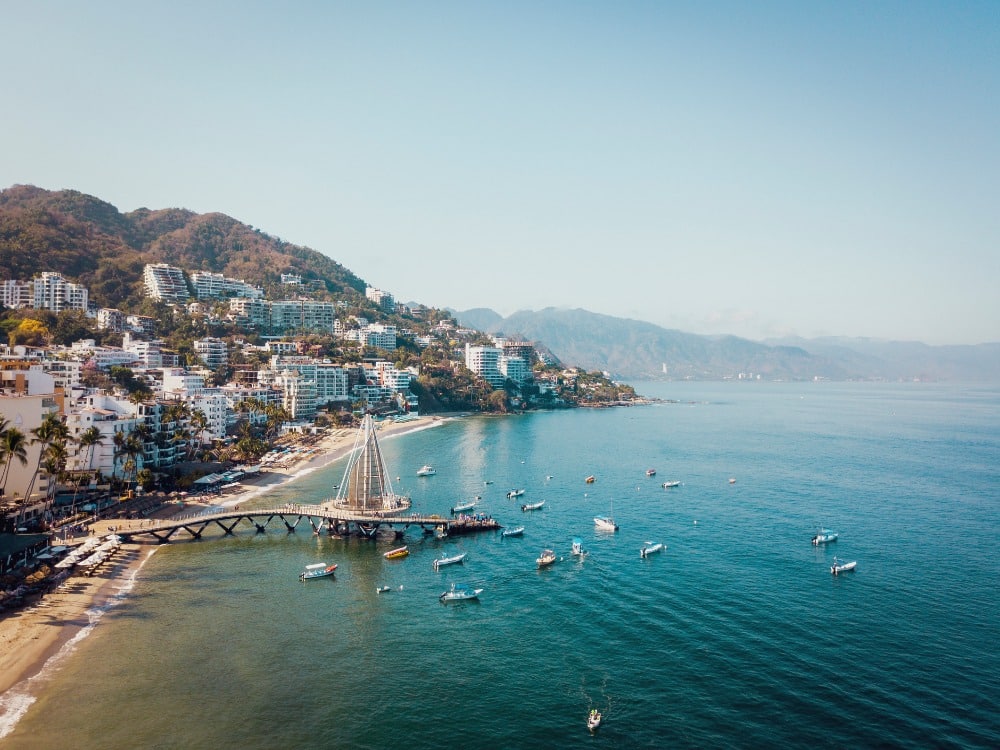 ---
Why Visit Puerto Vallarta?
Just a few decades ago Puerto Vallarta was a tiny fishing village that nobody knew about.
Today, Puerto Vallarta is one of the most popular holiday destinations in the world. The weather is always beautiful, it has an abundance of marine life, spectacular beaches, water sports, top notch resorts and restaurants.. the list goes on. It is a great place to visit with a young family, as an adventure trip with friends, or as a romantic location with your partner.
When is a good time to go to Puerto Vallarta?
A good time to visit is between April and June when the weather is lovely and hotels are affordable. At this time the chance of rain is slim, and there are fewer tourists than during the winter months. After that the rainy season begins, and it can get extremely hot. However, if it's whale watching you're after, it's best to go between December and March!
Interesting Facts About Puerto Vallarta

Puerto Vallarta came to notoriety from the scandalous love affair between Richard Burton and Elizabeth Taylor. They spent a couple of months in town shooting the famous movie the Night of the Iguana. The actors eventually each bought a house there in what is now the historical centre of the city. Their respective homes have now become hotels you can visit. Casa Kimberley is now a spectacular boutique hotel with the Elizabeth Taylor suite featuring a heart-shaped marble bathtub commissioned by Taylor herself!
Another fact that has made Mexico Puerto Vallarta very popular is its fame as the first official gay-friendly destination for American tourists. Even now, every year in May, gay pride is one of the most celebrated events with colourful parades and parties all over the city.
Where to Eat in Puerto Vallarta
Renowned for its spectacular Mexican beaches and outdoor activities, Puerto Vallarta has a very special vibe, and it's certainly not short of options when it comes to food either! Where to Eat in Puerto Vallarta? The culinary scene is one of the most exciting and diverse in Mexico.
---
La Leche
First up on the list of where to eat in Puerto Vallarta is La Leche. This is one of the most exclusive dining venues in Puerto Vallarta. It serves the finest Mexican cuisine in a sophisticated and elegant environment. You'll find here exquisite food, a wide selection of wine and world-class service. Be sure to check out the lamb barbacoa.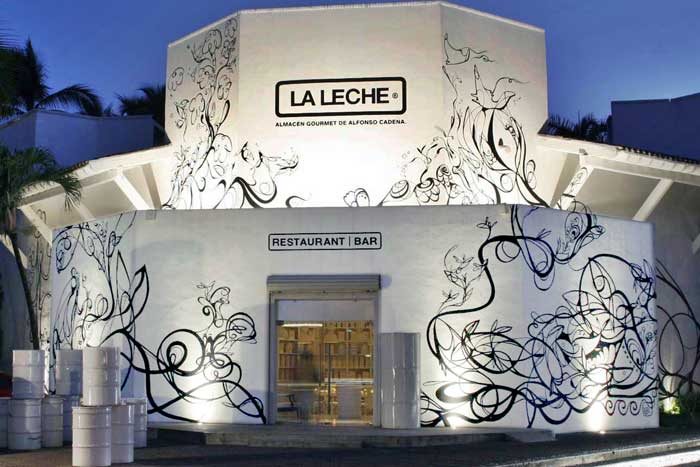 ---
River Cafe
Located right on the Cuele River, the River Cafe is iconic in Puerto Vallarta. It's known both for its delicious breakfasts and for local and international cuisine. For breakfast be sure to try their breakfast tacos. If you like a bit of great music during dinner and a bit of an alternative night out, come here.
---
Panchos Takos
This is one of the most popular taco places in Puerto Vallarta, and is always full. Pancho's Takos is open from 6pm until 2am and there's always a queue of customers waiting to be seated. Therefore it must be really good! We loved their pork belly tacos.
---
Street Food
Among the inexpensive restaurants in Puerto Vallarta street food wins over everything else, both in quality and money. For instance, just for a few dollars you can find the best tacos you've ever had in your life. Street food is so good that they have even created a food tour there. The most popular stands are in the Avenidas Basilio Badillo and Lázaro Cárdenas, with Aguacate and Insurgentes.
---
Where to Stay in Puerto Vallarta?
Puerto Vallarta is one of the oldest and most interesting beach resorts in Mexico. Firstly, it is renowned amongst the LGBT community as being the first gay-friendly destination for Americans. The historical centre and Zona Rosa (Old Vallarta) are overloaded with charm. They have little pebble-stone lanes, quaint little restaurants, and art cute shops. The delicious street food and the beautiful beaches are also part of it's appeal.
Tourists come from all over the world to spend at least a week, most of the time two, enjoying the local vibes and wealth of activities that this region has to offer. When it comes to deciding where to stay, Puerto Vallarta is not short of options either. There are plenty of amazing places for any preference or budget. Cheap hostels, bed and breakfasts, condos, as well as luxury all-inclusive resorts and boutique hotels.
Casa Kimberly
The iconic Casa Kimberly is a luxury modern hotel located in the heart of the historical centre of Puerto Vallarta. It's most commonly known for being the love nest of Richard Burton and Elizabeth Taylor in the 60s, before being bought and turned into an elegant hotel and classy restaurant, The Iguana.
The spacious suites are exquisite, and make you feel like you are in someone's home. They are attentively decorated in the most opulent way, with marbles, Swarovski crystals, and beautiful antiques from the owner's own collection.
The views are stunning throughout the property, but if you are willing to splurge, go for the Elizabeth Taylor suite! It has a wrap-around terrace, its own pool and jacuzzi, and is completely secluded. If this isn't enough, it has breathtaking views of Banderas Bay and the Sierra Madre mountains.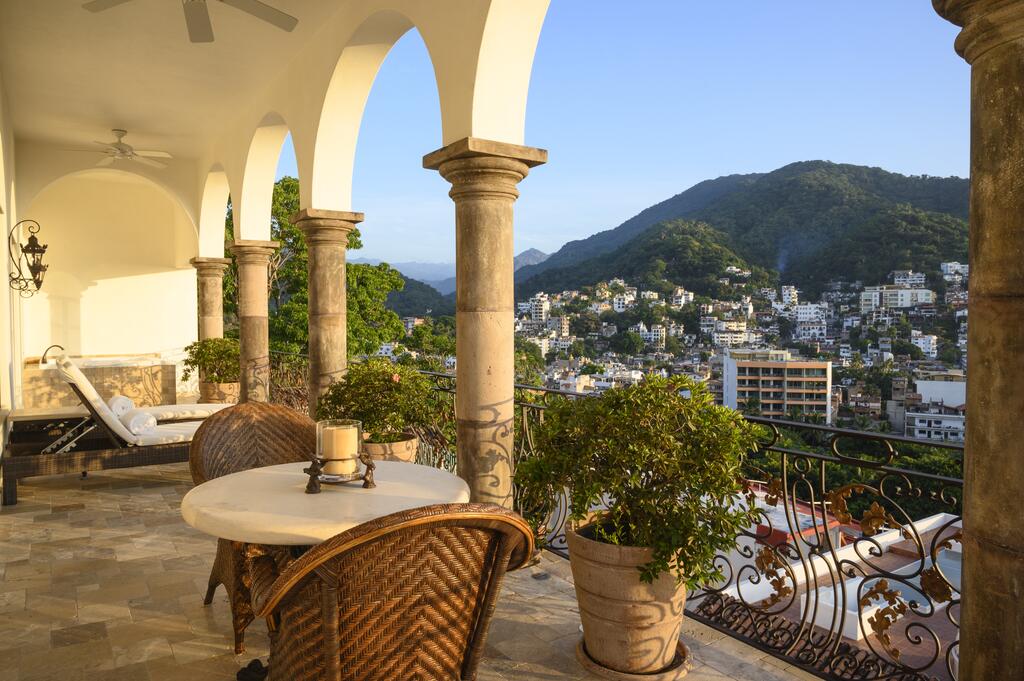 Hyatt Ziva
This beautiful family hotel is located a few miles south from the centre of Puerto Vallarta, on a spectacular stretch of beach. In fact, all of the rooms on the upper floors offer a breathtaking sea view of the ocean. Some of the ground floor suites enjoy a swim-up pool, something to keep in mind when you book. Guests only have good things to say about this hotel, especially on the exceptional service and world-class food. Make sure you checkout their Heuvos Divorciados.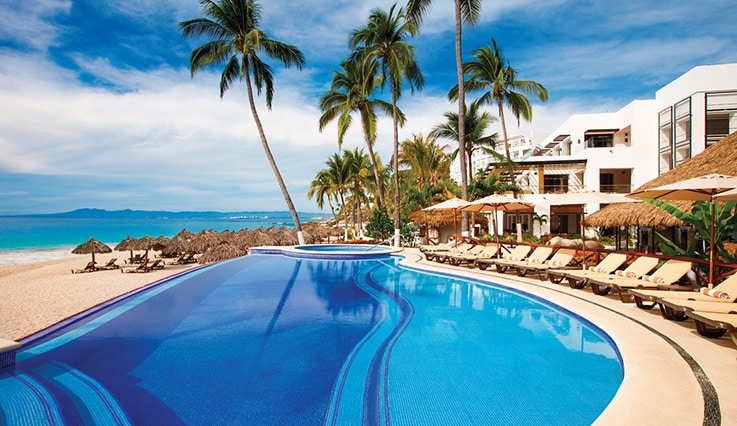 ---
Hotel Luna Liquida
This little gem is located right in the heart of the historical centre on the hill, where you can admire spectacular views of Banderas Bay. The beautiful rooms at Hotel Luna Liquida are finely decorated in true Mexican style, each one with a different theme and colour. They also come with a kitchenette, which is very convenient. Further, a small pool with lounge chairs on the terrace is the perfect spot to relax whilst watching the spectacular sunsets
Things to do in Puerto Vallarta
Walk Along The Malećon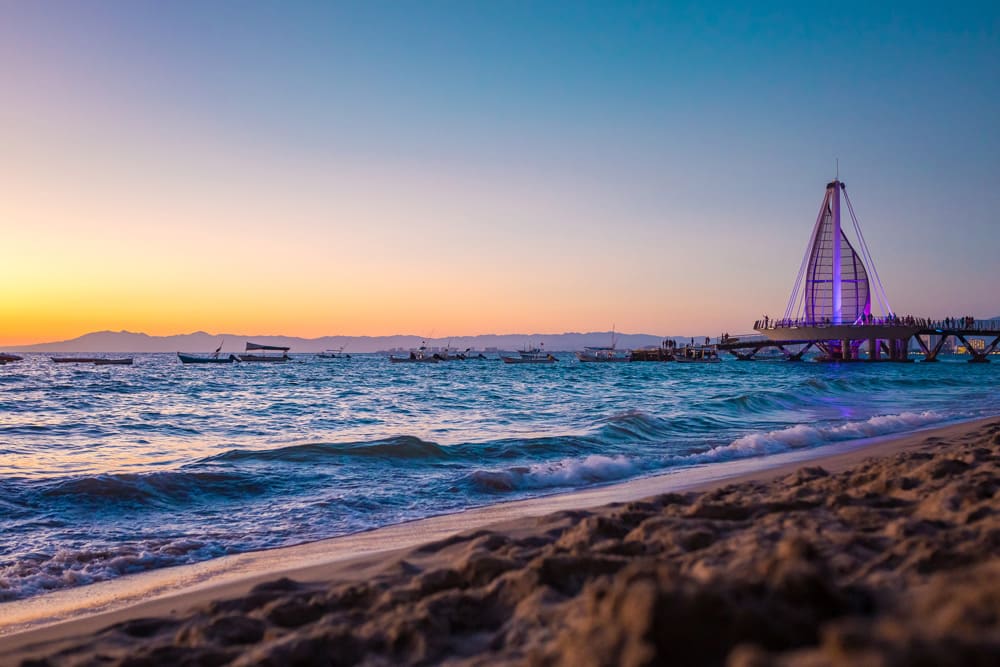 A walk on the Malećon (beach promenade) cannot be missed. We recommend either at night while watching the sunset or early in the morning when the sun is not so hot and the locals are out to walk their dog. There are spectacular views, and it's free!
Meet The Dolphins

Among the plenty of activities and things to do in Mexico Puerto Vallarta, swimming with the dolphins is certainly one of the most exciting. You can go to parks to do this but they are actually free in their natural environment in the open sea too. You will have the chance to swim with them because the boat captain (who will be a marine biologist) knows where to find them. Small boats are used because its the best way to get close to them.
Admire The Local Art
Puerto Vallarta is brimming with art. It's everywhere and you can't it. From sand sculptures on the beach to the spectacular paintings in the local market, the art shops and the installations along the Malećon, you are surrounded. It's another one of the top things to do in Puerto Vallarta. But if you would like to understand and know more about it, ask for the free walking tour organised by the Galeria Pacifico.
Enjoy The Street Food

Puerto Vallarta is very popular for its delicious street food. What could be better than freshly caught and grilled fish tucked into tortillas? It doesn't get better than Soft Taco Wraps! The tourist office in Puerto Vallarta even organises free street food walking tours to discover the best stalls in town. You should join one!
Join The Free Walking Tours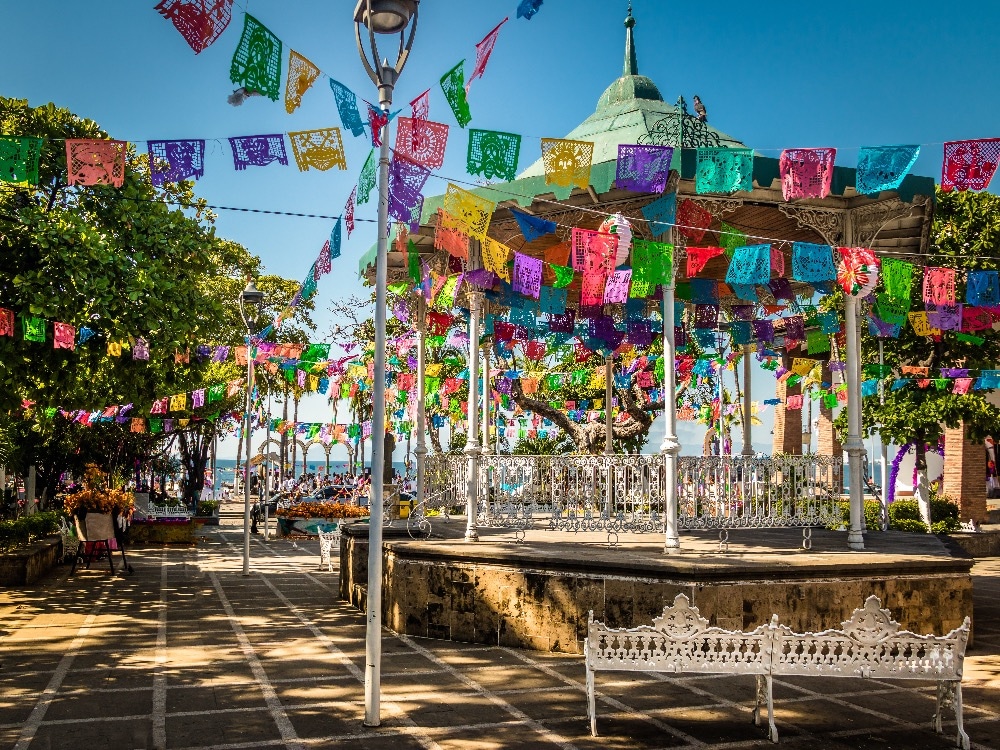 The local tourist office organises these walking tours. They are free and led by locals or expatriates now living here. They are in English and will take you around the most interesting points of the city. You are just asked to leave a tip at the end.
What Are The Beaches Like In Puerto Vallarta?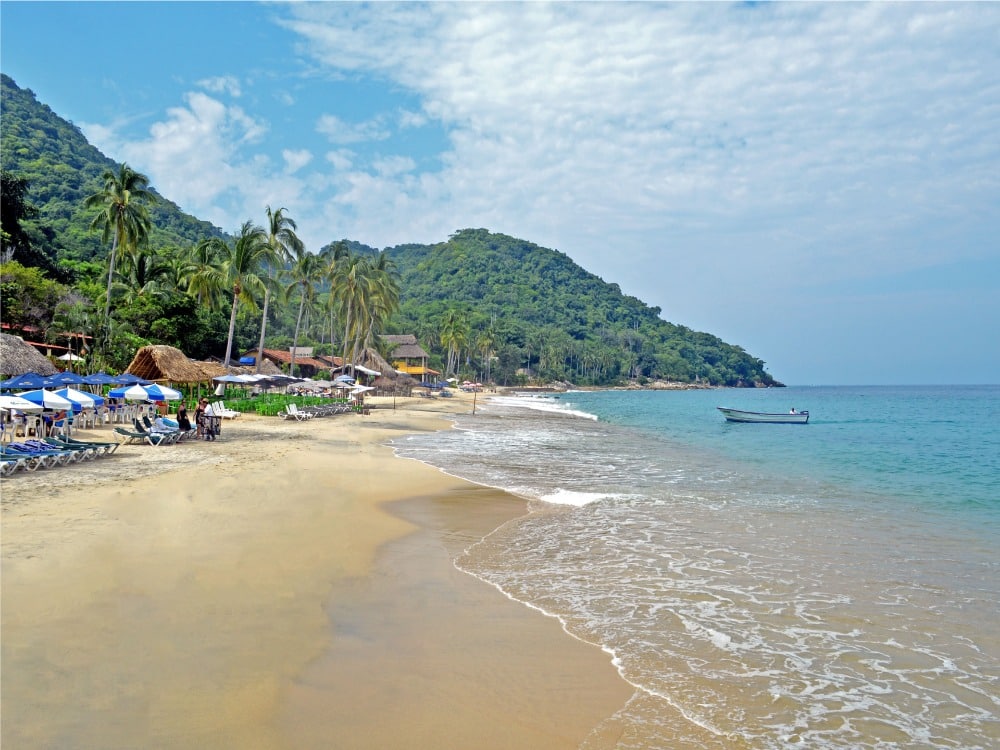 Others worth mentioning are Majahuitas (for snorkeling, kayaking or paddle boarding) , the small secluded beaches of Yelapa, the "Playita del Amor" (Little Beach of Love) at Tehuamixtle, Colomitos Beach, "Playa Escondida" (Hidden Beach) and "Playa del Amor" (Beach of Love) on the Marietas Islands.
Quimixto Beach
If you take a bus to Boca de Tomatlan and then walk to the small dock, you will be able to hop on the fishing boats ready to take you on one of the spectacular beaches along the coast. These beaches are reachable only by boat, and we think the best one is Quimixto Beach. Once you arrive there you can enjoy a nice walk to a waterfall and then you can just relax on the beach and eat at the only restaurant there, lay on the sand or rent a beach chair. In terms of things to do in Puerto Vallarta it's a great way to spend a day.
Playa Conchas Chinas
From Playa de Muertos, the most popular beach in Puerto Vallarta, you can walk to Playa Concha China. It's a 20 minutes walk and once you arrive you can enjoy the lovely and isolated beach and then splurge on a nice breakfast or lunch in the Lindo Mar Hotel while watching the beautiful bay.
What's The Nightlife Like In Puerto Vallarta?
Other than doing relaxing things after dark in Puerto Vallarta, such as walking everywhere, watching the sunset, eating at one of the many restaurants, there is also a bustling nightlife. There are plenty of hidden cocktail bars, beach bars, LGBT-friendly bars, local craft breweries as well as the big pulsating nightclubs. It's no wonder the Spring Breakers like it so much!
Here are a few of the best places Puerto Vallarta have to offer. El Solar (for fun on Los Muertos Beach), El Colibri (for cocktails), Los Muertos (for pizza, beer and sports), Mr. Flamingo & La Noche (best gay bars), Incanto (open mic, salsa, piano), and the Malecon Clubs on the seafront (Mandala, La Vaquita, Zoo). What's the nightlife like in Puerto Vallarta? Pretty amazing!
See a show
Another one of the best things to do in Puerto Vallara is to see Rhythms Of The Night. You hop aboard a private luxury yacht across the bay to a candle and torchlit private beach hideaway. There you get treated to a spectacular theatre show of dance and music before dining under the stars by the sea. It has been rated Puerto Vallarta's no.1 dinner and show by the New York Times and many travel publications. It's a very popular tour and will often be sold out, so do book several days in advance.
We hope you've enjoyed this Guide To Puerto Vallarta, and would love to hear your recommendations and thoughts on any of the above in the comments section below. We'd also love to see your travel pics! Don't forget to tag us with #granluchito.
For similar blogs please see: