So you're lucky enough to be spending three days in Mexico City? Nice one!
Our founder and El Captian, Fergus has been lucky enough to travel to Mexico City (or DF as the locals call it) a number of times to source our authentic Mexican products.
Here's his suggested itinerary to make the most of your 3 days in Mexico City. We've made some suggestions for lunch and dinner, but if you don't fancy them, then be sure to check out our list of the best restaurants in Mexico City.
---
Day One In Mexico City
Breakfast – El Cardenal

Start your 3-day visit with an authentic Mexican breakfast at El Cardenal. Make sure you get there early, especially at the weekend when well-to-do Mexican families flood the place and there's always a line.
For food, our recommendation from the menu has to be the basket of assorted pastries followed by the breakfast chilaquiles.
El Cardenal has a few outlets in the city, our recommendation would be to visit the one in the historic centre and to avoid (at all costs) the one in the Hilton. If you don't like the look of El Cardenal, have a look at our guide to the best breakfast places in Mexico City for other ideas.
---
Morning Walk Around The Zocalo
Now those chilaquiles were pretty heavy and you're going to need to walk them off. Not far from El Cardenal is the huge Zocalo which is great to walk around. Make sure you don't miss the Palacio Nacional as this were all the Diego Rivera murals are. (confusingly the Diego Rivera museum only has one mural). If you have time before lunch we also recommend that you jump in an Uber and head over to the Anthropologie Museum, Mexicos largest Museum where you can discover Mexico's Aztec past.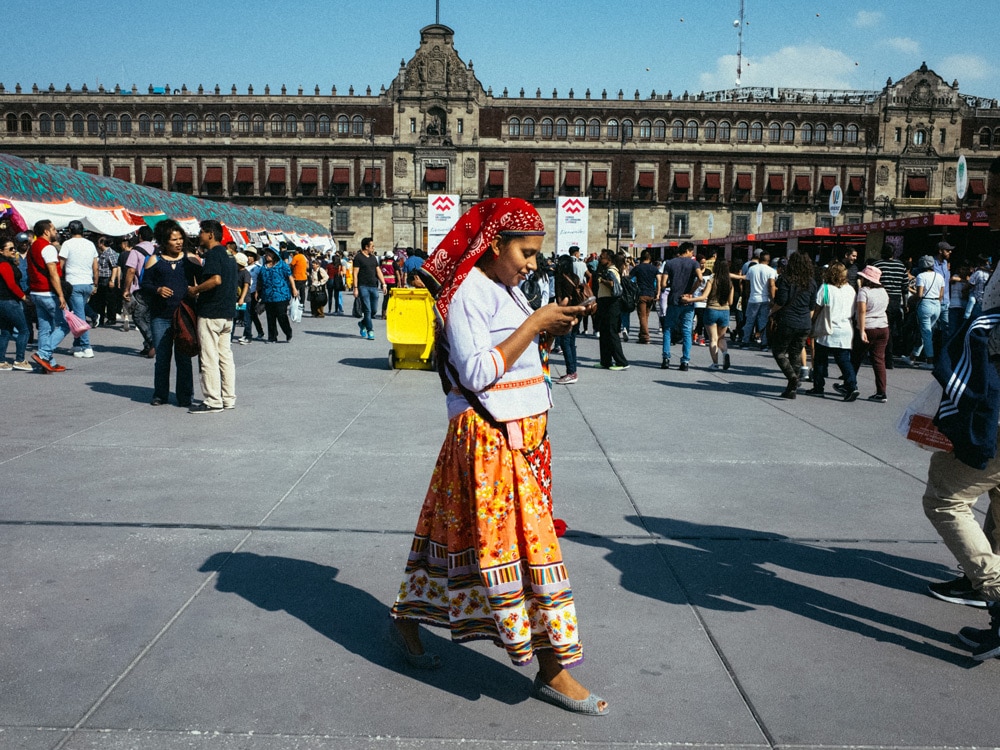 ---
Late Lunch at Contramar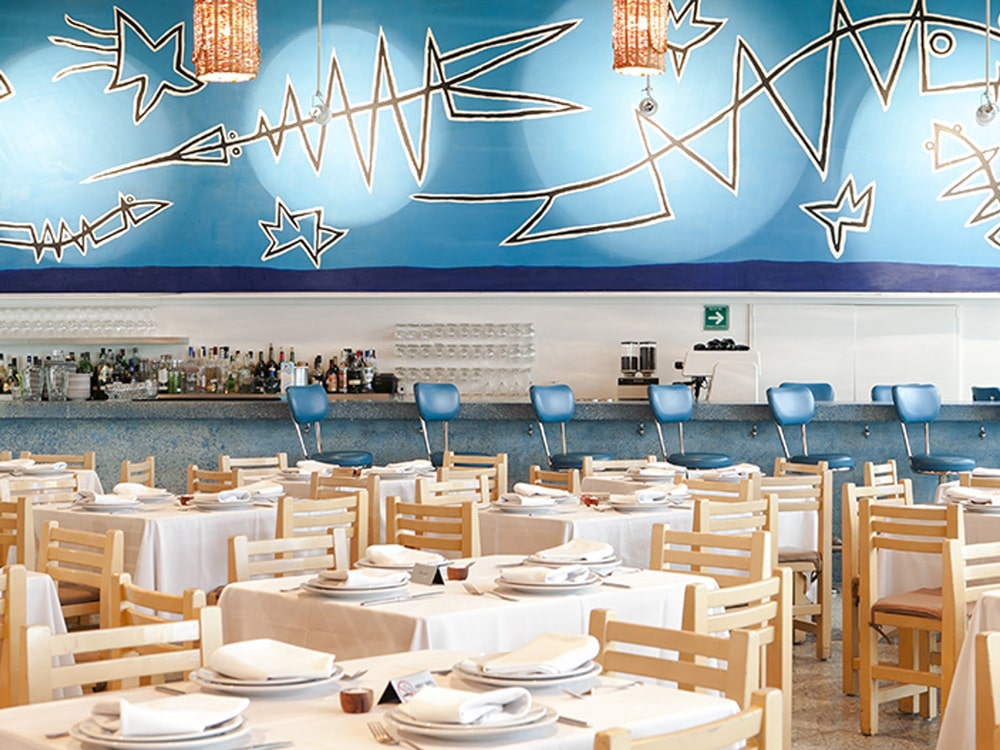 A thirty-minute walk from the anthropology museum is arguably the best fish restaurant in Mexico city. This lunchtime spot is always busy and they don't take reservations. Be prepared to wait for a table but you'll be well rewarded with delicious food and great people watching. Our recommendation from the menu: Tuna Tostadas.
Afternoon Walk Around Chapultepec Park
Your 3 days in Mexico City will not be complete without a walk around Chapultepec park. Situated between the areas of Polanco and Condesa this huge park is a hub of activity. To burn off lunch you can take paddle boats out on the lake or climb Chapultepec hill to visit the castle. From here there are fantastic views of the city and if you feeling up for it situated inside the castle is Mexicos Natural History Museum.
Dinner at La Capital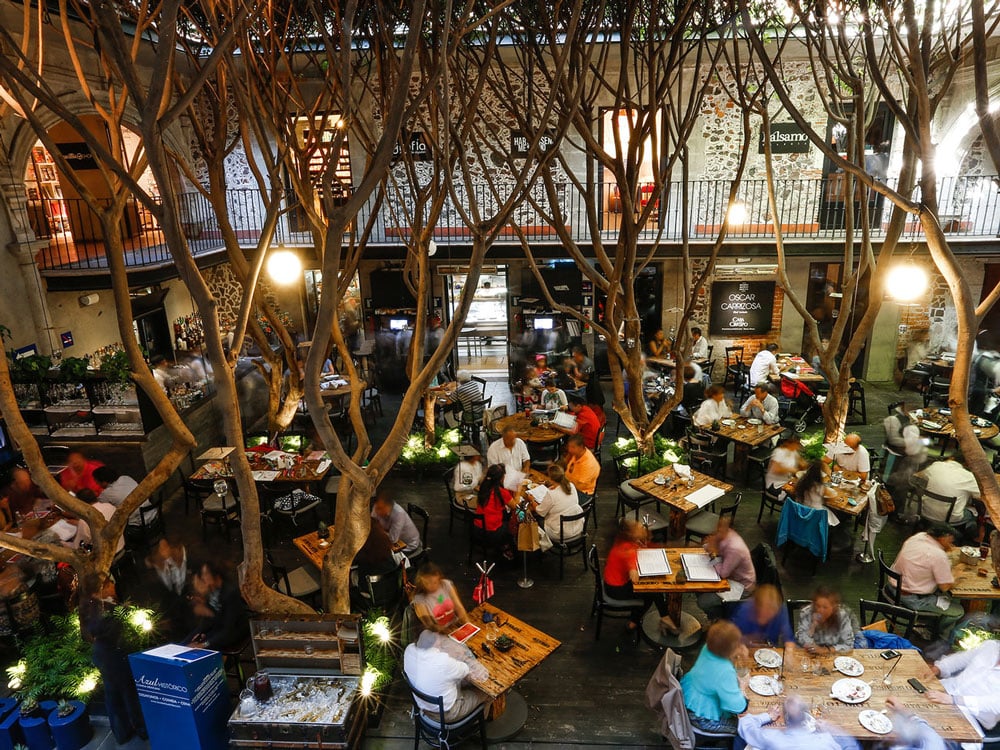 Finish your first day in Mexico City at this cool cantina in Condesa. There's lots of delicious authentic Mexican food on the menu. We would recommend the chargrilled octopus or the Baja fish tacos. Closed on Mondays.


Dance The Night Away At Cafe Parasio.
Cafè Paraiso in Roma is a cocktail bar with both Mexican and Cuban influences. Dance the night away to soul, disco, salsa and afrobeat. Open till 5 am. On your way home much on some BBQ Mexican Street Corn
Day Two In Mexico City
Breakfast at Cafe Toscano
After your late-night dancing, you're going to need some substance to survive day 2 of Mexico City. Highly recommended is Cafe Toscano in Condesa. Sit outside in the sunshine and watch the world go by whilst scoffing on some Huevos Rancheros. All washed down with dark coffee and OJ.
Day Trip: Teotihuacán, State of Mexico
You can't spend 3 days in Mexico City without visiting the Aztec ruins of Teotihuacán. Meaning 'the place where men become gods this huge site is one of the best archaeological sites near Mexico City (its a little over an hour from the city.) The best way to get to Teotihuacán (and save a few pesos) is by public transport.
Evening Cocktails On The Roof
At the heart of Mexico City is the area of Condesa and at the heart of Condesa is the Condesa DF hotel. Climb to the top and you'll be rewarded with epic views, fantastic cocktails and if you're peckish we recommend you try either their sushi or their chicken taquitos. However, we recommend you save your hunger as you are in for an epic dinner. If you have the budget the Codesa is a great hotel to stay in for your 3 days in Mexico City.
Seafood Dinner
This place is so good, that our founder Fergus has been known to eat here three times on a three day trip to Mexico! With the look and feel of a seaside cantina make sure you try their margaritas! The meal starts with complimentary seafood soup and homemade tomatillo salsa. Highly recommended is the ceviche and the grilled octopus. There a few different locations in Mexico City. We would recommend the one in Polanco. Closes at 6pm on Sunday and Monday.
Day Three In Mexico City
Breakfast and walk around Roma
Start your morning easy with a stroll around the beautiful neighbourhood of Roma. Full of interesting shops and cafes for breakfast. Our recommendation for breakfast would be Delirio, a lovely cafe/deli run by the Mexican celebrity chef Monica Patio in North Roma. You can't spend three days in Mexico City without having Avocado toast. Monica's is excellent so nows your chance!
Wander around Coyoacan and see Frida Kahlo's house
After breakfast jump in an uber and head south-west to Coyoacan. The neighbourhood where two of Mexico Cities famous residents once lived, Frida Kahlo and Leon Trotsky. Both the museums are excellent and there is lots to explore in the neighbourhood.
Lunch at San Angel Inn
Not far from Coyoacan is San Angel which is another lovely neighbourhood. If your third day in the city happens to be a Saturday then its highly recommend the San Angle Art Market. Situated around a small square and along narrows lanes are lots of art galleries and artists displaying their work. If the art market isn't on then the area is still lovely to walk around.
Afterwards, go to San Angel Inn, sit in the courtyard, eat tacos and have delicious margaritas.
However be warned, the margaritas are small but DEADLY strong. Do not go crazy on them otherwise you 3 days in Mexico City will come to an abrupt end!
Souvenir Shopping In Mercado Ciudadela
Back in the centre is the Mercado Ciudadela. An emporium full of souvenir handicrafts and artwork. After all, you're going to need to take something back home to remind yourself of your epic 3 days in Mexico City.
Evening Lucha Libre
The very guys who inspired the Gran Luchito Mask which is on the front of all our products. The Lucha Libre fights are every Tuesday and Friday night at the Arena Mexico. You can get your tickets on Ticketmaster or at the ticket office at the venue.
Alternative Plans-Dinner At Pujol
If the Lucha Libre is not on, you could instead treat yourself to a meal at Pujol. Ranked number one in our list of must-try restaurants in Mexico. Be sure to book well in advance!
So there you have it, our guide to 3 epic days in Mexico City. Please do let us know how you get on and add your own tips for Mexico City in the comments sections below.
Some More Popular Blog You May Like: