It's undeniable that Mexico city has grown into the cradle of Latin American culture. As you may guess, it's a vibrant multicultural city, not short of things to do, and a phenomenal culinary scene. It also offers quite a good number of daily tours to nearby cities and countryside. In this post, we will give you a list of our favourite things to do, places to see, and where to eat in Mexico City. A list that is certainly not exhaustive but we hope helpful in narrowing down the many options. We cannot get enough of Mexico City and have also mapped out 3 amazing days in Mexico City and the best restaurants as well with even more ideas of where to eat and go.
#1 Walk around the historical centre
Brimming with historical, iconic buildings and museums such as Palacio de Bellas Artes, Palacio de Correos, and many more, as well as delicious restaurants and shops. We definitely recommend exploring the historical centre and taking it all in at a slow pace. If you are thinking about safety, you are perfectly fine during the day but it's advisable to avoid it in the dark hours. 
#2 Spend a few hours in the Zocalo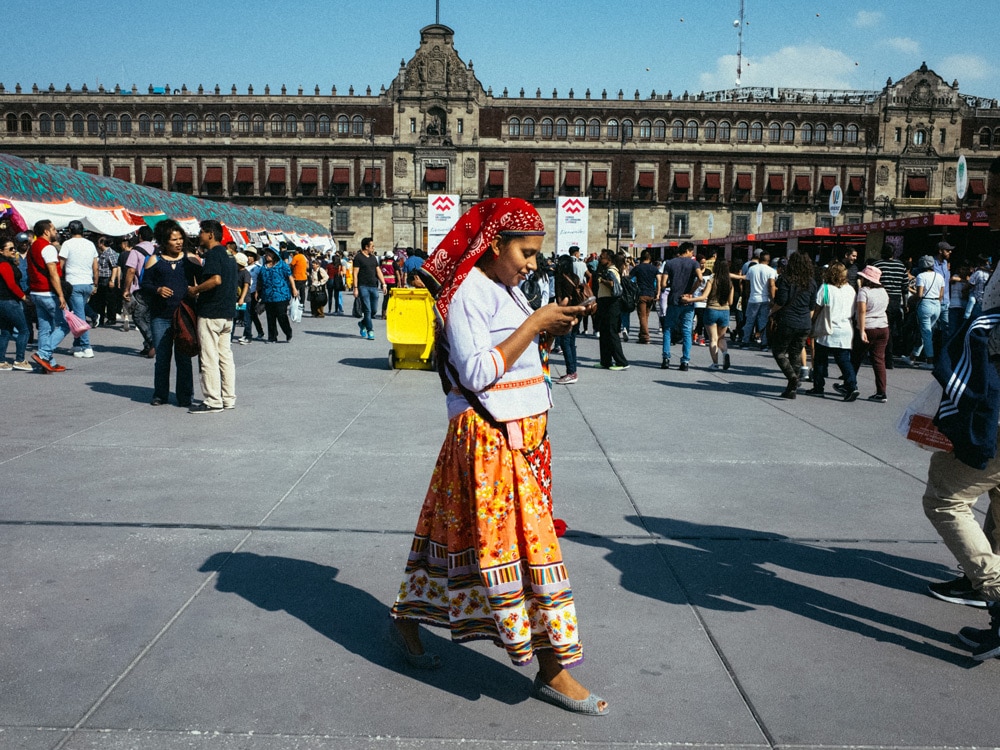 The main plaza, in winter, becomes a huge ice-skating rink. During the summer it is often home to a number of cultural event. It is also just a spectacular space to walk around and observe the grandeur of the surrounding historical buildings. Speaking of which…
#3 Walk around the Templo Mayor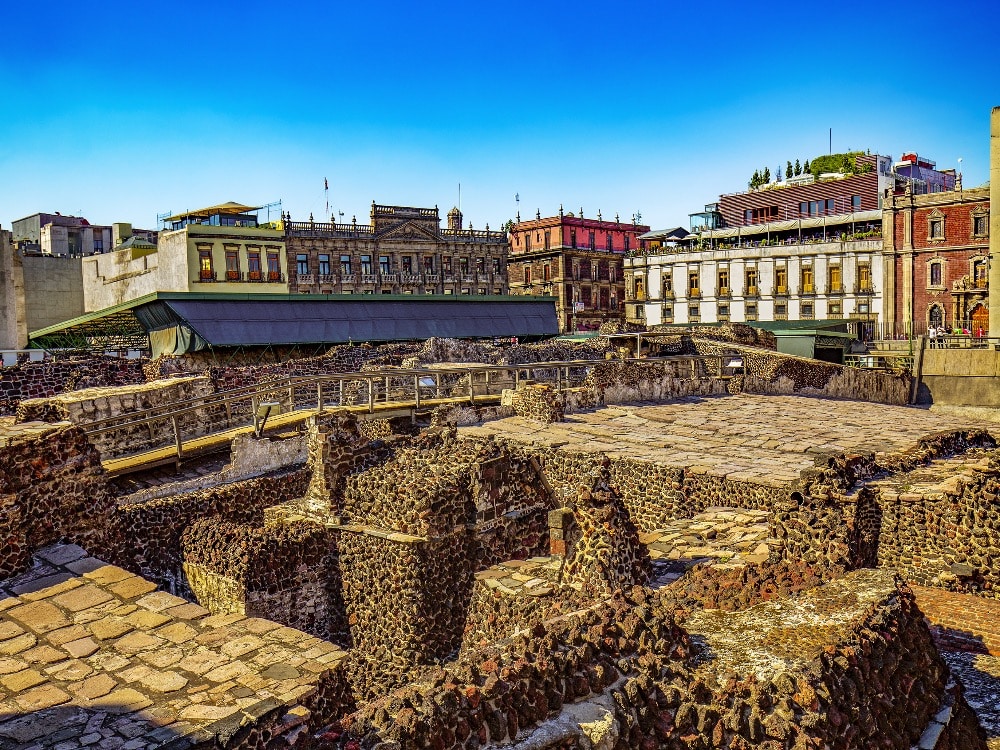 Situated right beside the Zocalo, in the heart of the city, this majestic construction is what remains of the ceremonial centre of the old pre-hispanic city of Tenochtitlan.
#4 Have lunch in the Balcon del Zocalo
Balcon de Zocalo definitely offers one of the best views of the city. It is also perfect for having a drink and taking it all in! 
Av. 5 de Mayo 61, Centro Histórico de la Cdad. de México, Centro, 06000 Mexicali, CDMX, Mexico
#5 Don't miss the Museum of Anthropology 

 
Situated within the premises of the Chapultepec Park. The national Anthropology Museum is probably one of the most important museums in Mexico. It has a massive collection related to the prehispanic heritage. You will need more than one day to see it all, not only for its huge extension but for the number of interesting exhibitions and the permanent artefact collection from meso-american culture.
Av. Paseo de la Reforma s/n, Polanco, Bosque de Chapultepec I Secc, 11560 Ciudad de México, CDMX, Mexico 
#6  Enjoy a walk in the Chapultepec Park
A huge sprawling green area in the city covering over 1700 acres. Families and the young at heart love to gather here for some fun and peaceful walks especially on Sundays. It covers a large area divided into 3 phases. We recommend you stick to phases 1 and 2. Phase 3 is quite remote without marked paths and can be very isolated. 
#7 Visit the Basilica de Guadalupe
Just outside the main city, reachable either by the underground or local buses, this spectacular church is one of the most important pilgrimage sites for Catholicism and especially in Mexico where the Virgin of Guadalupe is the most worshipped symbol.
#8 Spend a day in the picturesque neighborhood of Coyoacan 
The vibrant neighbourhood is mainly popular for being the home of the controversial painter Frida Kaho. Her house is now a very much visited museum "La Casa Azul" (The blue house). Close by you can enjoy a visit to the less touristy market and have a meal with the locals
#9 Eat tacos like there is no tomorrow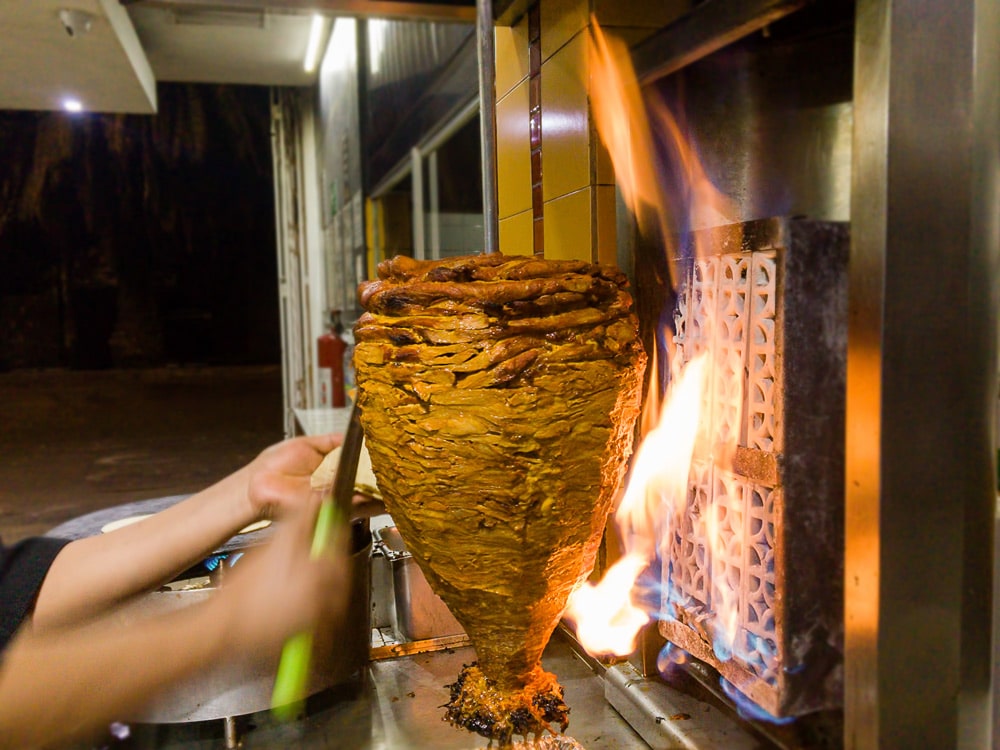 The symbol of the local cuisine (comida chilanga), tacos al pastor are a must unless you are vegan. Made with flour tortillas filled with delicious pork meat, onion and cilantro with their super spicy sauce. If you don't love meat though worry not. Mexico City was one of the first cities to offer vegan tacos and they have become even more popular. 
#10 Visit the University of UNAM
Declared world heritage site by UNESCO, this is indeed a very unique place that is worth a visit especially the library and the Dean building, the Planetarium and the Olympic university stadium. Here you will find works from the illustrious muralist Diego Rivera. 
#11 Immerse yourself in the majestic ancient city of Teotihuacan
Situated at about 40 km from the city centre. This pre-Colombian city was one of the largest urban centres at the time with an estimated population of over 125,000. Local buses from the city will take you there if you don't want to join an organised tour. 
We hope you enjoyed reading our list of things to do in Mexico City. Depending on what you are interested in, be it the culinary scene, or art, culture, history or nature, the Mexican capital city has something for everyone!