At Gran Luchito we spend a lot of time bringing you our tried and tested Mexican recipes, as well as thoughts on all things Mexican food. It's no surprise then that writing a blog on Best Mexican Cookbook seemed to fit the bill perfectly!
We love being inspired by chefs and cooks on the subject of Mexican cooking. Hearing their stories, their tips and tricks, and learning something new from each of them. Reading a great cookbook on your favourite cuisine (in this case Mexican!) is exciting and you can get completely lost in it. It has that ability to transport you straight to that part of the world or chef's kitchen! Let's have a look at our favourites.
More Mexican Everyday, by Rick Bayless
Rick Bayless is an American chef and restaurateur who specialises in traditional Mexican cuisine, with a modern slant. His latest cookbook More Mexican Everyday is a delightful collection of innovative and easy to make Mexican meals aimed at the busy cook!
It starts off with him showing you a few ingredients he has in his pantry at home. He shows you how to use them in everyday cooking to add loads of flavour. He then goes into lots of diverse and seasonal vegetable recipes. Those that are at the heart of Mexican cooking, but are also modern creations. Then comes the different sections such as Mexican breakfasts, rice-cooker meals, grilled dishes and slow cooker meals. Exciting Mexican desserts finish off the book.
Rick involves many cooking tips throughout, suggesting ways to adapt and simplify without sacrificing flavour. It also has an illustrated glossary of ingredients, which adds interest. This book is sure to enliven the way you cook and eat with friends and family.
---
Sign Up To Download Our Free Guide To Tacos
Free Taco Cook Book

Save £10 On Our Ultimate Mexican Bundle Box  (UK Only)

Monthly Newsletters with our latest recipes and special offers
Road to Mexico, by Rick Stein
Here at Gran Luchito we have loved tuning into Rick Stein's Road To Mexico every Friday night on BBC Two. For those of you who don't know Rick, he is an English celebrity chef, restaurateur and television presenter. His unrivalled enthusiasm and trusted expertise brings the essence of Mexican and Californian cooking straight to our homes.
This cookbook charts Rick's journey starting in San Francisco and then Baja California, and finishing off at the southern tip of Mexico. His inspiration for the stunning recipes comes from farmer's markets in California, street food markets in Mexico, as well as watching and speaking with chefs in popular restaurants along the way.
Road To Mexico has beautiful photography and will inspire and encourage anyone to try out his bold recipes from the regions that he visits.
---
Oaxaca Al Gusto, by Diana Kennedy
Diana Kennedy is a bit of a legend when it comes to Mexican cooking. Her books have changed the way Americans view Mexican cooking and Mexican chefs cook in the US. She was brought up in Essex but spent 50 years travelling in Mexico and learnt everything she knows over there.
In Oaxaca al Gusto she presents around 300 recipes, mainly from home cooks all over Oaxaca. It is one of the most diverse states in Mexico, with many different cultural groups, each with their own distinctive cuisine. Diana explores these in her book, with the chapters divided into each region.
As well as wonderful notes on ingredients and cooking techniques, she describes in wonderful detail the food's place in family and communal life. There is also a chapter dedicated to Chocolate, Corn and Chillies!
---
The Essential Cuisines of Mexico, by Diana Kennedy
For The Essential Cuisines Of Mexico, Diana Kennedy has combined her three bestselling books The Cuisines of Mexico, Mexican Regional Cooking and The Tortilla Book. She is the best teacher of Mexican food, due to her knowledge of it's culinary tradition. This is mainly because of her extensive travelling throughout Mexico!
In terms of its content, Diana revisits and refreshes classics from her old books with new discoveries, and adds over thirty new recipes. Among them are the extremely popular arroz a la tumbada (rice with seafood) from Veracruz, a pico de gallo with peaches from the state of Mexico, and tasty snacks from the cantinas of Mérida.
This is a great book if you have access to a good Latino grocery store! Some of the ingredients can be a bit hard to get otherwise. If you happen to be slightly sick of tex-mex and longing for something more authentic, then this book is your ticket to incredible dishes and a world full of delicious cooking experiments!
---
Sign Up To Download Our Free Guide To Enchiladas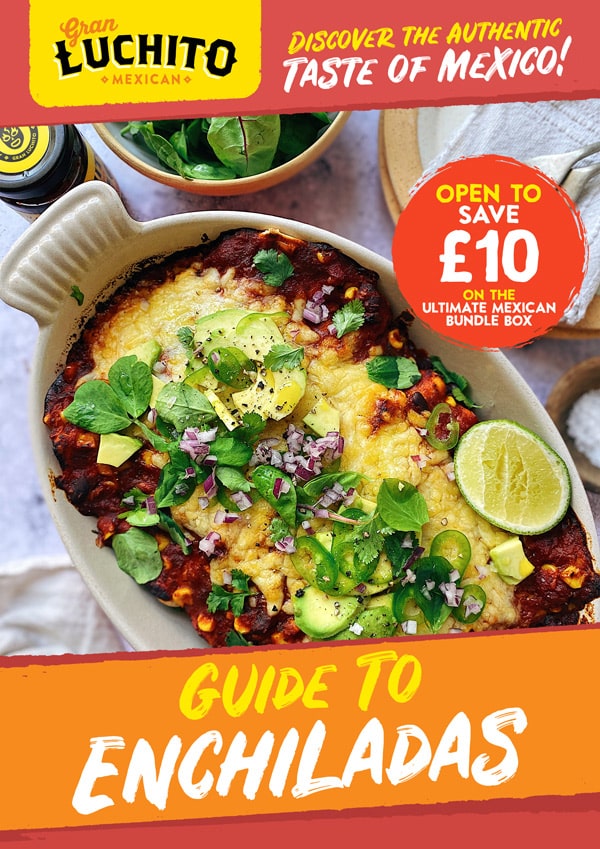 Free Enchilada Cook Book
Save £10 On Our Ultimate Mexican Bundle Box (UK Only)
Monthly Newsletters with our latest recipes and special offers
---
Breddos Tacos, by Nud Dudhia and Chris Whitney
Created by Nud Dudhia and Chris Whitney, the undisputed kings of street food, Breddos Tacos: The Cookbook brings us 75 of their most innovative recipes. It's split into chapters such as beef, Mexican lamb, poultry, fish, salsas and so on. They also let us in on how they rose to fame, including their road trip around Mexico. There they discovered their favourite flavour combinations.
Breddos Tacos restaurants were subsequently launched and are one of our favourites for sampling delicious small plates of authentic Mexican food. Originally from London, the duo's love of Mexican food was influenced by the hundreds of roadside taquerias and restaurants they encountered on their travels throughout America and Mexico. This, combined with utilising the best of British produce from passionate producers, brought their restaurants to life.
It's no surprise that their cookbook by the same name makes our list of the best Mexican cookbooks. Packed full of innovative and modern street food and condiment recipes. We recommend trying the Baja Fish Tacos and Yucatán Mexican Chicken recipes.
---
Mexican Food Made Simple, by Thomasina Miers
The wonderful Thomasina "Tommi" Miers, OBE is an English cook, former Masterchef champ, writer and television presenter. She is the co-founder of the Wahaca chain of Mexican street food restaurants. Her cookbook Mexican Food Made Simple is bursting with recipes you will want to create time and time again. You will also want to share them with friends and family!
Along with the recipes, the book's photography is vibrant and beautiful. It has an excellent menu planner to help you put together the perfect Mexican feast at home. It also contains very useful information on things like how to fold a burrito and how to eat a taco! As well as being a good kitchen staple, it would be a perfect gift for someone entering into the world of Mexican food. Lots of easy step by step guides and tricks and cheats along the way.
---
We hope that this has inspired you to give a Mexican cookbook a try! Having one of these cookbooks at home will liven up your kitchen and put your cooking skills to the test. Be sure to let us know how you get on in the comments section below! Also don't forget to tag us in any recipes you try #granluchito
---
For blogs on cooking please visit: