There's never a dull moment in Mexico! It's culture includes more than 5000 traditional Mexican festivals and events celebrated each year. If you're planning a trip to Mexico, why not take into account which ones are on offer while you're there. It will make your trip even more special! Here we give you a month by month overview of the key cultural festivities that we recommend.
Interested in a particular time of year? Skip ahead to the most popular Mexican festivals and events by month:
January & February | March & April | May, June & July | August & September | October | November | December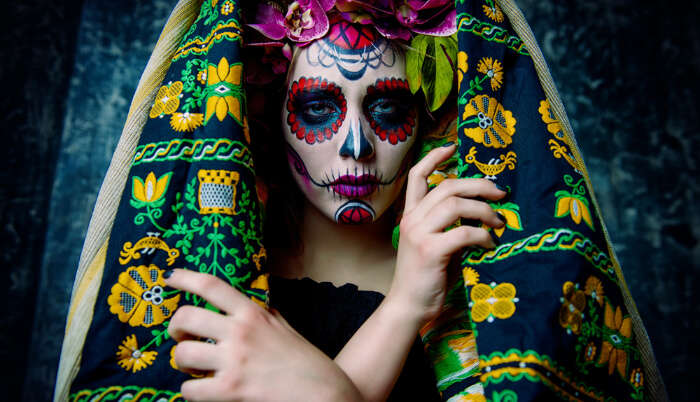 January and February
The Three Wise Men Day: This marks the end of Christmas and New Year's celebrations. Friends and family get together on 6th January, receive gifts and eat a special bread cake called Rosca de Reyes. It's baked with a small doll inside that represents baby Jesus. Whoever finds it wins the duty to host a party and offer tamales and hot chocolate on February 2nd.
Monarch Butterflies Sanctuaries: After the January and February winter and into late March, more than 100 million monarch butterflies make their way north out of Mexico. You can experience this spectacular event in the central region of the country. It symbolises transformation, re-birth, and new opportunities.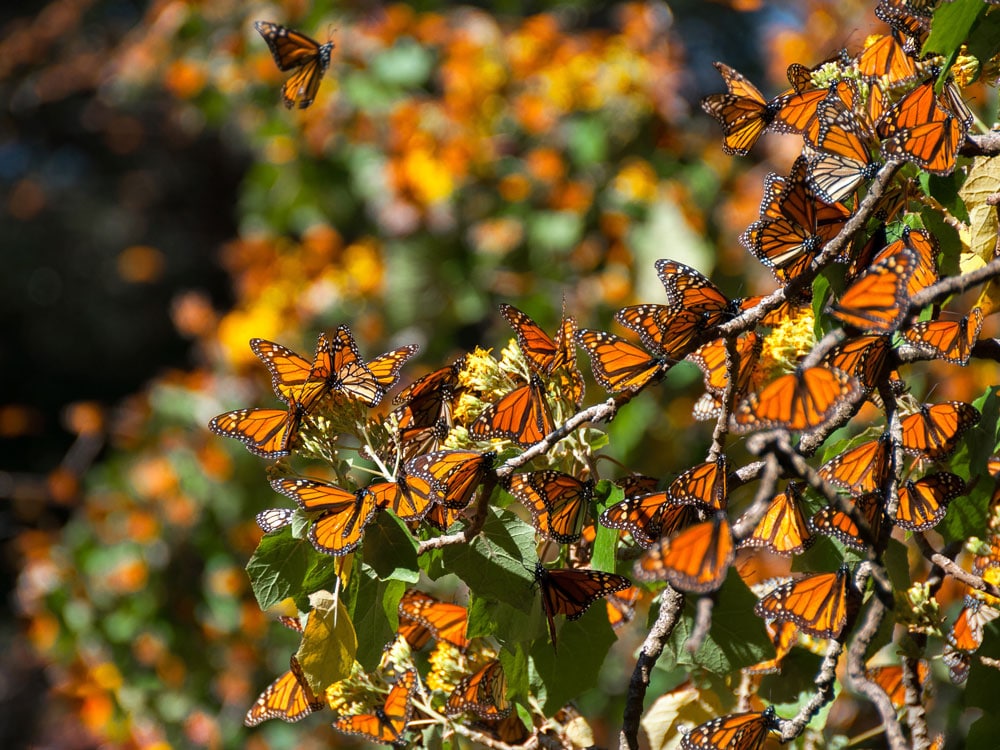 March and April
Spring Equinox: Thousands of locals and visitors dressed in white gather at the Teotihuacan Pyramids and Chichén Itzá to welcome the Spring Equinox. This event takes place around the 20th and 21st of March. It's the moment the Sun crosses the equator which marks the beginning of spring.
Easter: In Mexico Easter Sunday is a national holiday. Many workers take the whole week off because the Thursday and Friday before Easter are paid vacation days. Most celebrations involve traditional dances with a unique set of events and religious parades. These include a performance of Jesus' crucifixion in Mexico City.
Vive Latino Festival: The best of the Mexican and Latin American rock music scene perform at Vive Latino Festival. It's an annual music festival held in Mexico City between the months of March and April. It's one of the most important music festivals in Latin America, and the duration is either one or two days, depending on the number of live acts. In other words, in terms of Mexican festivals and events, this is a big one!
May, June and July
Puerto Escondido Challenge: Zicatela Beach is one of the beautiful beaches that make up the The Oaxacan coast. Located southeast of Puerto Escondido, a short distance from the centre of town, is a beach about 4 kilometres long and 30 to 40 meters wide. It has fine grey sand, a steep slope, and is known for hosting the International Surfing Tournament. To clarify, this is the country's biggest surf competition. In May, June and July it has an ideal tide, good weather, laid-back local vibes, and up to 40 foot-high monster waves. This makes for a thrilling three day competition involving Mexican and foreign professional surfers.
Guelaguetza: Oaxaca's biggest annual celebration gathers its surrounding regions towards its capital on consecutive Mondays at the end of July. The celebration centres around traditional costumed dancing, indigenous walking bands, parades, folkloric dances, and fairs that display crafts and its local gastronomy.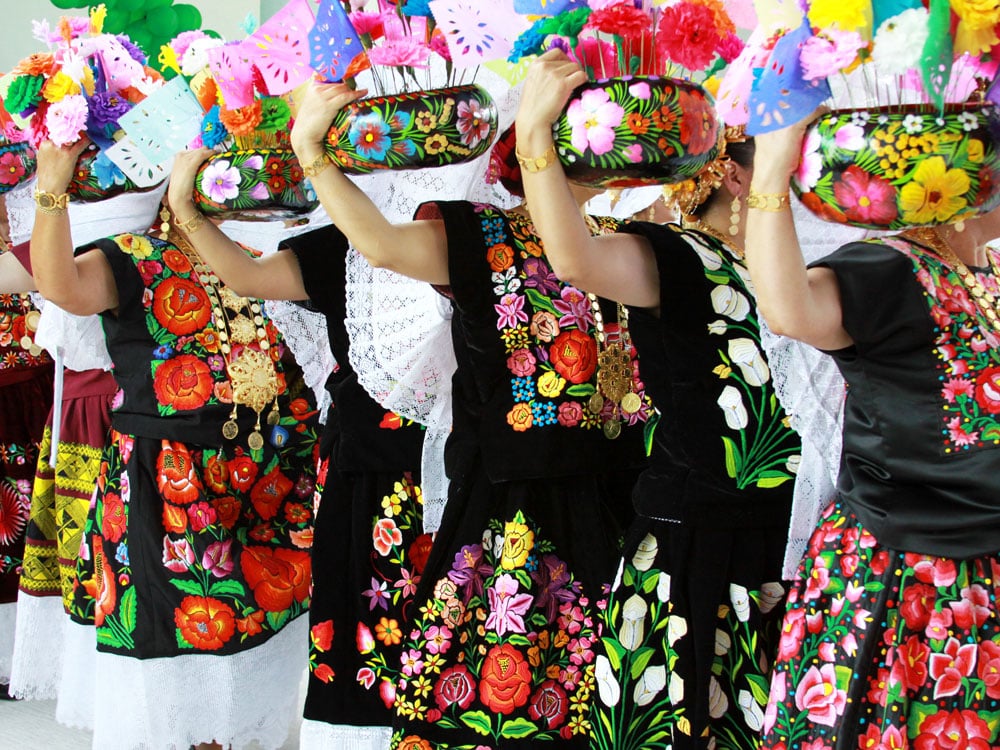 August and September
Feria de Huamantla: Tlaxcala's most colourful event displays music and the best of its local and regional food scene. It includes a month of festivities, the best known being "The Night that Nobody Sleeps". It's a celebration where the streets of this magical town are decorated with six kilometres of beautiful sawdust rugs. These depict multicoloured flowers, and are created by the residents. At midnight there is a procession with the image of the Virgin Mary (Virgin of Charity), the patron saint of the celebration.
Mexico's Independence Day: If big parties are your thing then September is the best time to go to Mexico! Each year the whole of Mexico celebrates its independence from the Spanish colonial regime. Seasonal dishes and drinks are available from the beginning of September. On the 15th September, the whole country parties all night long!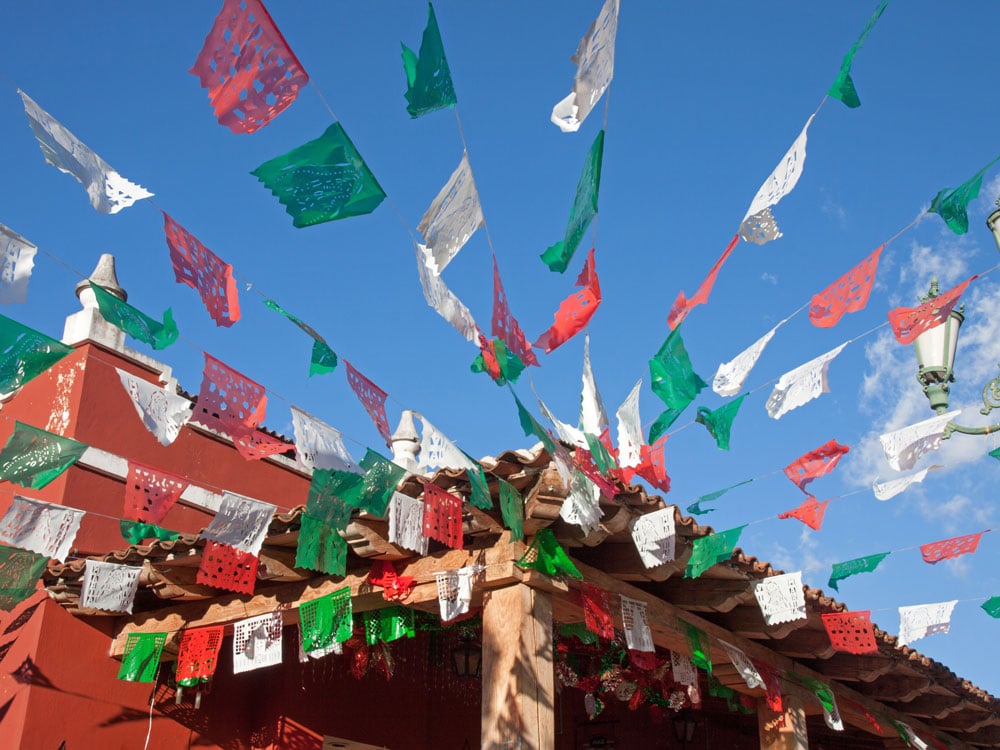 October
Cervantino Festival: Guanajuato's most important cultural event takes place for about a week in mid October. It celebrates Mexican film, music and gastronomy. Since 2000, the festival honours a different Mexican state as well as a different country each year.
Festival Internacional de Cine de Morelia: This is Mexico's most important film festival. It's an annual event that takes place during the second week of October in the city of Morelia, Michoacán. It displays the best local, Latin American, and international cinematic projects, premieres, and events. In other words, if you are a film buff, this is the event for you!
November
Corona Capital Festival: Held each year on 14-15th November in Mexico City, this music festival showcases the best of local and international Indie artists. It attracts more than 100,000 local and international visitors each year.
Day of the Dead: Mexico's most well known celebration, Day of the Dead, is probably the event with the most symbolic importance. Each year, during the first two days of November, millions of Mexican families set up colourful altars for those in their family that have passed away. They decorate the cemeteries with flowers, and then spend the night there. They believe that the dead come back for one night to the world of the living to spend time with their loved ones. It's a Mexican holiday celebrated throughout Mexico, in particular the central and southern regions, and by people of Mexican heritage elsewhere.
December
Posadas: Starting on 16th December, thousands of families follow the Posadas tradition. Family and friends gather with food and piñatas to mark the beginning of Christmas. You will find a procession of children with lit candles and traditional songs sung by the adults. Not to mention delicious sweets and treats that people gorge on whilst listening to stories about the Lord. The best places to enjoy this festival would be any small village in Mexico, as they light up like little villages from fairy tales. 
In conclusion, we hope that we have given  you a good insight into the different Mexican Festivals and Events that one can experience. What's on offer just depends on which month you choose to go! For more blogs like this please visit: The Best Time To Go To Mexico, Mexican Culture, Top 10 Reasons To Visit Mexico, What Is Day Of The Dead?, The Best Places To Visit In Mexico, A Beginners Guide To Mexican Food, What Is Authentic Mexican Food