Huevos Divorciados
Huevos Divorciados or "Divorced Eggs", is a very popular Mexican eggs dish. You can find this in most restaurants in Mexico served as a breakfast or brunch option. These Mexican eggs are always served with fresh fruit, juice and a freshly brewed cup of coffee. We cannot think of a better and healthy way to begin your day!
The reason for their name comes from using two different salsas that make the eggs look separated. 
A red salsa and a green salsa are used, which are most often not too spicy. They are served warm over fried eggs and tortillas, with quite simple flavours, but every mouthful is so good and will bring lots of colour and vibrancy to the start of your day.
Make some time for yourself and your loved ones, and with the help of Gran Luchito you can prepare this easy and hearty Mexican breakfast in no time. Serve Huevos Divorciados with Gran Luchito Cantina Beans, a bit of feta cheese and some warm Gran Luchito Soft Taco Wraps on the side, just as though you were in Mexico! All that is left to do is for you to enjoy it!
Prep time

Cook time

Total time

Ideal for

Breakfast / Lunch

Make it

Mexican

Serves

2
Nutrition: Per serving
kcal 108
fat 5.6g
saturates 1.1g
carbs 10.6g
sugars 2.3g
fibre 0.6g
protein 3.9g
salt 0.54g
How to make it
Pour the

Gran Luchito Chipotle Enchilada Sauce

and the

Gran Luchito Tomatillo Enchilada Sauce

in their own saucepans and warm them up over a low heat while you cook your eggs. Do the same with the

Gran Luchito Cantina Beans,

simply reheat in their own small saucepan.

Heat up a pan with olive oil, fry your eggs sunny side up or over easy, as you prefer.

Warm up your

Gran Luchito Soft Taco Wraps

 and keep them warm by wrapping them in a tea towel.

On a plate place two fried eggs per person, then add warm red enchilada sauce over one egg and green enchilada sauce over the other egg.

Garnish your eggs with slices of avocado, onion, jalapeno and a few coriander leaves. Serve with warm Gran Luchito Cantina Beans and a warm tortilla on the side. Delicious!
What To Serve With Huevos Divorciados
All you need for this recipe is a freshly brewed cup of coffee, some warm tortillas, perhaps a side of Mexican Black Beans and you've got yourself the perfect Mexican breakfast!
Download Our Free Guide To Mexican Breakfast
Your free guide will be emailed to you immediately.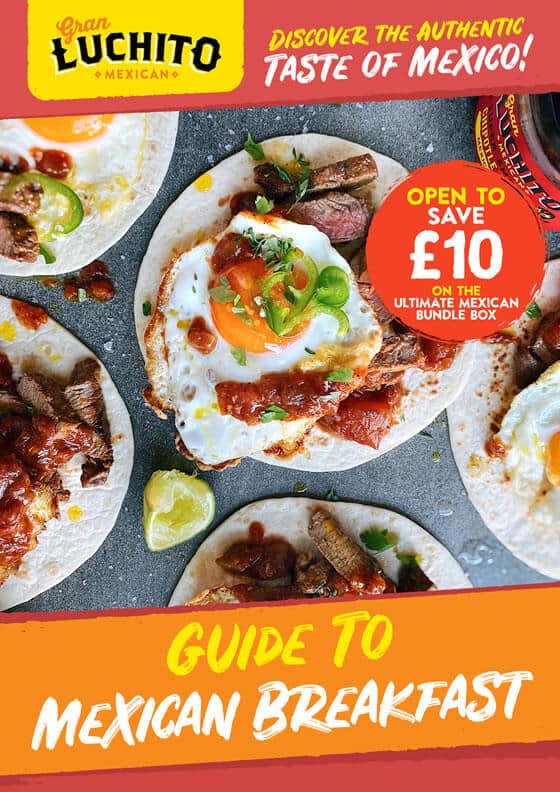 Similar Recipes You Might Like to Try
FAQs
What does Huevos Divorciados mean?
It means "Divorced Eggs" in Spanish. For the dish, the eggs and two sauces (red and green) have to be separated. It's for people who love both green and red sauce, and those two sauces don't go together, so it's a great way of combining both on a plate!
What are the two sauces that make up Huevos Divorciados?
They are two freshly made salsas. One is a Salsa Roja, typically made with red tomatoes, onions, garlic and chipotle chillies or jalapenos. The other is a Salsa Verde, made with green tomatillos, coriander, onion, garlic and jalapenos. If you like a lot of heat, you can always substitute the jalapenos for serrano chillies.
Is Huevos Divorciados healthy?
Yes! The sauces use fresh and healthy ingredients, and along with eggs, healthy garnishes and a couple of soft tortillas, you can't really go wrong.
Comments / Questions / Tips

Subscribe now for a free copy of the Gran Luchito e-cookbook filled with delicious, authentic Mexican recipes and join our mailing list for all the latest recipes, news and blog updates.