Huevos Motuleños
Huevos Motuleños is a very popular breakfast all over Mexico with a very particular way of serving Mexican fried eggs. You can find this type of Mexican breakfast served in most cafes around the country but their origin is from Yucatan, from the town of Motul to be more precise, and where the name "Motuleños" comes from, meaning that the eggs are mounted.
Typically a huevos motuleños recipe consists of a tortilla that is lightly fried, then topped with a spoonful of refried beans, a fried egg, a tomato-based sauce, peas, ham and fried plantains. They are unique and very easy to identify wherever you go as the ingredients almost never vary.
You can bring this amazing Mexican fried eggs recipe to your home with the help of Gran Luchito, where mainly all you have to do is to warm up Gran Luchito Refried Beans, Gran Luchito Tinga Taco Simmer Sauce, fry an egg and some Gran Luchtio Soft Taco Wraps.
You can cook the eggs to your liking, sunny side ups, over easy, with very crispy edges, we'll leave that up to you! But we recommend serving one or two eggs per person depending on your appetite.
We recommend using a nice thick ham to serve alongside your eggs as this will make it feel like a more substantial meal. Also, using frozen peas work really well in this recipe, as not only do they cook really fast but they bring a lovely sweet and fresh taste to this Mexican eggs recipe, and you can cook them in the sauce.
Prep time

Cook time

Total time

Ideal for

Breakfast

Make it

Mexican

Serves

4
Nutrition: Per serving
kcal 153
fat 7.3g
saturates 1.2g
carbs 16.2g
sugars 2.9g
fibre 1.0g
protein 6.1g
salt 0.90g
How to make it
Place the

Refried Beans

and the

Tinga Sauce

in two separate sauce pans and warm them up over medium heat. Add a little water to the beans to get a more runny consistency and avoid them from drying out. Add the frozen peas into the Tinga Sauce to warm them up.

In the meantime prepare a frying pan with 1 tablespoon of the olive oil over medium heat. Once its hot enough, fry the plantain slices until golden brown on both sides. When ready, remove them from the pan and place them on a plate on the side.

In the same frying pan add a bit more oil and fry your eggs one or two at a time. Cook them to your liking, simply seasoning with a bit of salt and pepper. Once ready, remove the eggs from the pan and place them on a plate on the side while you cook the rest of your eggs.

Once the eggs are ready, in the same pan lightly fry your Soft Tacos and get ready to serve. Place one lightly fried tortilla on each plate, then add a few spoonfuls of Refried Beans and spread them on top of each. Add a fried egg, a couple of fried plantains on each, a few spoonfuls of the Tinga Sauce and peas. Finish serving them with the ham, avocado and coriander scattered on top. Serve warm and enjoy!
What To Serve With Huevos Motuleños
For an epic breakfast, serve your huevos motuleños recipe with a side dish of Mushroom Molletes or Mexican Black Beans.
Download Our Free Guide To Mexican Breakfast
Your free guide will be emailed to you immediately.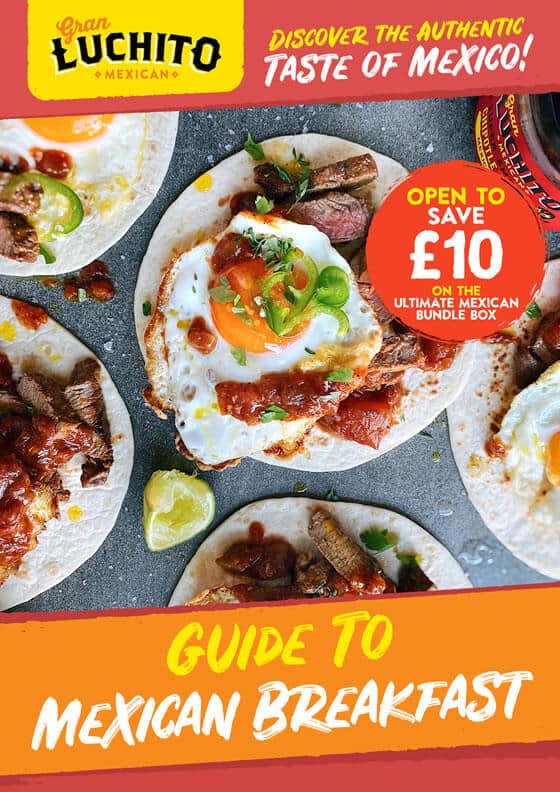 Similar Recipes You Might Like to Try
FAQs
Is huevos motuleños spicy?
It's not typically a spicy dish no, but our recipe has a slight kick from the tinga taco sauce. It's by no means really spicy though.
Where did huevos motuleños originate?
The city of Motul in Yucatán, Mexico claims the dish originated there. They are very proud of it, and there is even an annual huevos motuleños festival!
What's the difference between Huevos Rancheros and Huevos Motuleños?
Although they both have a tortilla as a base, and then beans and egg on top, they are very different because huevos motulenos have some very distinctive ingredients, such as the fried plantain, peas, and ham. They also have a different salsa too - motulenos is less spicy and rancheros is normally spicier.
Comments / Questions / Tips

Subscribe now for a free copy of the Gran Luchito e-cookbook filled with delicious, authentic Mexican recipes and join our mailing list for all the latest recipes, news and blog updates.