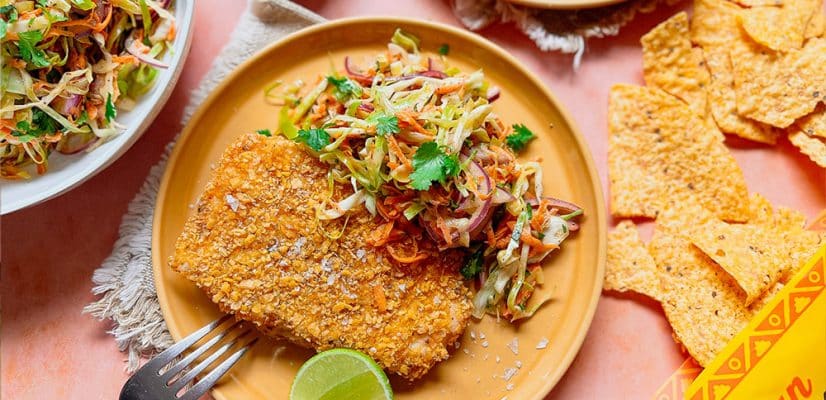 Pescado Empanizado
Pescado Empanizado is what you may know as breaded fish and a very popular way to cook fish filets in Mexican homes. Pescado empanizado is a dish that is also widely served in seafood and fish restaurants across Mexico and is a well-loved meal for kids.
What are the essential ingredients for Pescado empanizado:
Fish filets: pescado empanizado can be prepared with a variety of different white fish filets, skinless preferably. We recommend using tilapia, basa, cod, halibut, or haddock.
Flour: the first layer used to dust the fish filets creates a first coating on your fish that will help adhere the egg mixture evenly.
Eggs: whisked egg mixture is perfect to take more of the breadcrumbs to get a crispy breading.
Breadcrumbs: The final most important layer that makes Pescado empanizado beautifully crispy. Try using Gran Luchito Lightly Salted Tortilla Chips blended into a powder to create an extra crunchy and delicious breading.
These are our top tips to make pescado empanizado:
Using fresh fish whether you get it from the fishmonger or at your local supermarket counter is always nicer when you have an excellent ingredient to begin with. The filets should be moist, flaky, and without any bones.
For the breading make sure to follow all three steps, first a light flour coating, then dip into the whisked egg, and finally placed it into the breadcrumbs to create the perfect crispy layer.
Use canola oil for frying, not only is it neutral in flavour but has a high smoke point, which means it stands at high temperatures before it begins to burn.
To give your pescado empanizado even more flavour try seasoning your fish filets first with Gran Luchito Fajita and Taco Mixes. A little sprinkle on both sides before breading makes all the difference.
We love serving pescado empanizado with our recipes for Mexican Slaw, Coriander Lime Rice, and Macha Mayo.
Prep time

Cook time

Total time

Ideal for

Dinner

Make it

Mexican

Serves

4
How to make it
Begin by making a quick slaw, in a bowl add the cabbage, onion, coriander, and carrot. Season with half of the BBQ ancho Fajita & Taco Mix, add the mayo, olive oil, lime, and a pinch of salt and freshly ground black pepper. Mix everything with a spoon and set aside.
Place the Lightly Salted Tortilla Chips into the blender cup, and blend them briefly just enough to get them ground into breadcrumbs like texture. When ready, place the tortilla chip breadcrumbs on a shallow plate ready for breading.
In a different shallow bowl add the flour. On a third and last bowl crack the eggs and season with a pinch of salt and pepper, use a fork to whisk the eggs and set aside.
Add the canola oil to a frying pan and heat up the oil over high heat. To check if the oil is ready for frying, add in a piece of breadcrumb and if it begins to bubble quickly it means it is hot enough and ready to use.
To bread the fish filets, the first season the fish filets with a pinch of Ancho BBQ Fajita & Taco Mix, a bit of salt and pepper on both sides. Place the seasoned fish filets one by one first into the flour, shaking any excess, then dip into the egg mixture and lastly into the bowl with tortilla chip breadcrumbs, make sure it is well coated on both sides and repeat the same with the rest of your filets.
Begin frying the breaded fish filets without overcrowding the pan, one or two at a time is enough. Allow them to get golden brown on both sides and remove them from the oil once ready. Place them directly into a plate with absorbent paper and fry the remaining fish.
Serve while it is still warm and with a good amount of slaw on the side, and lime. Enjoy!
What to serve with Pescado Empanizado
Download Our Free Guide To Tacos
Your free Taco guide will be emailed to you immediately.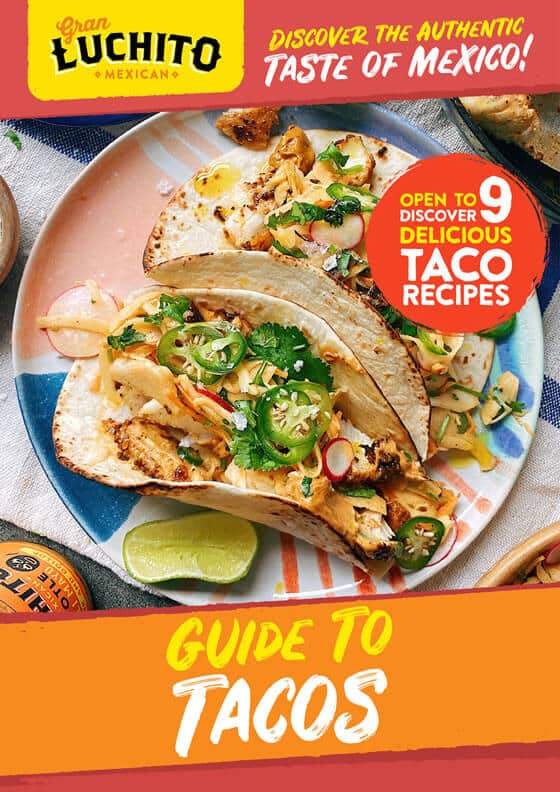 Similar Recipes You Might Like to Try
FAQs
What is Pescado Empanizado?
Pescado Empanizado is a traditional Latin American dish consisting of breaded and fried fish fillets.
What are some side dishes that complement Pescado Empanizado?
Pescado Empanizado pairs well with a variety of side dishes such as rice, roasted vegetables, fresh salads, mashed potatoes, or plantain chips.
Are there any alternative cooking methods for Pescado Empanizado?
While frying is the traditional method, you can also try air frying or shallow pan frying if you prefer a lighter version of Pescado Empanizado. Baking is another alternative cooking method that can yield delicious results.
Comments / Questions / Tips

Subscribe now for a free copy of the Gran Luchito e-cookbook filled with delicious, authentic Mexican recipes and join our mailing list for all the latest recipes, news and blog updates.