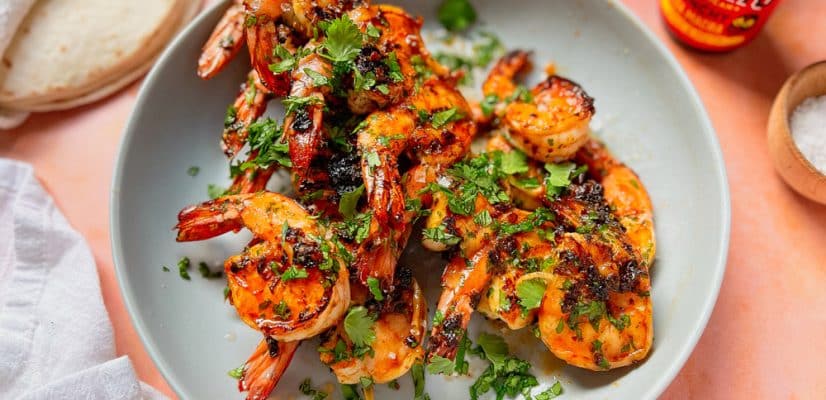 Grilled Shrimp
If you're looking for very tasty shrimp recipes, then this is the one to go for. We've quickly put together a super luscious marinade using Gran Luchito Crunchy Salsa Macha, amongst a few other simple ingredients. It creates a flavour coating that when grilled, gets deliciously charred and gives a spicy-smoky taste to these shrimps.
This is the perfect shrimp recipe to prepare when you're entertaining, and if you're going to all the trouble of getting the grill going, then why not try our recipes for Grilled Onions and Pollo Asado to serve alongside these shrimps.
Now if the weather is not cooperating, or for colder months, you can still enjoy these grilled shrimps by simply cooking them over a hot pan with a bit of olive oil. Either way, we guarantee that they're one of the best prawn recipes to try! 
Tips and Tricks:
Buy your prawns peeled to save on prep time. We recommend using large-sized prawns for this recipe, jumbo king prawns work a treat.

Calculate 5 shrimps (prawns) per person approx.

Save the grilled shrimp marinade and use it to brush over your prawns while they're grilling.

We recommend soaking your bamboo skewers in water for 1 hour before using them. This will prevent them from burning too quickly once they're on the grill.
Prep time

Cook time

Total time

Ideal for

Dinner

Make it

Mexican

Serves

5
Nutrition: Per serving
kcal 152
fat 5.2g
saturates 0.7g
carbs 13.1g
sugars 3.0g
fibre 0.3g
protein 13.1g
salt 0.99g
How to make it
If you're using a gas grill, preheat to low medium heat. For charcoal, make sure you leave 20 to 30 minutes for it to be ready. 

Prepare the marinade for your prawns in a medium size bowl and add the garlic, Crunchy Salsa Macha, agave syrup, lemon zest, parsley, and olive oil. Whisk and set aside.

Get your prawns and combine them into the prawn marinade. Make sure they are well coated all around, then season with salt and pepper. Cover and let them marinate for 20-30 minutes.

Once your grill is hot enough, get the previously soaked skewers and the marinated prawns. Skew 5 to 6 prawns onto each skewer, making sure they are as close to each other as possible. Reserve the marinade juices, as you'll use them for brushing.

Place the skewers over the medium heat gas grill, or the lower heat side of your charcoal grill. We often like to keep them on the edges of the grill, as they will cook fast for only a couple of minutes on each side until they turn a pinkish color with delicious grill marks on each side. Make sure to brush more king prawn marinade on whilst grilling, to help them stay juicy and moist.

Once ready, remove from the grill and prepare to serve. With the help of a fork remove the cooked prawns from the skewers, place them onto a platter, squeeze the lemon juice on top, add a pinch of flaky salt and a drizzle of olive oil on top. Serve with warm Soft Taco Wraps and Habanero Mango Salsa on the side.
What To Serve With Grilled Shrimp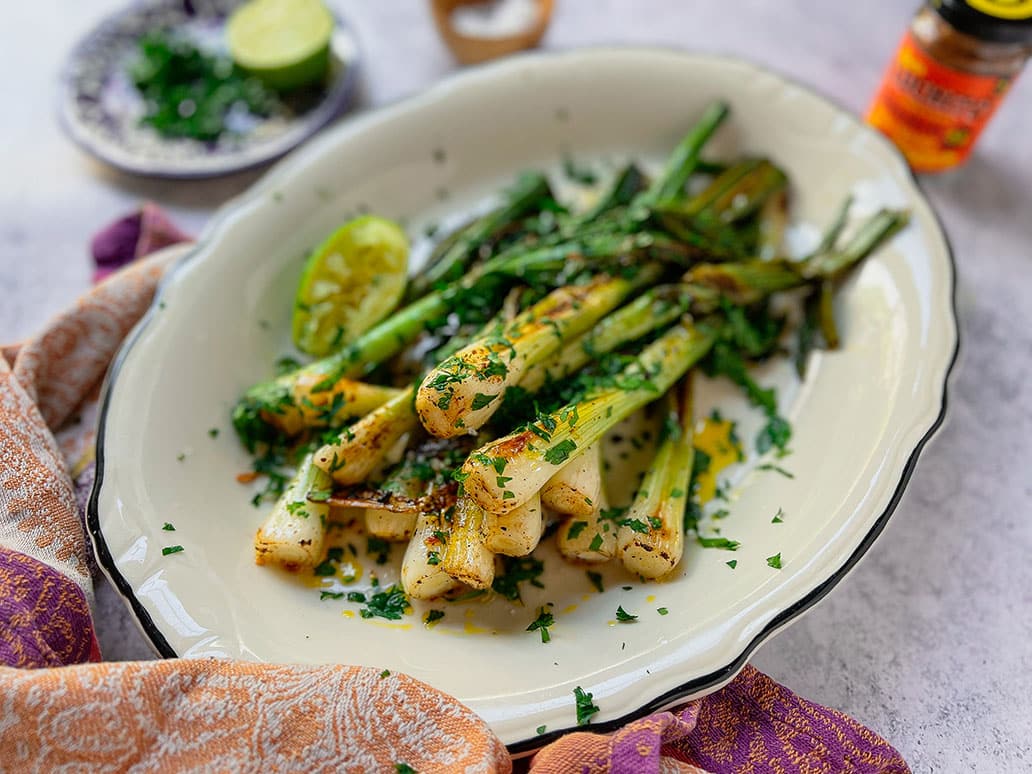 Serve them with a portion of our Grilled Onions recipe.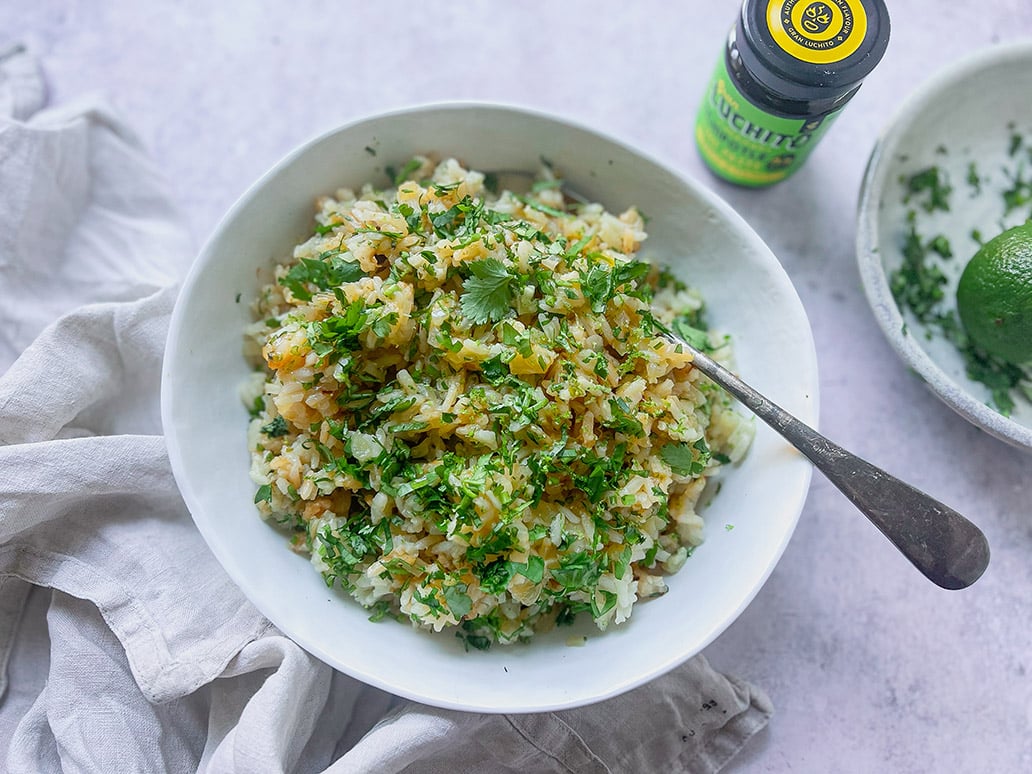 Alongside some Lime and Coriander Rice.
Download Our Free Guide To Mexican Classics
Your free guide will be emailed to you immediately.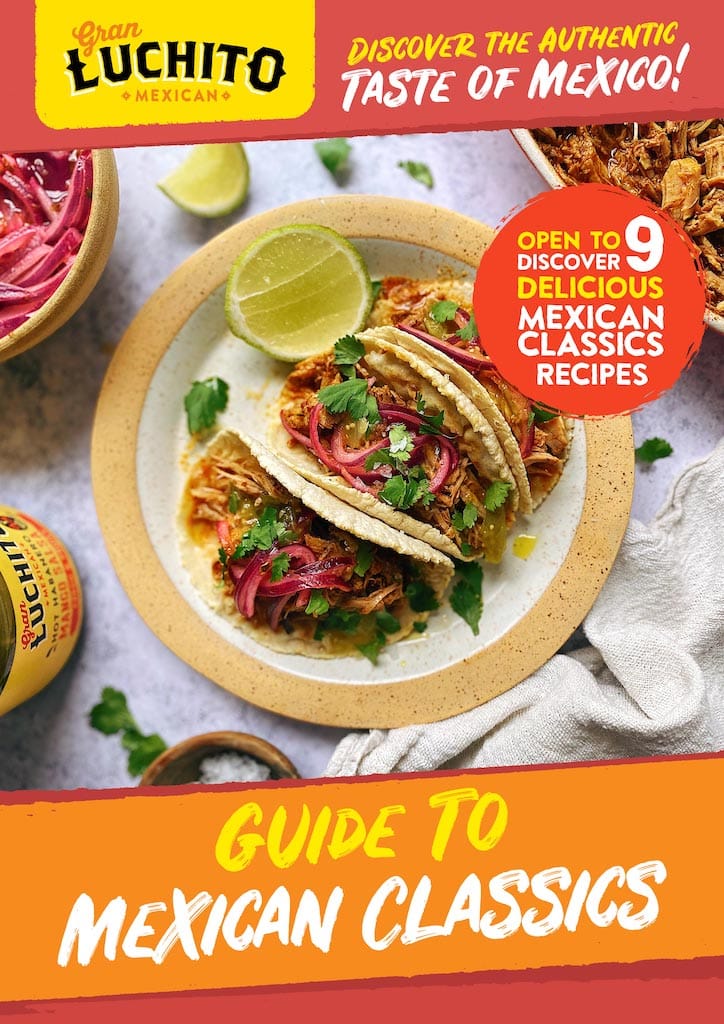 Similar Recipes You Might Like to Try
FAQs
What to serve with grilled shrimp?
Serve your grilled shimp with any of these popular recipes that you can find on our website: Lime and Coriander Rice, Mexican Salad, Mexican Coleslaw, Grilled Onions, Mexican Corn (Esquites), Pico de Gallo.
Is grilled shrimp healthy?
Yes, as long as you don't drown it in tons of oil/butter and eat it in small or moderate amounts. Shrimp is low in calories, carbs, and fat, but high in protein and essential micronutrients. It is very beneficial for your health and may promote better heart health.
How to season grilled shrimp?
We like to prepare a marinade using garlic, Gran Luchito Crunchy Salsa Macha, agave syrup, lemon zest, parsley, and olive oil. It's a lot more interesting than just seasoning them with a little salt, garlic and some Italian herbs.
Comments / Questions / Tips

Subscribe now for a free copy of the Gran Luchito e-cookbook filled with delicious, authentic Mexican recipes and join our mailing list for all the latest recipes, news and blog updates.