Queso Fundido
Queso fundido is a favourite at Mexican gatherings, and is the perfect starter that encourages sharing, and brings the community vibe that Mexican people are so good at.
What's not to love about this gooey melted cheese cooked with chorizo, onions, and Gran Luchito Crunchy Salsa Macha for even more flavour and a delicious kick. All you need to do is to serve it to your guests, alongside warm tortillas ready to scoop up the stringy cheese and make some tacos.
Have fun making different variations of this recipe. Swap the chorizo with bacon, the beer with white wine, and Crunchy Salsa Macha with the Gran Luchito Chipotle Paste. How about a vegetarian version using mushrooms and onions, with a touch of Gran Luchito Chipotle Lime Paste? Let us know what your favourite mix of ingredients is to make the best queso fundido dip at home.
Are you hosting a party? Try serving this queso fundido con chorizo alongside our recipes for Chicken Taquitos, Refried Beans and Homemade Guacamole.
Prep time

Cook time

Total time

Ideal for

Snack

Make it

Mexican

Serves

3
How to make it
Make a quick pico de gallo in a bowl. Add the cherry tomatoes, onion, lime juice, coriander, and extra virgin olive oil. Mix everything with a spoon and season with a good pinch of salt and pepper. Once ready set aside.

Heat the olive oil in a frying pan over medium heat. Add the onions and cook for 5 minutes. Add the chorizo to the pan and cook for a further 5 minutes. Add 1 tablespoon of the

Crunchy Salsa Macha

and stir well.

Reserve half of the fried chorizo mixture in a bowl. Return the pan to the heat, add the beer, and bring to a boil. Stir for a minute or so to deglaze the pan by mixing in any bits that have stuck to the pan and allow the alcohol to evaporate. The liquid should reduce to half.

Gradually add the cheese, a small handful at a time, stirring until it melts fully before adding more. Do this over low heat until you have added all your cheese and it becomes deliciously gooey and smooth.

Serve your authentic queso fundido recipe in the same pan or transfer it to a nicer bowl. Garnish with the remaining fried chorizo on top, the pico de gallo, and the remaining Crunchy Salsa Macha. Bring it to the middle of the table with warm Soft Taco Wraps on the side, ready to make deliciously cheesy tacos.
What To Serve With Chorizo Queso Fundido
We really enjoyed serving this Chorizo Queso Fundido with:
Download Our Free Guide To Mexican Classics
Your free guide will be emailed to you immediately.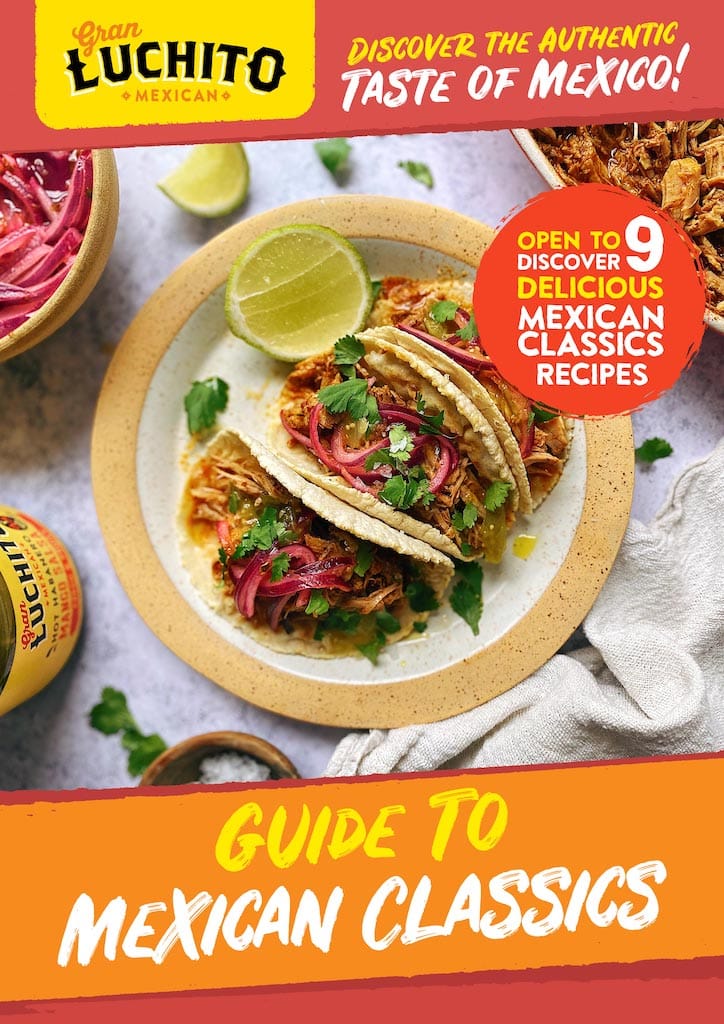 Similar Recipes You Might Like to Try
FAQs
What is queso fundido?
Queso fundido typically consists of melted cheese and chorizo. It's very flavourful and traditionally served with tortillas instead of tortilla chips. Queso in Spanish, however, literally means cheese, and if Queso is on a restaurant menu as a starter it would refer to a creamy cheese dip with tortilla chips for dunking. It can often have a bit of chilli in it too.
How to eat queso fundido?
With either tortilla chips or soft flour tortillas for dunking! You could also spoon queso fundido into the soft flour tortilla.
What kind of cheese for queso fundido?
Commonly, Monterey Jack cheese is used for queso fundido, and sometimes with a mix of Mozzarella. Cheddar is also a popular choice, but generally, a mix of cheeses is always best.
Comments / Questions / Tips

Subscribe now for a free copy of the Gran Luchito e-cookbook filled with delicious, authentic Mexican recipes and join our mailing list for all the latest recipes, news and blog updates.