Chipotle Honey Glazed Ham
A nice piece of roast ham served at the table is another favourite during the holiday season. You can serve it alongside your roast turkey or beef, or as the main star of the show!
We love the simplicity of this Chipotle Honey Glazed Ham recipe. It's so easy to prepare while you're cooking other Christmas treats, but also perfect to cook a day ahead and save some precious time on the day. The key to this honey ham recipe is to cook the ham first in liquid. For this, we use beer, stock, and aromatics to infuse our ham with even more flavour. Once the ham is cooked, we score it and brush it with a mixture of honey and Gran Luchito Chipotle Paste, ready to go into the oven and to get beautifully crisp on the outside. 
This simple combination of ingredients, honey and our Chipotle Paste, is all you need to make your honey roast ham shine and taste amazing on Christmas Day, ready to be sliced and enjoyed by your family and friends.
Last but not least if you have any leftovers, fry the ham slices with a bit of olive oil in a pan, just enough to warm it and crisp it up. Add the warm chipotle ham slices to a piece of crusty baguette with a bit of mayo and dijon mustard. Last but not least, add some Gran Luchito Fire Roasted Serranos and enjoy! This is the popular way to enjoy ham leftovers in Mexico.
Prep time

Cook time

Total time

Ideal for

Main Course

Make it

Mexican

Serves

4
Nutrition: Per serving
kcal 91
fat 3.4g
saturates 1.1g
carbs 6.5g
sugars 6.2g
fibre 0.2g
protein 7.8g
salt 1.3g
How to make it
Place the gammon in a large heavy base saucepan with the onion, garlic clove, bay leaves, rosemary sprigs and peppercorns. Pour in the beer, stock, and enough water to cover the joint. Bring to a boil and then lower down the temperature, cover with a lid and simmer for 2 hours on low.

Preheat the oven to 200°C/400°F. Once ready, remove the gammon from the pan and leave to cool. In the meantime, in a bowl combine the Chipotle Paste with the honey.

With a sharp knife criss-cross the fat layer of your gammon, place it in a baking dish, and brush it with the chipotle honey mixture all over. Place it in the oven for 20 minutes or until golden and crispy. Remember to keep basting the roast ham while cooking, and do this at least 2 to 3 times.

Once ready, remove the chipotle ham from the oven and leave it to rest before carving.
What To Serve With Chipotle Honey Glazed Ham
We recommend serving this honey glazed ham with sides of:
Download Our Free Guide To Mexican Classics
Your free guide will be emailed to you immediately.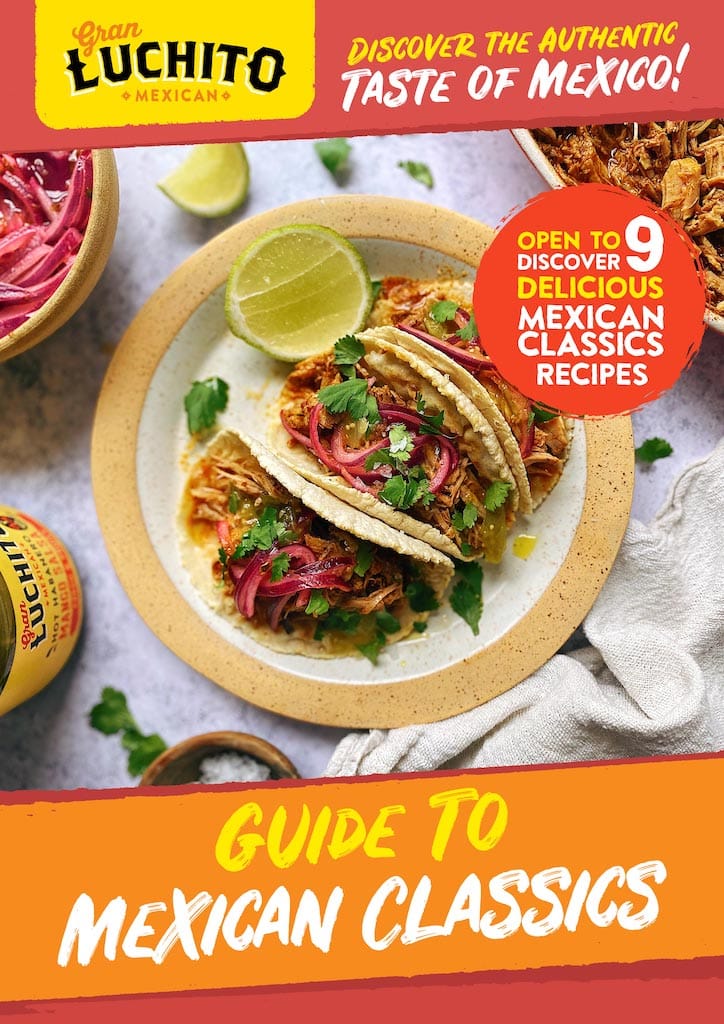 Similar Recipes You Might Like to Try
FAQs
How to glaze a ham?
We like using a basting brush to glaze a ham. It's easier than using a spoon, and gets the mixture all over the ham, into the creases, and doesn't make your hands all messy either.
What to serve with roast ham?
Some delicious Mexican sides by Gran Luchito of course! Try our Mexican Cauliflower Cheese, Chipotle Honey Roasted Carrots, Mexican Roast Potatoes, and Mexican Green Beans. Any of those would be great for this ham recipe.
Do you have to boil a ham before baking?
It's best to, yes. It retains the flavour, tenderness, and moisture through a gentle simmering process. Boiling is a good method to use when cooking dry-cured country hams. Cooking by this method provides a lot of flavour because it draws additional flavour from the meat itself and the bones as the ham cooks.
Comments / Questions / Tips

Subscribe now for a free copy of the Gran Luchito e-cookbook filled with delicious, authentic Mexican recipes and join our mailing list for all the latest recipes, news and blog updates.