Leftover Ham and Potato Hash
This ham and potato hash is the kind of meal that you normally make the morning after a late-night whilst still in your pyjamas! Perhaps brew some fresh coffee first to have on the side while you begin to cook this quick and tasty breakfast/brunch, and make yourself feel human again!
Gran Luchito salsas are a great way to spruce up any leftovers you might have on hand and bring lots of fresh Mexican flavour. This hash recipe is one to try when you have roast or baked potatoes left in the fridge or that mash from the weekend. We like to combine it with cooked gammon, leftover turkey, bacon or even sausages and add some fried eggs on top. This is one of those recipes that's perfect for adapting to whatever ingredients you may have at home already! 
All you'll need to do is to get yourself some fresh eggs from your local shop. Of course, we recommend that you always have a jar of Gran Luchito Salsa and a little pot of Gran Luchito Smoky Chipotle Fajita & Taco Mix in your cupboard at home! Trust us, these staples are a great way to add flavour to all your cooking and not just this recipe.
We recommend using our smoky Gran Luchito Chipotle Salsa for those of you who prefer spicier flavours, but if you like a bit less heat in your food you might want to try our Gran Luchito Fired Roasted Red Pepper Salsa.
Prep time

Cook time

Total time

Ideal for

Breakfast

Make it

Mexican

Serves

3
Nutrition: Per serving
kcal 135
fat 8.0g
saturates 1.2g
carbs 10.5g
sugars 1.8g
fibre 1.5g
protein 5.7g
salt 0.82g
How to make it
Heat up half of the oil in a large frying pan, add the diced onion and green chilli, and fry for a couple of minutes.

Add the leftover mashed potatoes or roast potatoes, and mix them with the onion and chilli. Add a bit more oil and brown them slightly.

Chop the leftover gammon into smaller pieces, or you can use bacon too. Add it into the pan with the potatoes and season with Smoky Chipotle Fajita & Taco Mix, and a bit of black pepper, stir and fry gently for a couple of minutes.

In the meantime heat up the olive oil in another frying pan and fry the eggs, and then season with salt and pepper.

Serve your potato hash with the fried eggs on top. Spoon some of our delicious smoky Chipotle Salsa or fire roasted Red Pepper Salsa generously on top and finish with a sprinkling of freshly chopped coriander. It can't be anymore simple and delicious. Enjoy! 

Don't forget to serve the rest of your salsa on the side and add more as you go.
What To Serve With Leftover Ham and Potato Hash
For one epic breakfast, serve this ham and potato hash with either some:
Download Our Free Guide To Mexican Breakfast
Your free guide will be emailed to you immediately.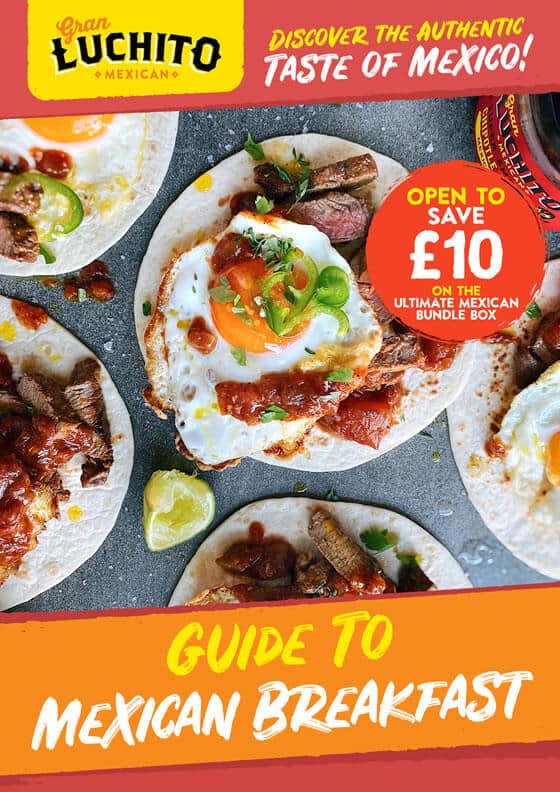 Similar Recipes You Might Like to Try
Comments / Questions / Tips

Subscribe now for a free copy of the Gran Luchito e-cookbook filled with delicious, authentic Mexican recipes and join our mailing list for all the latest recipes, news and blog updates.