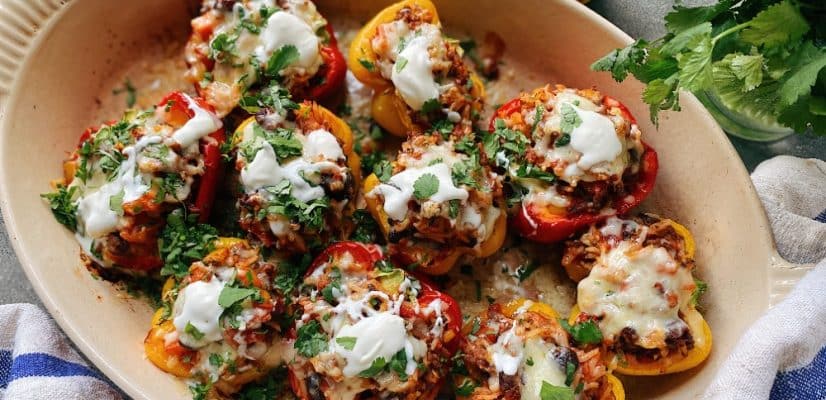 Chilli Stuffed Peppers
Chilli Stuffed Peppers are a delicious and different way to enjoy chilli con carne. The sweet flavour of the roasted peppers is an excellent accompaniment to the meaty mayhem of a chilli con carne. If you're vegetarian you can stuff the peppers with our Vegan Chilli Con Carne.
Be sure to check out our other recipe ideas for leftover chilli con carne.
Prep time

Cook time

Total time

Ideal for

Summer

Make it

Mexican

Serves

5
Nutrition: Per serving
kcal 96
fat 5.3g
saturates 2g
carbs 6.9g
sugars 2.8g
fibre 1.4g
protein 5.2g
salt 0.36g
How to make it
Heat up half of the olive oil in a large casserole dish and add the fresh veg (onion, garlic, celery, carrot, peppers). Gently fry them over medium heat for 8-10 mins or until nice and soft. Then add the cumin and cinnamon as well as the Chipotle Paste and stir.

Add the chopped tomatoes,

Cantina Beans

and the finely chopped coriander stalks. Reduce the heat and let it simmer over medium heat while you cook your meat.

In a different pan brown the minced beef in 1 teaspoon of olive oil over high heat. Once it gets a bit of colour, add the meat to the other ingredients in the casserole dish, then season with salt and pepper. Place a lid on your casserole dish and simmer on a low heat for at least one hour.

Preheat your oven at 180 ˚C / 350 ˚F.

Lay your peppers on a baking tray with their hollow side up, drizzle with olive oil and sprinkle with salt & pepper. Roast for 20 mins and remove from the oven once ready, set aside and leave to cool down.

Taste your chilli and add more seasoning if necessary. Once happy with your chilli remove it from the heat, mix it with the rice and the coriander leaves (we went for about 60% chilli to 40% rice). Use the chilli rice mixture to stuff the peppers, then add the cheese on top and pop back in the oven for 15 to 20 minutes to heat through and the cheese melts on top. Serve warm and enjoy!
Download Our Free Guide To Chilli Con Carne
Your free Chilli guide will be emailed to you immediately.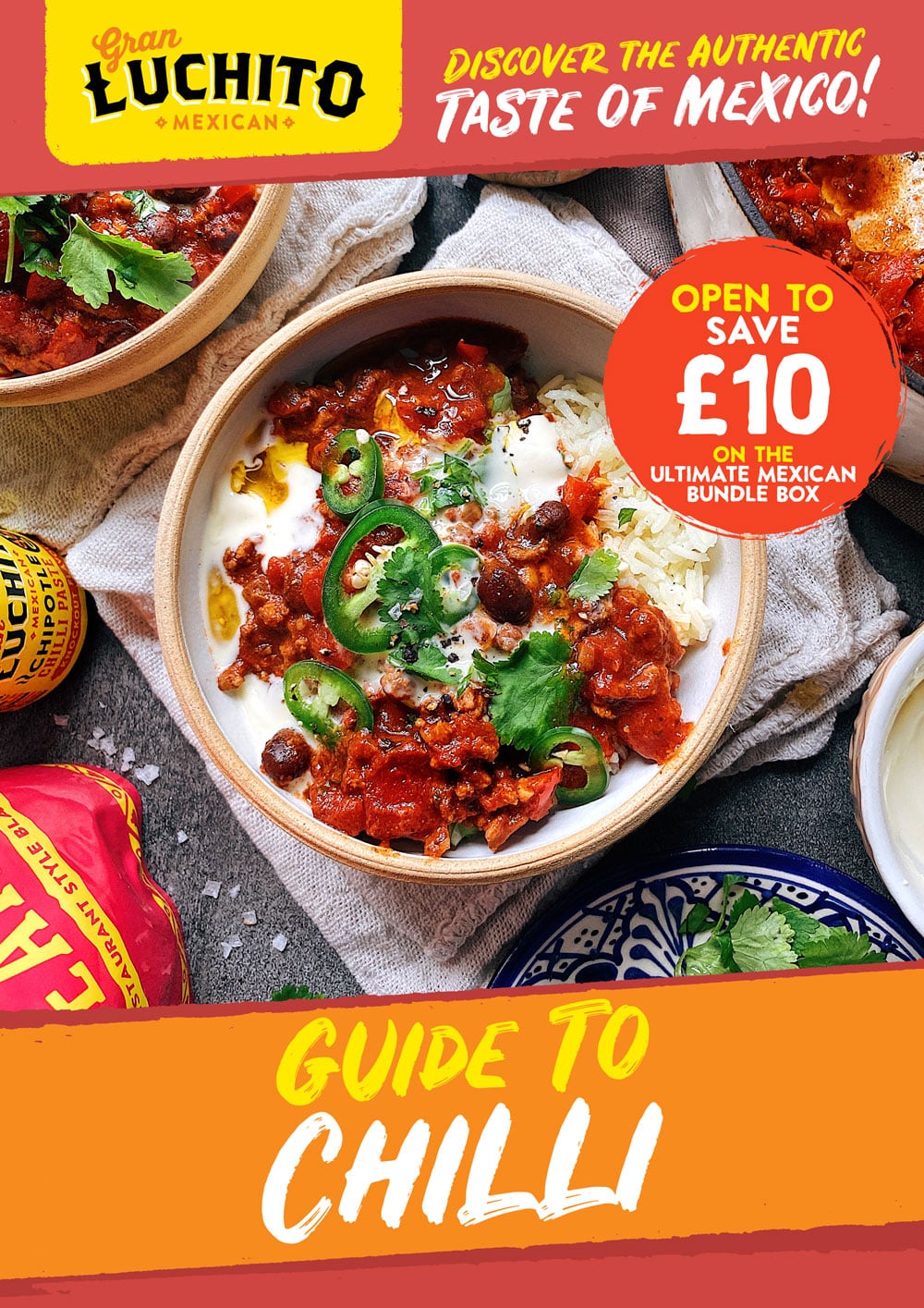 What To Serve With Chilli Stuffed Peppers
Serve them with some Chipotle Crema.
Also a delicious Mushroom Quesadilla.
Similar Recipes You Might Like to Try
Comments / Questions / Tips

Subscribe now for a free copy of the Gran Luchito e-cookbook filled with delicious, authentic Mexican recipes and join our mailing list for all the latest recipes, news and blog updates.

wpDiscuz