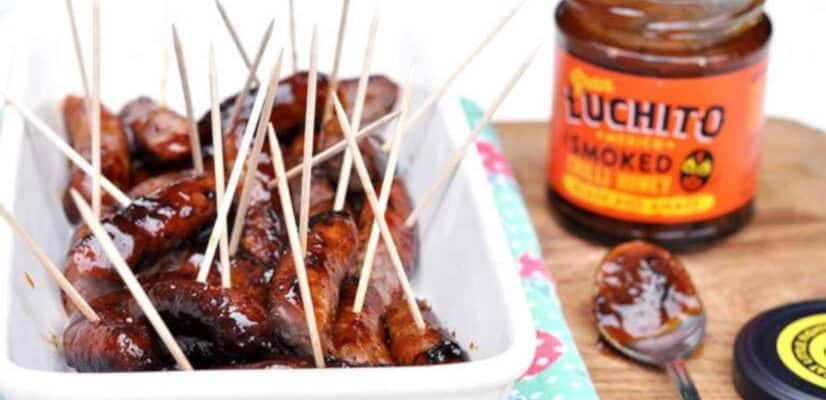 Sticky Chipotle Honey Sausages
These sticky chipotle honey sausages are so easy to make and taste great. Our Chipotle Honey is the perfect glaze for all kinds of meat and fish, but roasted with sausages is a real winner. Sweet and spicy in the perfect measures, these are great as part of a buffet or to accompany a meal.
If you like the look of this recipe then you should check out our stick pork belly recipe or our chipotle honey glazed pork chop.
Prep time

Cook time

Total time

Ideal for

Snacking

Make it

Mexican

Serves

12
Nutrition: Per serving
kcal 311
fat 24g
saturates 8.8g
carbs 11.5g
sugars 4.9g
fibre 2.8g
protein 11.4g
salt 1.5g
How to make it
Preheat the oven to 180°C (350°F, Gas 4).
Put the sausages into a roasting pan and drizzle with a little oil.
Roast for about 15 minutes or until they start to brown. Remove from the oven and reduce the temperature to 150°C (300°F, Gas 2).
Add a spoonful of chipotle chilli honey, season with salt and pepper and move the sausages around in the honey until they're all covered.
Return to the oven and cook for another 10–15 minutes, basting with the honey every 5 minutes. Keep your eye on them once the honey goes on otherwise they will burn quite quickly.
Slice into bite-sized chunks and pour over the honey from the roasting pan.
Similar Recipes You Might Like to Try
Comments / Questions / Tips

Subscribe now for a free copy of the Gran Luchito e-cookbook filled with delicious, authentic Mexican recipes and join our mailing list for all the latest recipes, news and blog updates.