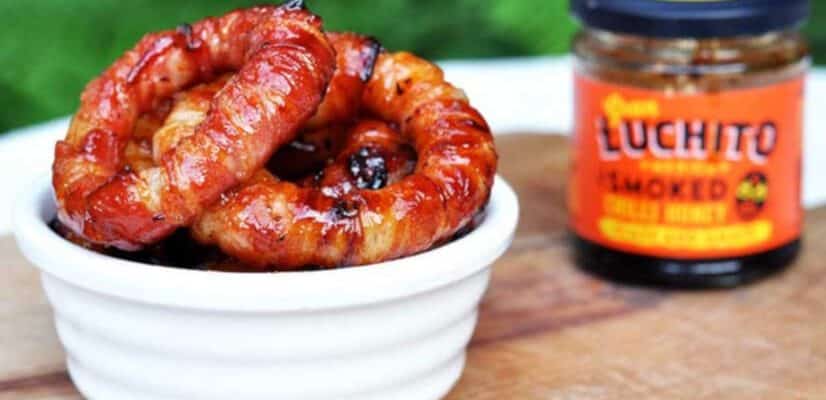 Bacon Wrapped Onion Rings
If you fancy making yourself a little treat, try these tasty bacon wrapped onion rings.
We replaced the traditional breadcrumbs with streaky bacon, then roasted them until golden before brushing all over with our delicious Gran Luchito Chipotle Honey.
If you can think of a better snack, we'll eat our hat!
Serve the bacon wrapped onion rings alongside our deep fried chicken wings and some chicken nachos.
Prep time

Cook time

Total time

Ideal for

Bacon

Make it

BBQ

Serves

4
Nutrition: Per serving
kcal 191
fat 12g
saturates 4.2g
carbs 11.7g
sugars 9.8g
fibre 0.8g
protein 8.4g
salt 1.6g
How to make it
Preheat the oven to 200°C / 400°F / Gas 6.
Push out the middle of the onions (you can save these and use them for something else later) leaving the outer 2 layers.
Cut the bacon in half lengthwise to leave thinner, more manageable lengths.
Wrap each ring with the bacon until covered.
Pop a metal skewer through the rings and suspend over an ovenproof dish. Alternatively, bake them on a tray on foil or baking parchment.
Cook in the oven, turning every now and again, for about 20 minutes until the bacon starts to get crispy all over.
Loosen the Gran Luchito Chipotle Chilli Honey with a splash of hot water, then brush over the rings before returning them to oven to finish off. Take care not to burn them.
Remove when the honey glaze has turned golden and leave to cool.
Similar Recipes You Might Like to Try
Comments / Questions / Tips

Subscribe now for a free copy of the Gran Luchito e-cookbook filled with delicious, authentic Mexican recipes and join our mailing list for all the latest recipes, news and blog updates.