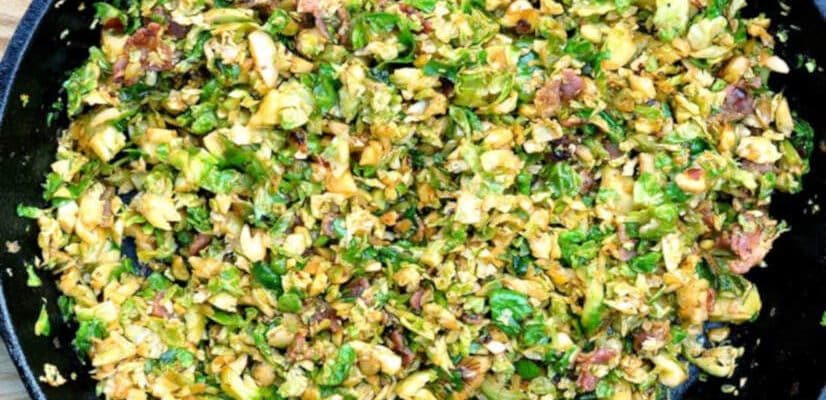 Shredded Brussels Sprouts With Bacon And Chipotle
There are a few advantages to doing your brussels sprouts like this. Firstly, it saves time. Secondly, kids are probably more likely to give them a go (they don't look like sprouts). And third, they just taste better. Hardcore sprout fans probably won't bother, but if you want to make this love it or hate it vegetable a bit more exciting then give this a go this Christmas.
Prep time

Cook time

Total time

Ideal for

Side

Make it

Mexican

Serves

4
Nutrition: Per serving
kcal 165
fat 14g
saturates 4.5g
carbs 3g
sugars 2.1g
fibre 2.9g
protein 7g
salt 1.2g
How to make it
If not already prepared, cut the bottoms off the sprouts and remove the outer layer of leaves. Wash well and put them into a food processor with the peeled garlic cloves. Pulse fairly slowly to shred everything.
Gently heat a little olive oil in a frying pan over a medium heat, add the bacon bits and fry for a few minutes until crisp.
Add the Gran Luchito Chipotle Chilli Paste and stir in.
Add the shredded sprouts and the butter and cook for 7–8 minutes, when the sprouts will be softened but not overcooked.
Stir in the walnut pieces and season to taste with salt and pepper.
Similar Recipes You Might Like to Try
Comments / Questions / Tips

Subscribe now for a free copy of the Gran Luchito e-cookbook filled with delicious, authentic Mexican recipes and join our mailing list for all the latest recipes, news and blog updates.