Bacon Taco Shell With Scrambled Egg
Prep time

Cook time

Total time

Ideal for

Breakfast

Make it

Mexican

Serves

1
Nutrition: Per serving
kcal 250
fat 21g
saturates 7.5g
carbs 2.5g
sugars 2.1g
fibre 0.0g
protein 13.8g
salt 2.4g
How to make it
TO MAKE THE BACON TACO
Preheat the grill. Line a tray with baking parchment and lay 9 rashers of bacon in a row, side-by-side.
One-by-one, weave the other 9 rashers through the row so you end up with a grid. Place it under the grill for about 5 minutes until it starts to cook.
Carefully flip the grid over and return it to the grill for another 5 minutes.
Transfer the grid to a chopping board (it will be a bit smaller as bacon shrinks as it cooks).
Use a bowl which goes as close to the edges as possible and cut around it with a sharp knife, leaving a perfect woven bacon circle. (Pop the trimmings in the fridge/freezer to use in something else another time).
Preheat the oven to 200°C / 400°F / Gas 6.
Place the disc back under the grill for about 7–8 minutes until it begins to crisp on both sides.
With a tray underneath to catch any drips, hang the disc over the bars in the oven to create a fold in the middle. Cook it like this for 5–10 minutes, or until it has crisped up and retains its shape.
Remove and brush the Gran Luchito Chipotle Chilli Honey on the inside of the bacon taco shell.
TO MAKE THE SCRAMBLED EGGS
Melt the butter in a non-stick pan over a low–medium heat. Add the Gran Luchito Chipotle Chilli Paste and stir it into the butter.
Add the spring onions and fry gently for 5 minutes.
Whisk the eggs and add them to the pan. Leave them to begin cooking without stirring them too much, keeping the heat nice and low so they don't overcook.
Every now and again, use a spatula to fold the eggs until they're just under how you want them to finish. Remove from the heat and leave to finish cooking in the residual heat from the pan.
Fill the bacon taco shell with the egg and spring onion and serve.
You can also use Serranos Chillies as an optional topping to serve with.
Download Our Free Guide To Mexican Breakfast
Your free guide will be emailed to you immediately.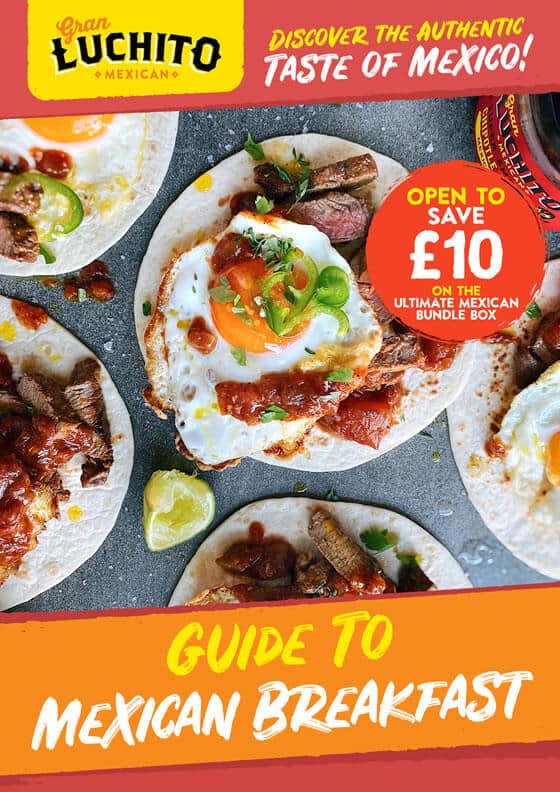 Similar Recipes You Might Like to Try
Comments / Questions / Tips

Subscribe now for a free copy of the Gran Luchito e-cookbook filled with delicious, authentic Mexican recipes and join our mailing list for all the latest recipes, news and blog updates.