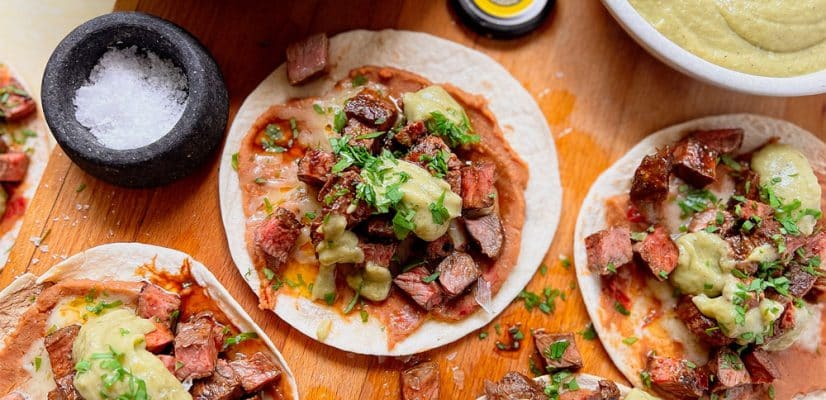 Lorenza Taco
A Lorenza taco is a popular taco that originated in the state of Sonora, Mexico. Like every region in Mexico, Sonoran people have come up with their special taco, which is a cross between a tostada and a taco. Its main characteristic is that it is topped with refried beans, cheese, and grilled steak cut into squares, served with salsa and a typical garnish of coriander and onion.
This special kind of taco is believed to have been created by a taco vendor in Hermosillo, Sonora named Lorenza, who was known for her innovative tacos. Lorenza's tacos soon became very popular and then spread to other parts of Sonora and eventually across taquerias in Mexico.
If you are visiting Mexico and come across Sonora-style taquerias, you will likely be able to order this type of taco from the menu.
What are Lorenza's tacos' main ingredients:
Steak: Use good quality steak. We especially recommend sirloin for a lean and flavourful option, while flank or skirt steak is commonly used due to its flavour and marbling. You can also use a mix of sirloin and skirt.
Refried Beans: Simply reheat Gran Luchito Chipotle Refried Beans for quick homemade-style beans. This is a key ingredient in Lorenza's tacos as the first layer, providing flavour and helping to hold the taco's toppings.
Tortillas: Corn tortillas are traditionally used and toasted over the grill until they become crispy. For wheat tortilla lovers, you can also make Lorenza's tacos using Gran Luchito Soft Tacos toasted over the grill for an equally delicious result.
Cheese: A small amount of grated cheese goes over the refried beans to melt. We recommend Chihuahua-style cheese, Cheddar, or Monterey Jack.
Salsa: Like every taco, it cannot be complete without a good salsa. Try Gran Luchito Mango-Habanero Salsa, Smoky Chipotle, or Tomatillo Salsa and pick your favourite.
We recommend serving Lorenzas with our recipe for Mexican slaw, homemade guacamole or pico de gallo.
Prep time

Cook time

Total time

Ideal for

Dinner

Make it

Mexican

Serves

2
How to make it
Rub the steaks with the chipotle paste and olive oil. Place them in a shallow dish, cover them with plastic wrap, and let them rest in the refrigerator for 30 minutes.
In the meantime, prepare your avocado salsa. In a blender, scoop the avocado flesh, add the tomatillo salsa, the juice of 1/2 lime, salt and pepper. Blend until smooth. When ready, place the salsa in a container and refrigerate until ready to use.
Get the grill ready. If using charcoal, allow 30 minutes for the desired heat. If using gas, simply preheat the grill to high heat. Once hot enough turn the temperature down to medium heat and place the marinated steaks on the grill, season with salt and pepper. Cook for 2 to 3 minutes per side, or until desired doneness. Remove from the grill and place on a cutting board. Let rest for 6 to 7 minutes before cutting.
In the meantime, get the Soft Tacos out of the packet, and add a spoonful or two of refried beans to each taco. Spread the beans evenly over the tortilla surface. Sprinkle with cheese and place them over the grill. Let the cheese melt and the tortilla turn crispy.
Cut the steak into small cubes. Drizzle with the remaining lime juice.
Remove the crispy tacos from the grill and place them on a serving platter. Top with the steak and garnish with cilantro. Serve with a spoonful of avocado salsa verde and lime wedges on the side. Enjoy!
*Note: You can also make Lorenzas on the stove.
What to serve with Lorenza Taco
Download Our Free Guide To Tacos
Your free Taco guide will be emailed to you immediately.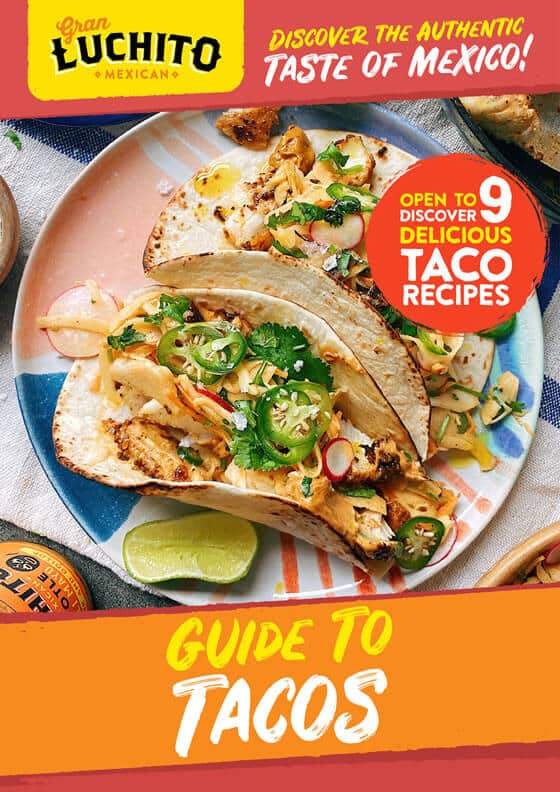 Similar Recipes You Might Like to Try
FAQs
What are Lorenza-style tacos?
Lorenza-style tacos are a type of Mexican taco that is made with a special type of corn tortilla. The tortillas are made with a thicker masa dough than traditional corn tortillas, and they are cooked on a comal until they are slightly crispy. Lorenza-style tacos are typically filled with grilled meat, onions, and cilantro, and they are served with a variety of toppings, such as salsa, guacamole, and sour cream.
What are some of the most popular Lorenza-style tacos?
Some of the most popular Lorenza-style tacos include the carne asada taco, the pastor taco, and the lengua taco. The carne asada taco is made with grilled steak, the pastor taco is made with grilled pork, and the lengua taco is made with grilled beef tongue. All of these tacos are typically served with onions, cilantro, and a variety of toppings.
Where can I find Lorenza-style tacos?
Lorenza-style tacos can be found in a variety of restaurants in Mexico and the United States. Some of the most popular restaurants that serve Lorenza-style tacos include Lorenzas from Mexico, Tacos El Gordo, and Tacos La esquina.
Comments / Questions / Tips

Subscribe now for a free copy of the Gran Luchito e-cookbook filled with delicious, authentic Mexican recipes and join our mailing list for all the latest recipes, news and blog updates.