Tomatillo translated might mean "little tomato" but tomatillos are totally different to tomatoes. Tart, bright, green and plump, the tomatillo gets nowhere near the attention it deserves and receives in Mexico! Maybe it's their papery husks that put people off, but we love them. So much so, we offer a Zingy and Tangy Tomatillo Salsa and Enchilada Cooking Sauce as part of our range. In this blog we share what a tomatillo is and some of our favourite recipes using them.
What is a Tomatillo?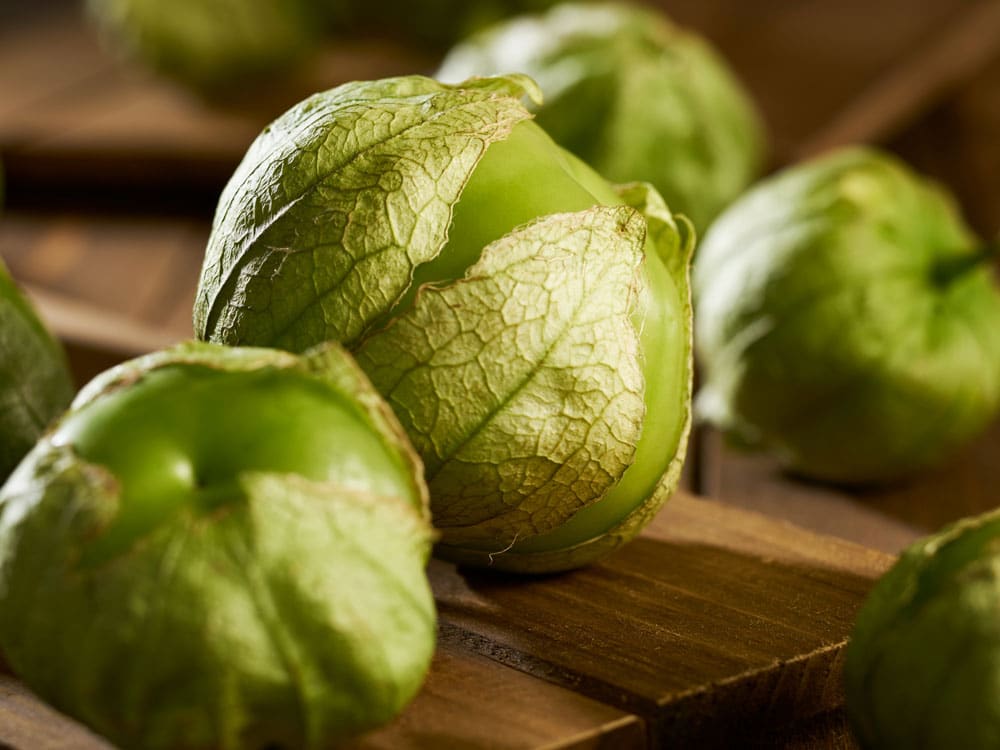 Pronounced tohm-ah-TEE-oh, they are native to Mexico and have been around centuries dating back to the Aztecs. They may look like small, green tomatoes with papery husks, but they are a closer relative to the gooseberry than a tomato. Known also as a Mexican husk tomato they are part of the nightshade family. Tomatillos may be in the same family as tomatoes but they have a much brighter, tarter flavour.   
They stay green even when ripe. They also have a thick and sticky skin which allows the fruit to remain longer in the fridge.   
Tomatillos aren't so easy to find in the UK, but the Cool Chile Company has them or you can have your hand at growing your own from seeds.
Why are Tomatillos so Popular in Mexican cuisine?
Tomatillos' acidic flavour becomes softer and tastier the longer you cook them. Often you will find tomatillos used in sauces paired with onion, coriander, garlic, and any chillies, or just raw. Tomatillos help to smooth down the intensity of spicy chillies in sauces.
You will find tomatillos in almost every dish including enchiladas, tacos, tostadas, pozoles, and huevos divorciados. One of our favourite things about going to a restaurant in Mexico has to be that as soon as you sit down they bring to the table before you order totopos (fried tortillas chips triangle-shaped) with a variety of sauces, mostly hot. One of these sauces is green, tart and made with tomatillo.
Healing Powers
They have high levels of nutrients, including proteins, fats, carbs and iron. The fruit is also considered to have powerful healing properties and is used to treat respiratory problems, ear pain, stomach inflammation and high blood pressure. 
How Do You Prep?
First use your hands to remove the papery husk

Then wash to remove the sticky residue

Now they are ready to chop and then you can add them raw to salsas or cook in a sauce
Our Favourite Tomatillo Recipes
With our Enchilada Cooking Sauce, we make it easy for you to make delicious and savoury, ooey, gooey Chicken Enchiladas.
It has the mild, fresh flavours of tomatillos, jalapeños, onion and garlic, it's a real crowd pleaser perfect for when friends come 'round. This green enchilada recipe serves 2-3 but you can easily double or triple it.

This recipe uses our tomatillo salsa and the result is a tasty guacamole recipe that is super easy to make and full of fresh flavour. 

We hope you've enjoyed learning about tomatillos and we've inspired you to try them in your cooking! We would love to see how you get on, so don't forget to tag us #granluchito.