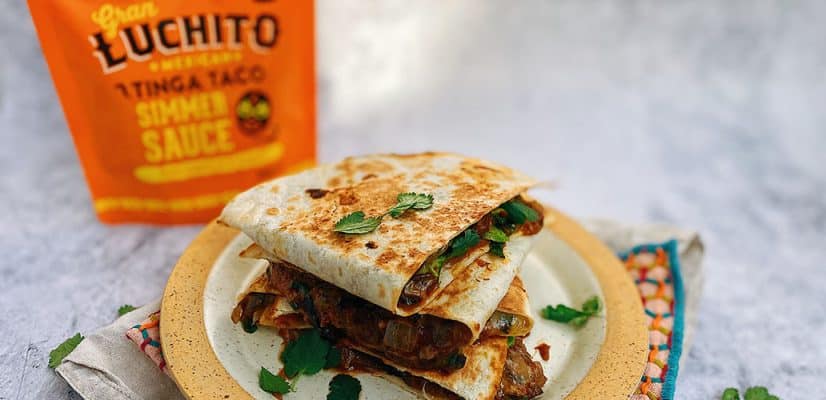 Vegan Quesadilla
There is no reason why vegans can't enjoy a good quesadilla. Nowadays you can find good melty vegan cheese available at markets, so you can easily prepare this vegan quesadilla recipe.
For this Vegan Quesadilla, we wanted to prepare a vegan version of Chicken Tinga. We therefore substituted the chicken with portobello mushrooms, sauteed the onion, cut mushrooms into strips, and poured in the Gran Luchito Tinga Taco Simmer Sauce. This will make you a very tasty vegan tinga recipe, ready in no time!
You can use different kinds of mushrooms, from chanterelle to oyster, to simple chestnut or white mushrooms. Once your filling is ready all you need to do is to fill your Gran Luchito Burrito Wraps with a good amount of mozzarella style vegan cheese and mushroom tinga. You then fold your tortilla in half and warm it up over a hot pan until golden and toasty on both sides.
Cut your vegan quesadillas in half while they're still warm and add a spoonful of Gran Luchito Chipotle Salsa or Tomatillo Salsa. We recommend serving these with Mexican Rice and warm Mexican Black Beans on the side.
Prep time

Cook time

Total time

Ideal for

Lunch

Make it

Mexican

Serves

4
Nutrition: Per serving
kcal 84
fat 4.2g
saturates 1.6g
carbs 9.3g
sugars 2.1g
fibre 1.2g
protein 1.5g
salt 0.38g
How to make it
Heat up the olive oil in a hot pan, and then add the onion.  Fry gently until they become translucent. Add the portobello mushrooms and saute for a minute or two over a high temperature. Simply season with a pinch of salt and freshly ground black pepper.

Once your mushrooms are soft, pour in your

Tinga Simmer Sauce

and simmer for a couple of minutes (just enough to warm up the sauce). Once ready, remove from the heat.

Place one of your Burrito Wraps over the kitchen counter and add a good amount of grated vegan cheese. Top with a few spoonfuls of vegan tinga and finish by adding a bit of vegan cheese. Fold in half and repeat the same process with the rest of the tortillas and filling.

Heat up the quesadillas over a warm non-stick pan, and once they are lovely and golden brown on one side, flip them with the help of a spatula to get the other side brown and toasted too. Repeat the same with the rest of the quesadillas.

Serve your quesadillas cut in half, with slices of avocado and a good amount of Chipotle Salsa.
What To Serve With Vegan Quesadillas
We recommend serving these vegan quesadillas with:
Download Our Free Guide To Quesadillas
Your free Quesadilla guide will be emailed to you immediately.


Similar Recipes You Might Like to Try
FAQs
How many calories are in a vegan quesadilla?
Because these don't have meat, they are much lower in calories. They have around 230-300 calories depending on how much vegan cheese and veg you put inside.
Are tortillas vegan?
Almost all store-bought wraps and tortillas are 100% vegan. However, there may be some niche brands or restaurant versions that are made with lard, butter or they may contain non-vegan preservatives. Our Gran Luchito wraps are suitable for vegans.
Can you freeze these vegan quesadillas?
Yes you can! You can freeze quesadillas for up to 4 months, but we recommend using them within 2 months for the best quality. Cook them, and then leave them to cool. Wrap them in cling film, each one separately, and then place in the freezer, ideally in a tupperware box.
Comments / Questions / Tips

Subscribe now for a free copy of the Gran Luchito e-cookbook filled with delicious, authentic Mexican recipes and join our mailing list for all the latest recipes, news and blog updates.