Torta
For those who have been lucky enough to travel to Mexico and try a torta, you know that it's not just any Mexican sandwich, and that they are built with layers of flavours put together to create the ultimate tasty sandwich.
There are many different types of torta recipe, from the classic ham and cheese, to a more exotic Cubana with pulled pork and ham, to a Milanesa (breaded steak), and the chorizo sandwich shown here.
But there are really no rules to what you can put in a Mexican torta when you prepare them at home. Perhaps the only rule we can think of is to make sure to add many layers of flavours, and always finish it up with some kind of pickled chilli, like Gran Luchito Fire Roasted Serranos.
So what's not to love about crusty torta bread cut in half and toasted in the oven? One side is smeared with a good amount of Gran Luchito Chipotle Mayo topped with a tasty chipotle chorizo filling. The other side is dolloped with freshly made guacamole and lettuce leaves, a few serranos and then all put together into one tasty Mexican chorizo sandwich.
You can slice this chorizo sandwich into little tortas and serve as a snack, or share between two people for lunch. 
Prep time

Cook time

Total time

Ideal for

Lunch

Make it

Mexican

Serves

2
Nutrition: Per serving
kcal 150
fat 12g
saturates 2.5g
carbs 6.3g
sugars 2.1g
fibre 1.7g
protein 4.2g
salt 0.79g
How to make it
To prepare the chorizo filling, heat up a pan with olive oil and add the onion. Fry for a couple of minutes and then add the chorizo and stir until the chorizo gets a bit of colour. Finally, add the tomatoes,

Chipotle Paste

and season with a bit of freshly ground pepper. Cook for a minute or two and remove from the heat, then set aside.

In a bowl quickly combine the avocado flesh, add the lime juice, a pinch of salt and freshly ground black pepper. Mash and combine everything with a fork, then set aside. 

Preheat the oven to 180˚C.

Remove the ends of your baguette with a bread knife and then cut in half lengthwise. Add a drizzle of olive oil and warm it up in the oven for 5-6 minutes approx.

On the bottom of the bread add the

Chipotle Mayo and spread evenly with the back of a spoon, then add the chorizo filling on top with some Fire Roasted Serranos.

On the top slice add the mashed avocado and spread evenly, top with lettuce leaves and red onion slices. Bring both sides together to form your sandwich, and cut into slices. You can share this as a starter or cut it in half and have it for lunch. Enjoy!
What To Serve With Torta
We recommend serving with this torta recipe a side of one of these:
Download Our Free Guide To Mexican Classics
Your free guide will be emailed to you immediately.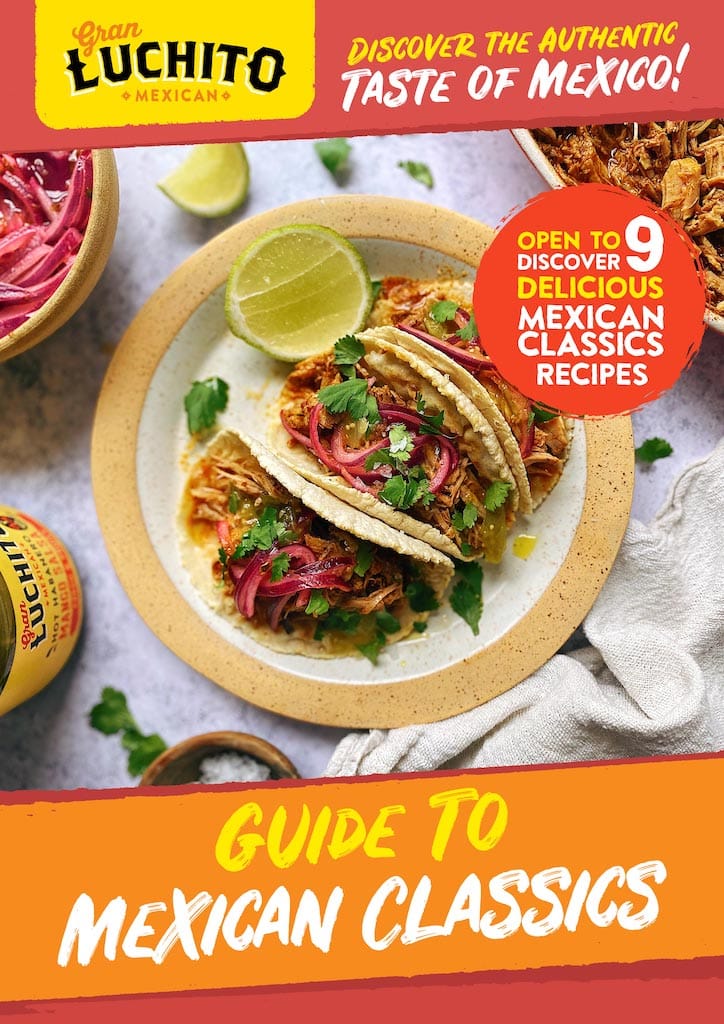 Similar Recipes You Might Like to Try
FAQs
What is a torta?
A torta is a Mexican sandwich served on a white soft oblong roll and filled with meat, sauce, and various toppings such as crema, avocado, salsa, and iceberg lettuce. They can be served either hot or cold.
What does torta mean in Spanish?
Torta is a Spanish word with a wide array of culinary meanings. In many South American countries, as well as in Italy, torta means a sweet cake, such as a wedding or birthday cake. Torta frita is a fried flatbread eaten in Uruguay and Argentina. However, in Mexico a torta refers to a sandwich.
Are tortas healthy?
The main component of a typical torta is the meat, which is usually beef, chicken or chorizo. Along with veggies, such as tomatoes, onions, avocados and peppers, the meat is stuffed into a soft white roll, which has about 220 calories. Depending on the fillings you choose, the calorie count of a torta can vary widely.
Comments / Questions / Tips

Subscribe now for a free copy of the Gran Luchito e-cookbook filled with delicious, authentic Mexican recipes and join our mailing list for all the latest recipes, news and blog updates.

wpDiscuz