Classic Tostada
Tostadas are a very popular light meal or snack all over Mexico, they consist of a crispy corn tortilla topped with a variety of fillings that can go from refried beans, shredded chicken, cheese, crema, shredded lettuce, tomatoes, sliced onions, salsa, etc. making it an irresistible and messy crunchy bite hard to not love.
The messiness is part of the joy of having a delicious tostada, there are really no rules on what you can put over a tostada, but we recommend going for fillings that are not too heavy and can break a tostada easily. If you are using meat, a great way to do this is by either slow cooking and shredding or by frying minced beef with Chipotle Paste (as we did here), this will make it much easier to bite into. The same rule applies to chicken or pork.
A tostada is made with corn tortillas that are either shallow fried or baked until crispy. Here at Luchito we have the best tip on how to make delicious tostadas at home using Hard Taco Shells split in half and baked for extra crispiness, this is also a great way to use any broken Taco Shells.
Tostadas are great served as an appetizer, a side dish, a snack or even as a main course. They are a really fun meal to share with the family and the variety of ingredients you can use to make them is endless!
To make classic tostadas here is what you will need:
Tostadas: Crispy corn tortillas, or like in this recipe you can use Gran Luchito Hard Shell Tacos.
Refried beans: Great to spread over tostadas and perfect for holding toppings in place as well as bringing a delicious creamy texture to your tostadas. Gran Luchito Chipotle Refried Beans is the perfect addition to your shopping list so you can prepare delicious tostadas in no time.
Protein: Minced beef or slow-cooked shredded beef brisket, can both be delicious when making these tostadas at home. Make sure to cook with a good amount of Gran Luchito Chipotle Paste for deliciously smoky and spicy meat.
Fresh garnish: Shredded lettuce, finely sliced raw onion, coriander or tomato slices are great fresh toppings to tostadas.
Dairy: crumbled queso fresco or feta cheese can be a great last touch to tostadas. A spoonful of sour cream or creme fraiche can also be added on top.
Prep time

Cook time

Total time

Ideal for

Snack, Dinner

Make it

Mexican

Serves

4
How to make it
Preheat the oven to 180˚C, 360˚F
Heat up a frying pan over medium heat with the olive oil, once it is ready add the diced onions and stir until they soften. Now add the minced beef with a wooden spoon, break the meat into the pan, add the Chipotle Paste, and season with salt and pepper. Stir and allow the chipotle paste to integrate with the meat, let the beef get a bit of colour for a couple of minutes, and once ready set aside.
Open the pack of Hard Shell Tacos, and with your hands break them into two pieces, place them on a baking tray and bake them in the oven for 3 to 4 minutes until crispy.
In the meantime open the sachet of Refried Beans and squeeze the content into a bowl, no need to warm up.
Chef's tip: when serving tostadas it is not necessary to reheat ingredients, room temperature works better for this recipe.
Get ready to serve your tostadas, remove the taco shells from the oven and allow them to cool down slightly. Once they are cool to touch add a spoonful of refried beans to all of your taco shells and spread them over their surface. Now add a spoonful or two of chipotle minced beef on each, then a handful of shredded lettuce, a slice of onion, and finally the feta cheese crumbled on top. Arrange them all over a nice platter and serve.
What To Serve With Classic Tostadas
Download Our Free Guide To Tacos
Your free Taco guide will be emailed to you immediately.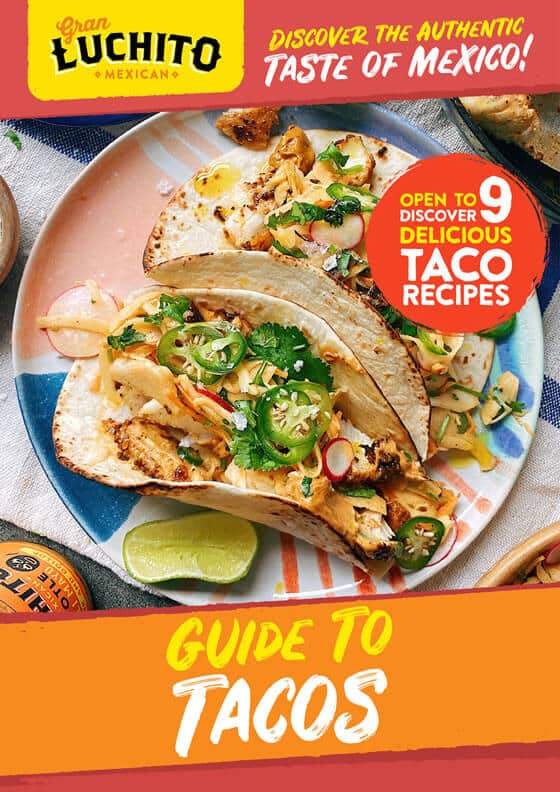 Similar Recipes You Might Like to Try
FAQs
What are tostadas?
Tostadas are a type of Mexican dish made with a crispy tortilla that is usually topped with refried beans, meat, cheese, lettuce, and other toppings. They can be served as a snack, appetizer, or main course.
How are tostadas made?
To make tostadas, corn tortillas are fried or baked until they are crispy. Then, they are typically topped with refried beans, meat, cheese, lettuce, and other toppings, depending on personal preference.
What toppings can be used on tostadas?
There are many different toppings that can be used on tostadas, including:
- Refried beans
- Shredded meat (such as chicken, beef, or pork)
- Cheese
- Lettuce
- Tomatoes
- Avocado
- Sour cream
- Salsa
Comments / Questions / Tips

Subscribe now for a free copy of the Gran Luchito e-cookbook filled with delicious, authentic Mexican recipes and join our mailing list for all the latest recipes, news and blog updates.