Shrimp Tostada
Tostadas are very popular in Mexico, they can be eaten for lunch, dinner, as an appetizer or snack. A tostada is a crunchy corn tortilla topped with savory ingredients, they are healthy and incredibly moreish.
The beauty of tostadas is how versatile they are, as they can be topped with a wide variety of ingredients, which makes them the perfect vessel to reuse leftovers.
But perhaps some of the most liked tostadas you can find in Mexico are seafood tostadas. Seafood tostadas first became popular and were served in restaurants on the coast of Mexico, but they have become so loved that they are now widely available all over Mexico. Some of the most liked tostadas in Mexico are ceviche, aguachile, shrimp, crab, and octopus.
Our shrimp tostadas are made with Gran Luchito Hard Shell Tacos that work perfectly as the crunchy vessel. The shrimp (prawns) are cooked simply with olive oil, butter, and Gran Luchito Chipotle Paste making them incredibly succulent. The combination of textures, crunchy, succulent, and creaminess of the avocado makes them not only super easy to prepare at home but also super tasty.
This is what makes this recipe one of our favorite ones, the fact that they can be prepared quickly and they make an excellent meal for busy weeknights.
In conclusion, we recommend you try these shrimp tostadas as they are not only delicious but easy to make and healthy. Next time you are looking for a quick and fresh meal, give these shrimp tostadas a try, you won't regret it!
Prep time

Cook time

Total time

Ideal for

Dinner

Make it

Mexican

Serves

2
How to make it
Preheat oven to 180˚C, 360˚F.
Heat up the olive oil in a frying pan over medium-high heat, add the butter, and let it melt once it begins bubbling, add the prawns and chipotle paste, stir, and let the chipotle coat the prawns. Season with a pinch of salt and pepper, and squeeze the lime juice on top, let them cook briefly until they are ready once they get pink on both sides, once ready remove them from the heat and set aside.
Open the pack of Hard Shell Tacos and split them in half (see video for reference), place them in a baking tray, and place them in the oven for 3 to 4 minutes.
In the meantime prepare quick guacamole, in a bowl add the flesh of both avocados, squeeze the lime juice on top, and season with a pinch of salt and pepper, with a form roughly mash the avocados, once ready set aside.
Remove the broken hard shell tacos from the oven, allow them to cool down slightly, and prepare to serve your tostadas.
Add a spoonful or two of guacamole into each half tostada and spread it over the surface with the help of a fork or spoon. Now add a spoonful of chipotle prawns and some of the pan juices onto each tostada. Add a handful of shredded lettuce on top of each tostada and finish with a sprinkle of crumbled feta on top, arrange the tostadas nicely over a platter, and serve.
What to serve with Shrimp Tostada
Download Our Free Guide To Tacos
Your free Taco guide will be emailed to you immediately.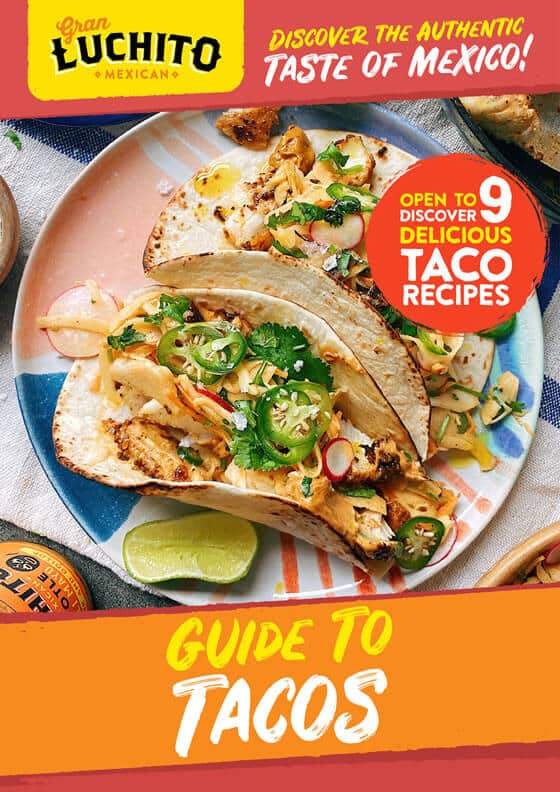 Similar Recipes You Might Like to Try
FAQs
Can I make shrimp tostadas ahead of time?
While it's best to serve tostadas fresh, you can prepare the toppings in advance and then assemble them just before serving to save time.
What type of salsa is best with shrimp tostadas?
A fresh, homemade salsa with diced tomatoes, onions, jalapenos, cilantro, and lime juice pairs perfectly with shrimp tostadas. You can also use store-bought Gran Luchito salsa.
What is a tostada?
A tostada is a crispy tortilla that is deep-fried or toasted until golden brown and crispy.
Comments / Questions / Tips

Subscribe now for a free copy of the Gran Luchito e-cookbook filled with delicious, authentic Mexican recipes and join our mailing list for all the latest recipes, news and blog updates.