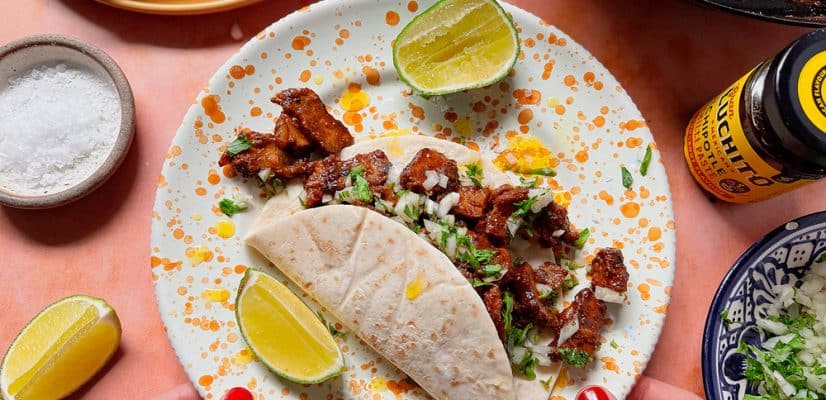 Adobada Tacos
Here is another taco recipe in the magical world of Mexican tacos, if you make your way down to Mexico make sure to try this taco in the local taquerias. But in the meantime, you can also make these delicious tacos at home and we will tell you how.
Adobada tacos are prepared with pork shoulder steaks that are marinated in a mixture of Mexican dried chillies, garlic, onion, vinegar, orange juice, spices and herbs. The marinade gives the pork its distinctive bright red brick colour as well as serving as a tenderizer for the meat.
Adobada tacos can look similar to al pastor tacos, but there are a few key differences. All pastor tacos are cooked in a vertical spit fire known as "trompo" and adobada tacos are prepared in a griddle. The marinade for al pastor traditionally contains achiote and pineapple juice contrary to adobada. In conclusion, they are both super delicious but special in their own way, another benefit for adobada tacos is that they are easier to prepare at home using your regular stovetop.
Adobada tacos are served with the pork thinly sliced over warm corn tortillas and a simple garnish of finely diced onion and coriander and don't forget to serve with a good salsa on the side. You can try Gran Luchito Salsas and pick your favourite, we particularly recommend Mango-Habanero Salsa with this recipe.
Serve your tacos with our recipe for Mexican beans and homemade guacamole on the side.
Prep time

Cook time

Total time

Ideal for

Dinner

Make it

Mexican

Serves

2
How to make it
Heat up a frying pan over medium heat with the olive oil. Once the oil is hot enough add the garlic cloves and onion, stir and fry for a couple of minutes. Let them get a bit of colour without burning, once the onion is softer and the garlic golden brown, remove from the heat and place the fried vegetables in the blender.
Add into the blender the rest of the ingredients: Chipotle Paste, orange juice, vinegar, Guajillo Fajita and taco Mix, a pinch of salt and pepper, and blend into a bright red colour smooth marinade.
Place the pork shoulder steaks in a container and pour the marinade on top, make sure they are well coated with the sauce on both sides and cover the container with a lid. Let it marinate for 1 or 2 hours.
When you are ready to cook your meat, heat up a griddle pan over medium-high heat, add the olive oil and once the oil is hot enough place the steaks over the griddle. Let pork shoulder steaks get a good colour on both sides (2 to 3 min on each side). Add the remaining marinade into the pan, reduce the temperature to a minimum and cover with a lid to finish cooking (20 min).
Once ready, remove them from the pan and let them rest for a couple of minutes before cutting. Slice your pork into thin strips and combine it with the remaining pan juices, get ready to serve your tacos.
Warm up soft tacos over a non-stick pan. Top the warm tortillas with the pork strips, and garnish with the onion and coriander, serve with limes on the side and a jar of Mango-Habanero salsa to add as you go along, enjoy!
What to serve with Adobada Tacos
Download Our Free Guide To Tacos
Your free Taco guide will be emailed to you immediately.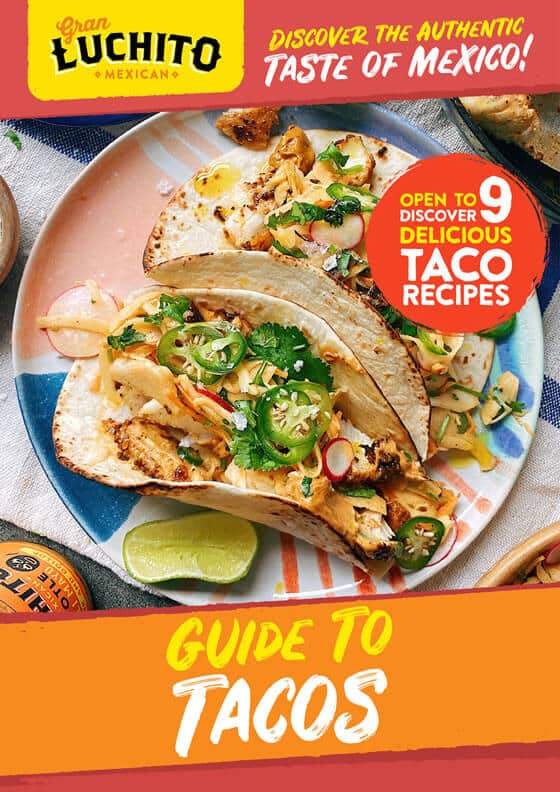 Similar Recipes You Might Like to Try
FAQs
What are adobada tacos?
Adobada tacos are a popular Mexican dish made with marinated pork meat that is typically grilled or cooked on a spit.
Are adobada tacos spicy?
Adobada tacos can vary in spiciness depending on the amount and type of chilies used in the marinade. They can range from mild to hot, but the spiciness can be adjusted to personal preference.
Can adobada tacos be made with other meats?
While adobada tacos traditionally use pork as the main meat, it is possible to use other types of meat like beef or chicken. However, the flavor profile may differ slightly.
Comments / Questions / Tips

Subscribe now for a free copy of the Gran Luchito e-cookbook filled with delicious, authentic Mexican recipes and join our mailing list for all the latest recipes, news and blog updates.