It's often a struggle to find new Christmas dinner ideas that will please the whole family. To help you come up with something new and different we've put together a selection of Christmas dinner ideas with a Mexican twist that are full of flavour!
First on the list is our beautiful Chipotle and Stout Lamb Barbacoa recipe! We decided to serve our leg of lamb whole rather than shredded as it makes a beautiful statement at the centre of the table on Christmas Day! Barbacoa is a dish that is loved all over Mexico. It's traditional to prepare this dish for special occasions, as a whole lamb can be cooked using this method, and therefore can feed a large crowd. For this recipe, a gorgeous chilli mixture is coated over the meat using pomegranate molasses, garlic cloves, Chipotle Honey, olive oil, Chipotle Paste and lemon thyme. It's then oven roasted covered in tin foil to retain the moisture, resulting in meat that is tender and juicy. Finally, extra honey is glazed on top before serving to ensure it's succulent, rich and molten brown.
Glaze and amaze this Christmas by giving your ham a Mexican twist. Slowly cook the ham and then glaze it in our smoky Chipotle Honey. Remember to baste the ham as it roasts so the honey has a chance to really get involved. Getting it nice and crispy on the outside is an absolute must.
If you're looking for an alternative to your usual roasted potatoes,  or for those of you who are more adventurous with flavours and like to try something new, this recipe is for you! These Roast Potatoes Luchito Style are made using our most loved hero product – Chipotle Paste. It can be your best kept secret ingredient this Christmas! This spicy potato recipe is combined with white tahini paste to bring that delicious nutty flavour that works so well with the chipotle. Covering them in hot olive oil, to turn them crispy and golden in the oven, just brings them to the next level. 
These Quick Empanadas with sweet potato and brie are easy to make using pre-made shortcrust pastry sheets, full of flavour and spice and a total crowd pleaser. Chipotle Honey is used to caramelise a red pepper and onion mixture. This flavoursome concoction is then mixed with roasted and mashed sweet potato, with a spoonful of Chipotle Paste added for an extra kick. Pastry circles are filled with this tasty mixture and a piece of brie is pushed into the filling and then sealed by pressing the edges. Once they are baked the cheese will melt inside and combined with the delicious sweet potato and chipotle is a match made in heaven.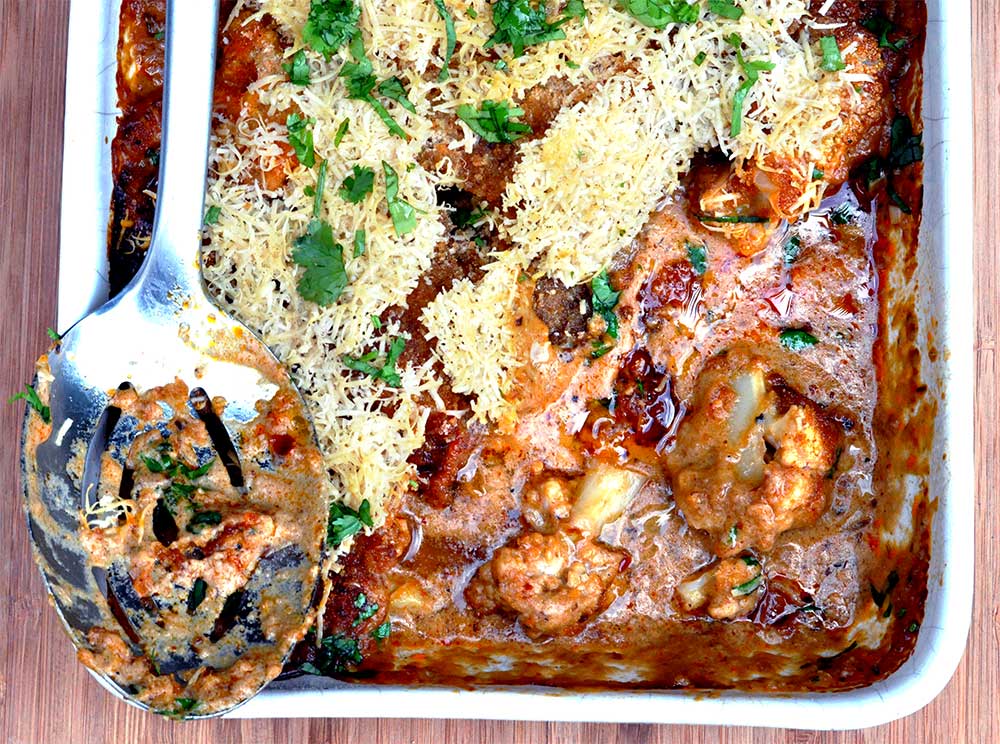 Next on our list of Christmas dinner ideas is a Christmas classic with a Mexican twist thanks to a dollop of our Chipotle Paste. Warming and comforting, this recipe is the perfect addition to Christmas dinner and also works well as a vegetarian option by simply adding some half cooked pasta to the mix before baking.
With sprouts, you either love 'em or hate 'em! We think sprucing up your brussel sprouts this Christmas by add some of our delicious Chipotle Paste and bacon gives them flavour that is out of this world and makes a great addition to Christmas dinner. You might even find a sprout convert or two sitting around the table!
Next on our list of Christmas dinner ideas is a recipe to add some flavour to parsnips. Encrusted in parmesan and thyme then drizzled with Gran Luchito Chipotle Honey. Sides don't get much better than these bad boys. Wave goodbye to average parsnips. These crunchy honey roasted parsnips are the perfect addition for any Christmas dinner.
This recipe, is a great alternative to a big roast turkey especially with smaller groups meeting for Christmas this year. We mixed our Chipotle Paste with butter and spread it all over a lovely chicken, and under the skin. We then roasted it on a bed of lovely vegetables. It's finished off with chunks of fresh lime and coriander leaves. Spice up your Christmas dinner with this delicious recipe idea.

Stuffing can be a bit boring! If you're looking for an interesting new way to cook and present your sausage stuffing this year, or any roast lunch for that matter, then look no further.
Finally on our list of Christmas dinner ideas is a recipe guaranteed to jazz up your roasted carrots by adding a dollop of our Chipotle Honey. It gives them the perfect amount of smokiness, heat and sweetness. Stir through some fresh coriander right at the end to make the perfect little side dish.
We had to stick this recipe on here..as for Boxing Day there's nothing more satisfying than putting all of those leftovers from the Christmas feast together into one tasty meal. Somehow they manage to taste even better the day after! Just imagine adding all of those tempting bits into a Burrito Wrap, accompanied by our Refried Beans, Chipotle Mayo and Fire Roasted Serranos. This genius burrito recipe works better when using leftover roast turkey, chicken or even pork. 
Have you made any of these Christmas Dinner Ideas? If so please do let us know how you got on with #granluchito! We would love to see what you get up to in the kitchen this Christmas! Any questions, do ask in the comments section below. 
For similar blogs check out: Comfort Food Recipes, Favourite Autumn and Winter Recipes, Batch Cooking Recipes, Refried Bean Recipes, How To Make Nachos, Nacho Recipes, How To Make Tacos, Taco Recipes, How To Make Fajitas, Fajita Recipes, How To Make Enchiladas, Enchilada Recipes, How To Make Burritos, Burrito Recipes, How To Make Quesadillas, Quesadilla Recipes, Chipotle Paste Recipes, Chipotle Mayo Recipes, Mexican Fish Recipes, Avocado Recipes, 10 Easy Mexican Recipes, Healthy Mexican Recipes, Leftover Chicken Recipes, Vegan Mexican Recipes, Family Meal Ideas That Will Have Your Kids Asking For More, Top 5 Enchilada Recipes, Guide To Tacos, Guide To Fajitas, Burrito Recipes, A Beginner's Guide To Mexican Food, Guide To Vegetarian and Vegan Mexican Food, Vegan Mexican Recipes