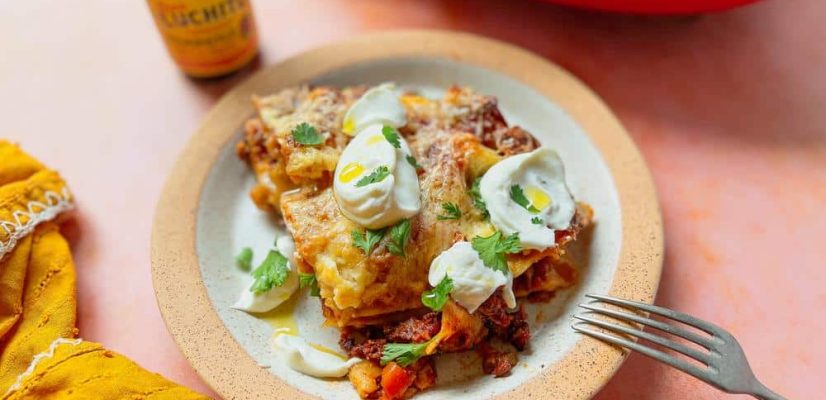 Mexican Lasagna
We realise that this recipe is by no means a traditional lasagna recipe, this was very much created with more adventurous cooks in mind or just anyone who wants to try something a bit different from time to time. Additionally, if comfort food is what you are looking for, this easy Mexican Lasagna is the best comfort food!
To make a spicy spin on a classic lasagne, we first begin by preparing the lasagna ragu with the addition of our signature Gran Luchito Chipotle Paste into the mix. This brings a lovely smoky chipotle taste into our sauce and adds a whole new level of flavour. If this wasn't enough, we then made a delicious creamy sauce folding in grated cheddar and more chipotle paste, resulting in an even creamier cheese sauce. This lasagna sauce is then added into the layers of the lasagna, making this recipe even more irresistible. You can avoid using the chipotle paste here if you prefer, but we highly recommend adding it, as your Mexican lasagna won't taste overly spicy.
Finally, when you're ready to assemble your lasagna, there's no need to pre-cook the lasagna sheets. Simply adding enough sauce between the layers and then finishing with a good amount of creamy cheese sauce on top is enough to cook your pasta in the oven. We also recommend covering your healthy Mexican lasagna with tin foil to help achieve this, and then finish cooking it uncovered to get that lovely golden cheesy crust on top.
Prep time

Cook time

Total time

Ideal for

Dinner

Make it

Mexican

Serves

4
Nutrition: Per serving
kcal 168
fat 10g
saturates 5g
carbs 8.2g
sugars 2.1g
fibre 0.9g
protein 7.7g
salt 1.0g
How to make it
Heat a large frying pan over a high heat with the olive oil. Add the bacon, onion and garlic. Stir and let the onion soften for 2 to 3 minutes. Add the carrot, celery, thyme and

Chipotle Paste.

Stir and leave to cook for 7 mins over medium heat. Add the beef mince, season with salt and pepper, and cook with the rest of the ingredients for a further 10 minutes. Add the passata and the water, put a lid on it and then leave it to cook for at least an hour (2 if possible).

Meanwhile, make the cheese sauce. Heat a pan over a low heat with the butter. Once the butter melts add the garlic and the bay leaf. Fry gently for a minute, stirring continuously. Add the flour and with a wooden spoon mix until it forms a golden brown soft paste or roux. Gradually begin to add the milk, whisking as you go. As it thickens, add the rest of the milk little by little.

Bring the creamy sauce to a boil whilst still whisking, then lower heat to a minimum and add half of the cheese. Season with salt & pepper. Add the remaining

Chipotle Paste

here too (optional), let the cheese melt into the sauce, and once ready remove from the heat.

Preheat the oven to 180˚C / 360˚F.

When you're happy with the ragu and you're ready to build the lasagna, get a medium size oven-proof dish. Add about 1/3 of the ragu, followed by 1/4 of the cheese sauce, followed by a layer of broken lasagna sheets. Repeat this 3 times.

On the final layer of lasagna sheets, add the remaining cheese sauce and spread it evenly over the surface. Sprinkle the remaining cheese on top, and to make it extra special, add small knobs of butter to the top as well as freshly ground black pepper. Cover your dish with tin foil.

Bake in the oven for about 40mins at 180˚C. After this time, remove the foil and let your Mexican lasagna recipe get golden and crispy at the top for a further 5 to 6 minutes under the grill.
What To Serve With Mexican Lasagna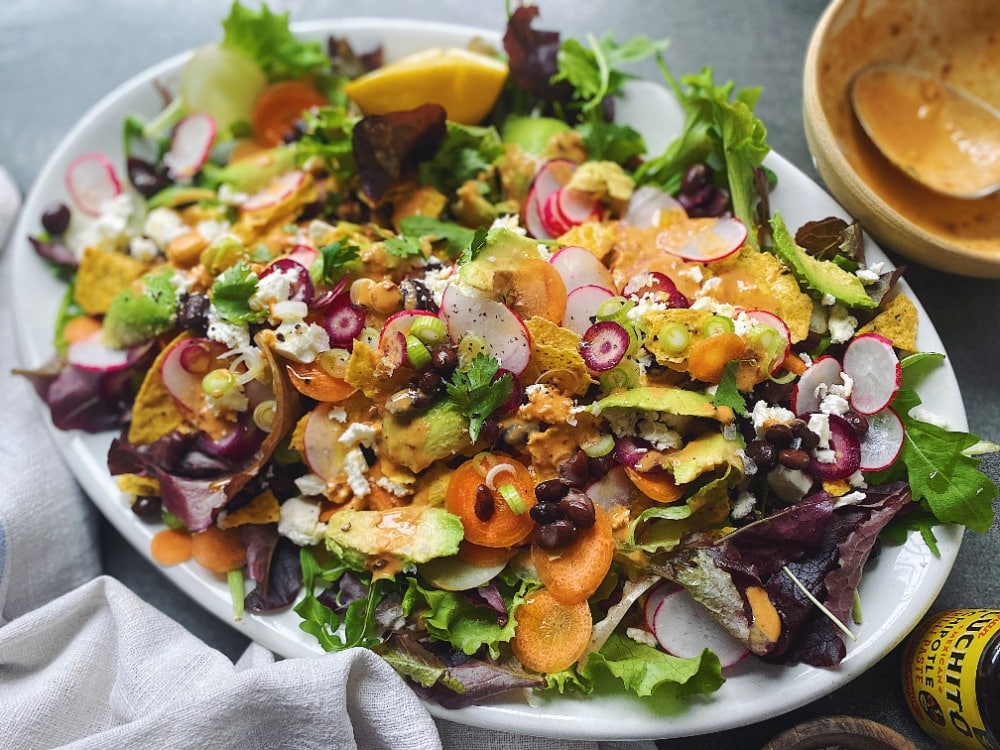 Serve your lasagna recipe with a big portion of this Mexican Salad!
Alternatively these Mexican Green Beans.
Download Our Free Guide To Enchiladas
Your free Enchilada guide will be emailed to you immediately.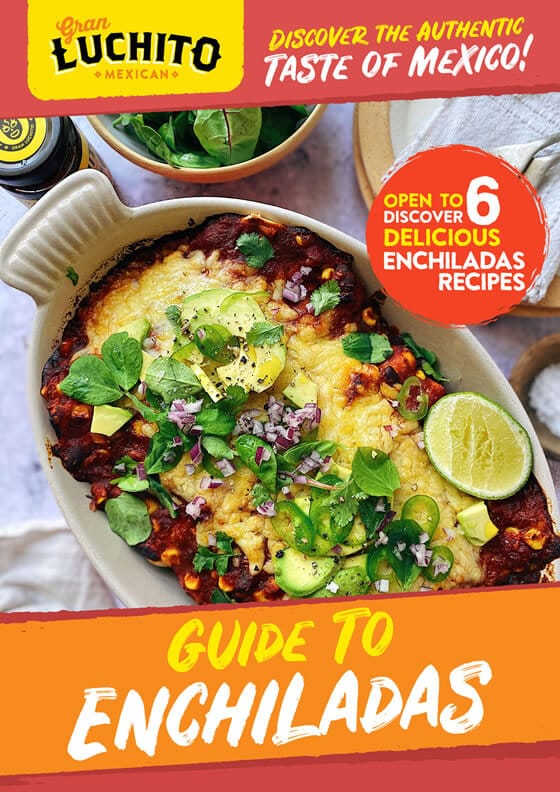 Similar Recipes You Might Like to Try
FAQs
What is Mexican lasagna?
Originally an Italian dish, a lasagna is made of stacked layers of lasagna sheets of pasta, a ragù (ground meat and tomato sauce), and cheese sauce. The dish is then topped with grated cheese, which melts and goes golden after baking. The resulting baked dish is then cut into single-serving square portions.
Can you freeze Mexican lasagna?
One of the great things about lasagna is that it freezes so well. A baked, frozen, then re-baked lasagna will still be good.
What to serve with Mexican lasagna?
We recommend serving it with a side of our fresh and crisp Mexican Salad for summer, or some of our Mexican Green Beans recipe for winter. There's no need for extra carbs with this meal.
Comments / Questions / Tips

Subscribe now for a free copy of the Gran Luchito e-cookbook filled with delicious, authentic Mexican recipes and join our mailing list for all the latest recipes, news and blog updates.

wpDiscuz