Looking for some quick and easy lunch ideas to mix up your usual routine and bring some freshness and flavour? You've come to the right place! These simple Mexican lunch ideas are guaranteed to provide what you look for from mid-day to mid-afternoon. Fun, tasty and quick to rustle up, we have selected our best easy Mexican lunch recipes to inspire you. From salad bowls, to easy quesadilla and burrito recipes, tacos, a soup and sandwich recipe, and even the new viral tortilla wrap hack we've got it covered.
---
First on our Mexican lunch ideas is the Tortilla Wrap Hack that has taken Tik Tok by storm now gets the Luchito touch! We've climbed on the bandwagon, and locked-down the trend, eh! But seriously, during lockdown we want to try and make life a bit easier for you, and this is one of those quick and easy Mexican lunch recipes that does just that. We think it's a great and straightforward way to make a tortilla wrap. Alternatively, you can use the same ingredients to make a tasty burrito. For this recipe our chef Suzy has used the delicious combination of chorizo, potato and Chipotle Paste as the main filling, and incorporated our Refried Beans. We hope you enjoy having fun making it!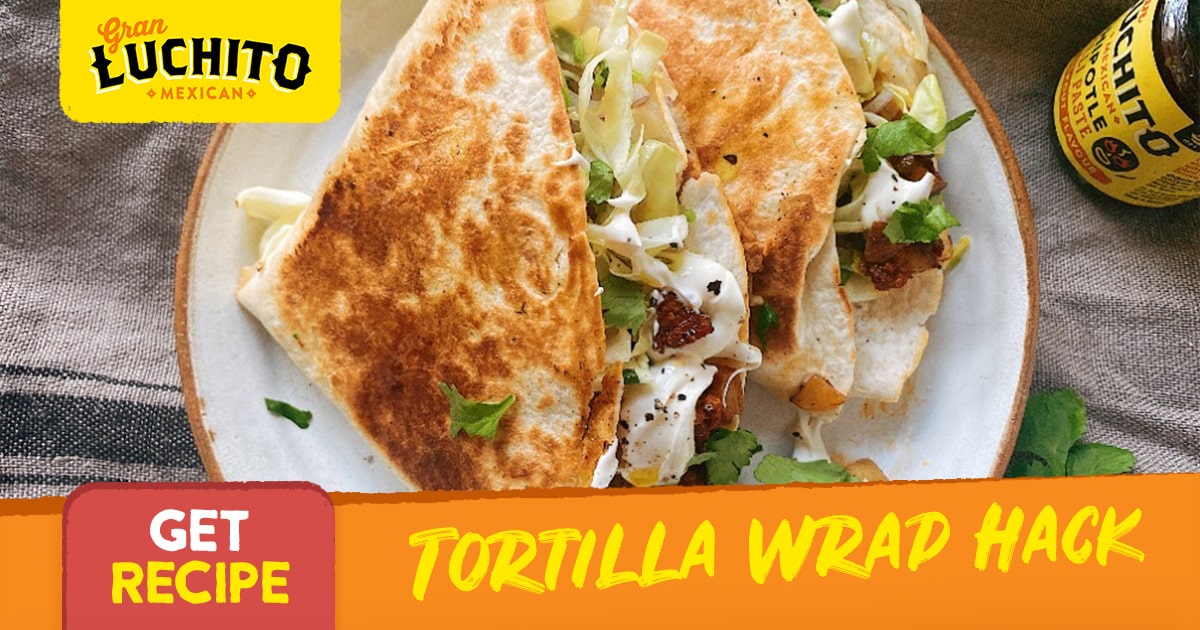 ---
Our Black Bean Burrito is the perfect working from home Mexican lunch. A quick and easy lunch recipe to prepare, it is healthy as well as filling, and will keep you going until dinnertime. For this recipe, we have incorporated our delicious Mexican Chipotle Rice recipe, but white rice would also do just fine. Next up our black Cantina Beans are the added protein, along with some fresh Red Pepper Salsa, creamy feta cheese, avocado, sour cream and some onions and cabbage. Yum!
---
Next on our list of Mexican lunch ideas is Molletes Mexicanos. These open-faced sandwiches are a very popular and wonderfully delicious breakfast, lunch or snack served in Mexico. We love molletes because they're a full and nutritious meal for you or your family that also happens to be super easy to make. Our recipe consists of some artisanal sourdough bread topped with Refried Beans and grated cheese. This is then placed under the grill or in the oven until the cheese melts and is lovely and gooey. A fresh homemade salsa of red onions, cherry tomatoes and a Chipotle Paste dressing is then served on top. A drizzle of creme fraiche and some chopped coriander finish it off to perfection.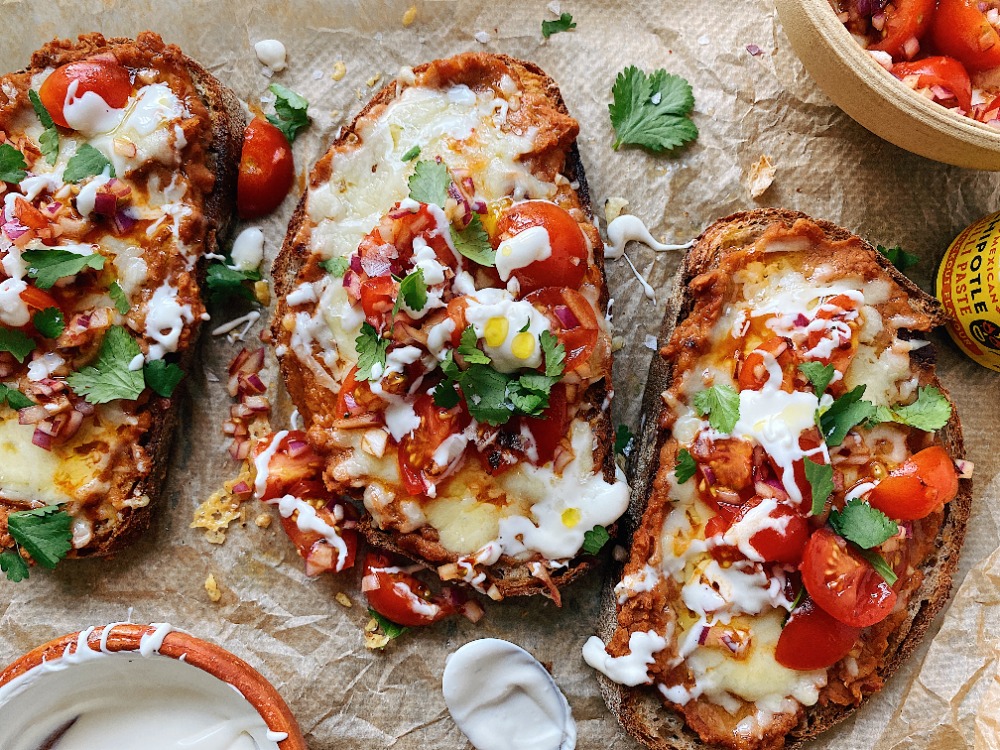 ---
Look at our beautiful Taco Salad! If you're looking for a healthy Mexican lunchtime option without depriving yourself of everything that's tasty in life, then this is a good one. It's also good if you're trying to eat a bit lighter but still have something for lunch that feels satisfying and will actually fill you up!
---
This Carne Asada and Egg Tacos recipe is a truly satisfying Mexican lunch idea. There is something so satisfying about a nice hot grilled steak and a quick fried egg on the side. With a bit of our epic Smoky Chipotle Fajita & Taco Mix, this recipe gets the Luchito touch!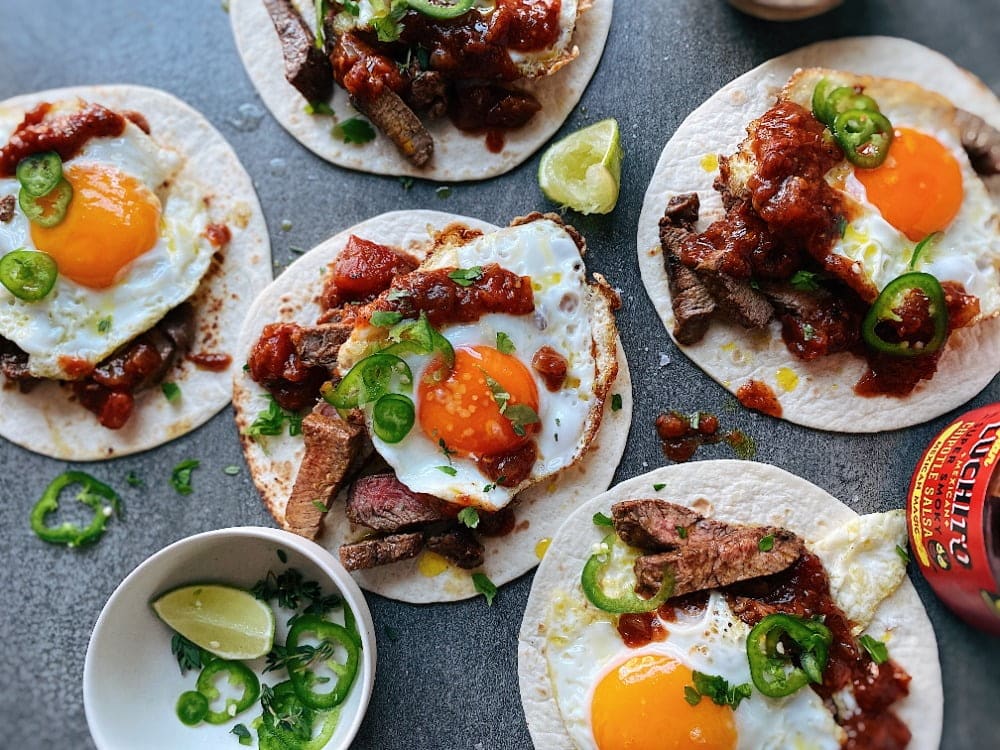 ---
This Quesadilla Recipe Luchito Style has to be one of our favourite Mexican lunches! If you were looking for a simple recipe to nail the perfect quesadilla, this is it! They are super simple and contain chorizo, red onion and grated cheese. Our Chipotle Honey is used to crisp up the chorizo in the pan, and everything is filled up into our Soft Taco Wraps. Finally, our Tomatillo Salsa is dolloped on top for a zingy finish.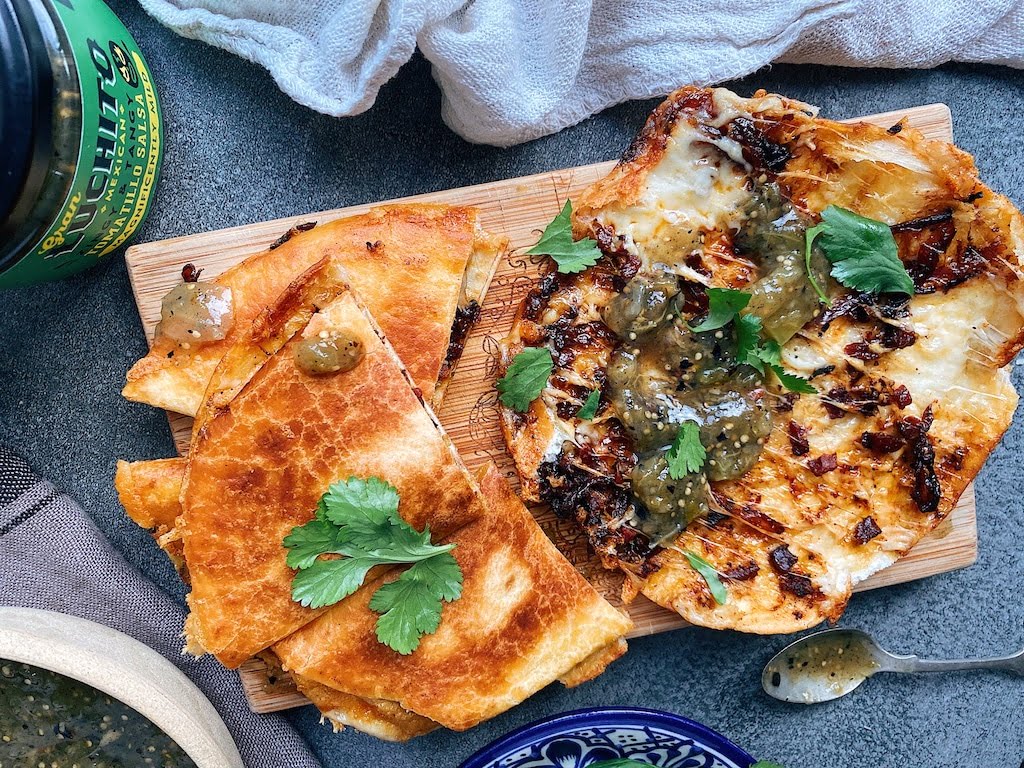 ---
Next on our list of Mexican lunch ideas is our Mexican Chicken Soup. Now this is a good one to make a big batch of the night before, that you can just reheat for the next couple of days. All the deliciousness of a hearty soup but without having to work in the kitchen for hours to make it. It's a very simple and quick soup to make. It's also the perfect way to use that leftover rotisserie chicken in your fridge. Our Chipotle Paste is the star of this recipe alongside our delicious black Cantina Beans!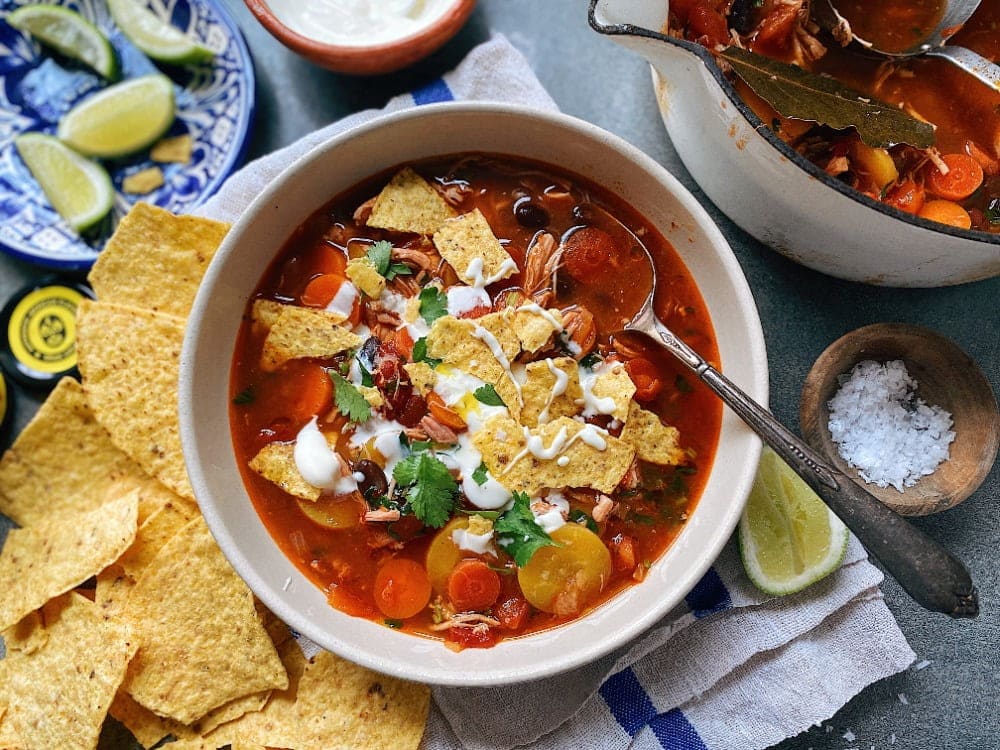 ---
We love a good salad at Gran Luchito and we really believe that they never have to be boring. This Mexican Salad recipe is proof of that and it can be served for lunch as it is or with any protein that you have in your fridge. It's perfect for those days when you feel like something a bit lighter, but still tasty. Bright and colourful, it contains carrots, radishes, feta cheese, our Cantina Beans and a wonderful tahini and Chipotle Paste dressing. To top it all off, Lightly Salted Tortilla Chips are broken up and scattered on top for that all important added bit of crunch!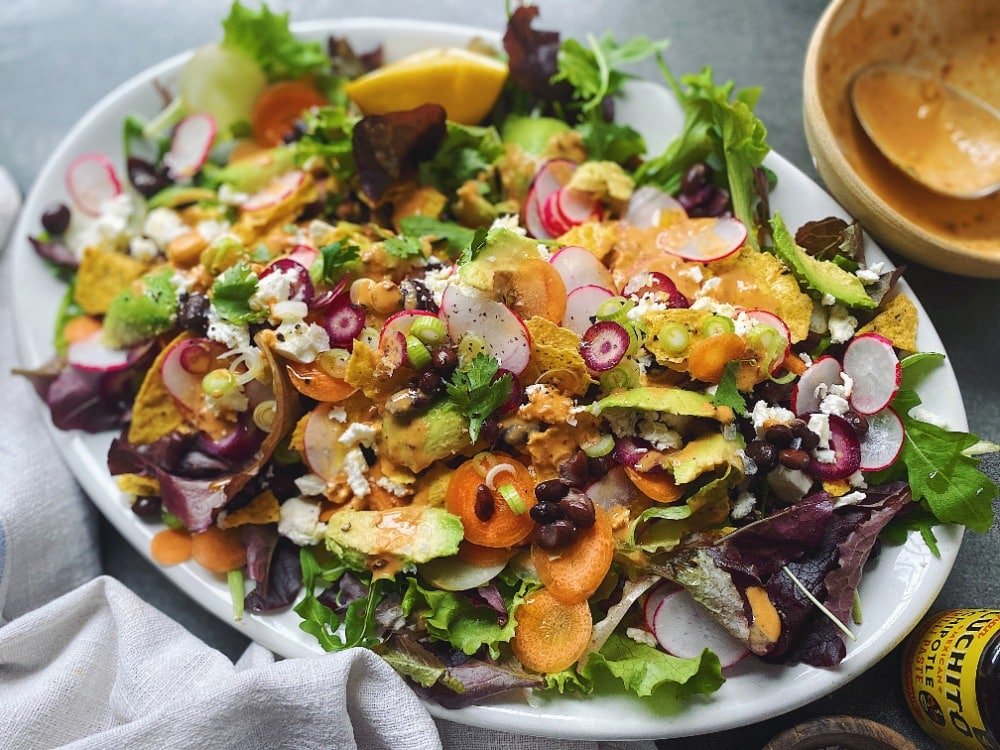 ---
Would you just take a look at that! A Mexican Pulled Pork Sandwich.. yum. Of course making pulled pork during a busy day is not the idea here. But what a great Mexican lunch idea, to use up the leftover pulled pork! How about making a big batch of it on the weekend and have the leftovers for weekday Mexican lunches! Our Chipotle Mayo really takes this sandwich to the next level, and it's finished off with a quick red cabbage pickle, some fresh green salad leaves and a squeeze of lime. Perfection!
---
These Pulled Pork Tacos are another really simple way to use up that leftover pulled pork using our deliciously smoky Chipotle Paste. For this recipe we have paired the pulled pork with fresh salad leaves, dollops of either our Chipotle Mayo or Tomatillo Salsa (whichever you prefer), a squeeze of lime, all wrapped up in our Soft Taco Wraps. This delicious taco recipe also comes with a quick red cabbage pickle.
---
Sometimes you just don't want to be constrained by the size of your tortilla wrap. Enter the Burrito Bowl, another of our easy and flavourful Mexican lunch ideas! Everything you love about a burrito recipe, but in a bowl. Our Pulled Pork Burrito Bowl is yet another great way to use up leftover pulled pork but also works really well with chicken. It's a good option for those of you on a low carb diet to enjoy all of that burrito goodness.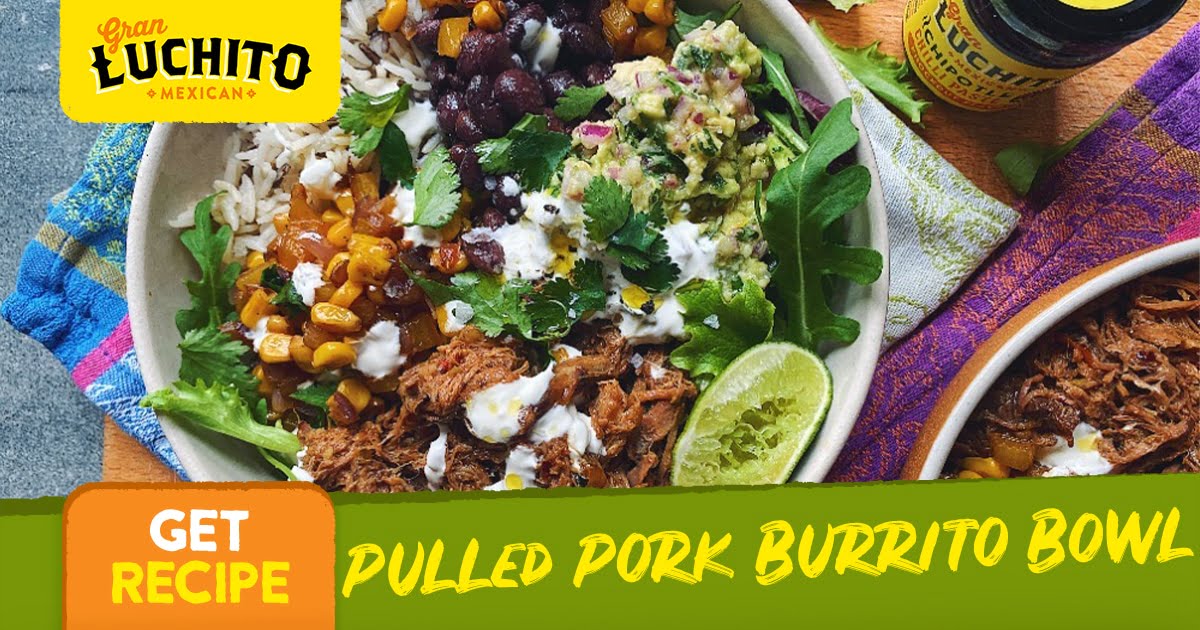 Concluding, hopefully, you've been inspired by a few of these delicious, quick and easy Mexican lunch ideas. Give one and go and let us know how you get on! You can give us your feedback below in the comments section or tag us with your fun recipe photos on Instagram – #granluchito
---
For more Mexican recipe inspiration and blogs like this one please visit: