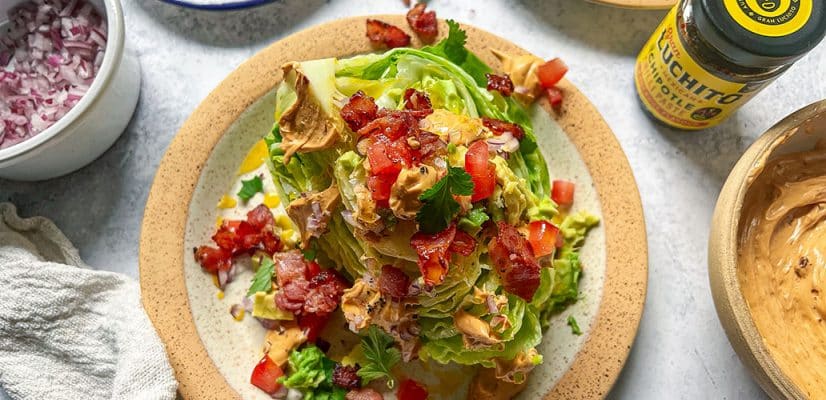 Wedge Salad
This is a classic recipe and a favourite for many, perfect to serve as a light meal or as a side dish for a summer BBQ. For those of you who have never had a wedge salad before, we'll start by saying that a wedge salad is prepared with iceberg lettuce that is cut into quarters (wedges). Each wedge is served with a creamy dressing prepared with blue cheese, then normally topped with crispy bacon, diced tomatoes and onion, and sometimes also served with toasted nuts.
For this wedge salad recipe, we used our delicious Gran Luchito Chipotle Paste to take our blue cheese dressing to the next level. What's not to love about a touch of smokiness and the delicious taste of chipotle in the dressing! This iceberg wedge salad serves 4, but feel free to duplicate or triplicate according to how many guests you are hosting. Another way to serve this wedge salad is by chopping the iceberg lettuce into bite-size pieces, then serve on a platter topped with a good amount of dressing, bacon, tomato, and onion.
You can use these different types of blue cheeses for your dressing:
Roquefort – perhaps the most prestigious in the blue cheese family, it has a more pungent taste and is normally made of sheep's milk.

Gorgonzola – milder in flavor and softer in texture, it's made of cow's milk.

Stilton – creamy, rich and mellow in flavor, it's normally milder in taste than gorgonzola, and made of cow's milk.
Prep time

Cook time

Total time

Ideal for

Side Dish

Make it

Mexican

Serves

4
Nutrition: Per serving
kcal 168
fat 15g
saturates 6.2g
carbs 2.6g
sugars 2.3g
fibre 0.8g
protein 4.7g
salt 1.1g
How to make it
Heat up a frying pan over medium heat with the olive oil. Once it's hot enough, add the bacon and stir, letting it get lovely and crispy. Once your bacon is ready, remove it from the pan and place it over kitchen paper to absorb any excess oil, then reserve.

In a bowl add the cream, the extra virgin olive oil, the lemon juice, vinegar and Chipotle Paste. Whisk and combine into a smooth dressing. Crumble the blue cheese into the dressing, season with a pinch of salt and pepper, mix with a spoon and then set aside.

Get ready to serve your wedge salad. Place an iceberg lettuce wedge per plate, then add a good amount of chipotle blue cheese dressing on top. Garnish with the crispy bacon, the tomatoes, onion, and a good drizzle of extra virgin olive oil on top. Finish it with a sprinkle of salt and freshly ground black pepper, and enjoy!
What To Serve With Wedge Salad
This wedge salad with blue cheese dressing would be perfect served at a BBQ with sides of:
Download Our Free Guide To Mexican Classics
Your free guide will be emailed to you immediately.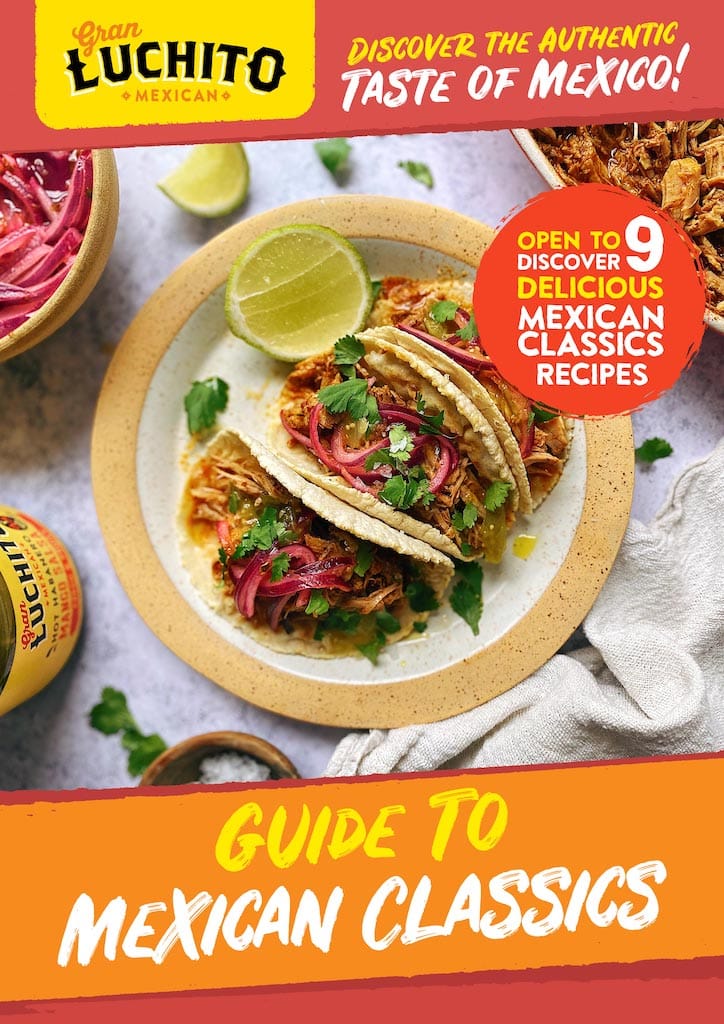 Similar Recipes You Might Like to Try
FAQs
How do you wash iceberg lettuce for a wedge salad?
Remove any brown or wilted leaves from the outside of the head and then cut it into 4 equal wedges top to bottom with the core intact. Rinse each wedge in cold water and pat dry with paper towels.
Where did the wedge salad originate?
It started in Ancient Egypt. The origins of iceberg lettuce and wedge salad history go back to ancient times. Food historians believe Egyptians were the first to cultivate lettuce.
How to eat a wedge salad?
First, put the tines of the fork in the centre of the wedge. Next, use a knife to cut off ONE piece of the lettuce wedge. Then, take it one bite at a time. That part is hard, but if you want to keep it a wedge salad, be patient, and don't chop it all apart!
Comments / Questions / Tips

Subscribe now for a free copy of the Gran Luchito e-cookbook filled with delicious, authentic Mexican recipes and join our mailing list for all the latest recipes, news and blog updates.