Black Bean Soup
If you're looking for a simple black bean soup recipe that also happens to be delicious, then this is it. It's so easy to prepare, you'll never need to buy canned soups again! Homemade is always fresher and better, plus you know exactly what's going into your black bean soup.
Gran Luchito Cantina Beans are the perfect ingredient for this black bean recipe as not only will they save you precious time, but they are also delicious, and come in their natural cooking juices so perfect for adding more flavour.
All you need to do is to add some aromatics such as leeks, celery and garlic, then fry gently. Next, add Gran Luchito Chipotle Paste and the Cantina Beans with the dried oregano, coriander, and chicken stock. Finally, simply season with salt and pepper and leave it to simmer, melding together all of those wonderful flavours. After a bit of time simmering away, blend your bean soup into a silky smooth and creamy mixture. Then return it to the pan briefly just to make sure it's the right consistency.
Our black bean soup recipe is creamy and slightly spicy, and we love serving it with crumbled Gran Luchito Lightly Salted Tortilla Chips, and a spoonful of creme fraiche that melts away into this silky soup. You can also add a little bit of our Gran Luchito Crunchy Salsa Macha on top for the perfect spicy touch.
Once the Mexican black bean soup is ready you can store it in a closed container in the fridge, ideally for no more than 3 days to guarantee its freshness. To eat, simply reheat it in a saucepan until nice and warm. If your easy bean soup is too thick you can add a bit of water or stock and then simmer.
Prep time

Cook time

Total time

Ideal for

Starter

Make it

Mexican

Serves

4
Nutrition: Per serving
kcal 103
fat 5.0g
saturates 1.5g
carbs 12.3g
sugars 1.1g
fibre 0.6g
protein 2.9g
salt 0.86g
How to make it
Heat up the olive oil in a large heavy based saucepan. Once it's hot enough add the leeks, celery and garlic, then fry gently for 6 minutes stirring continuously.

Once the leeks and celery have turned soft add the

Chipotle Paste

, the

Cantina Beans

(with juices), the dried oregano, coriander and chicken stock. Stir and bring to a boil, then reduce the temperature to low, cover your saucepan with a lid and simmer for 20 minutes.

After 20 minutes remove the black bean soup from the heat and place it in the blender (be careful not to burn yourself). Once it cools down a little bit, blend smoothly. Pour the bean soup back into the pan and season with salt and freshly ground black pepper. Simmer for a further 10 minutes or until the consistency is nice and creamy.

Serve your delicious and spicy black bean soup warm, with a scoop of creme fraiche, Lightly Salted Tortilla Chips crumbled on top, and a touch of Crunchy Salsa Macha.
What To Serve With Black Bean Soup
For a light lunch serve this black bean soup with one of these two sides:
Download Our Free Guide To Mexican Classics
Your free guide will be emailed to you immediately.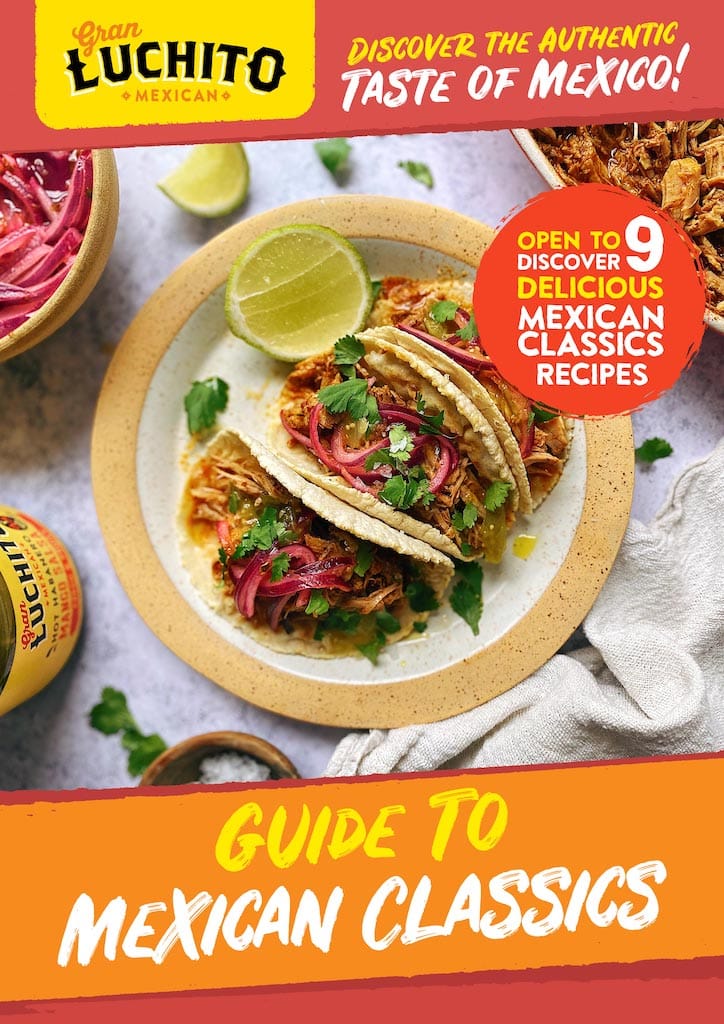 Similar Recipes You Might Like to Try
FAQs
Where do black beans come from?
Black beans are native to the Americas. Black beans date back over 7,000 years when they were a staple in the diets of Central and South Americans.
Are black beans good for weight loss?
Yes they are. Their high fibre content can actually help you lose weight. Fibre is filling, and it helps you feel fuller for longer. Eating black beans could curb your appetite, filling you up with plenty of fibre between meals.
Can black bean soup be frozen?
It can be frozen. Cool it completely, then ladle into freezer bags or some tupperware, and lay flat to freeze (keeps up to 4 months in the freezer).
Comments / Questions / Tips

Subscribe now for a free copy of the Gran Luchito e-cookbook filled with delicious, authentic Mexican recipes and join our mailing list for all the latest recipes, news and blog updates.