No BBQ, family feast, picnic or fiesta is complete without tasty potatoes, beautiful roasted vegetables or fresh salads to dig into. Here is a selection of our most-loved Mexican Side Dishes!
The perfect chips. These Crispy Homemade Chips are versatile, and will go with most main dishes, to pick at on the table. Or if they are to accompany a specific main course, they go particularly well with our Smoky Mexican Steak, Mexican Burger, or Mexican Pulled Pork Sandwich. Dunk them in our Chipotle Ketchup and Chipotle Mayo – naughty!
Queso fundido, if you aren't already familiar, is a very popular snack in Mexico. What's not to love about cheesy deliciousness melted in a skillet under the grill?! Often you will find queso recipes with chorizo as in our Chipotle Queso Fundido recipe. In this recipe we use roasted cauliflower flavoured with Gran Luchito Chipotle Honey glaze and a bit of Smoky Chipotle Fajita and Taco Mix. This gives heavenly roasted flavoured edges to the cauliflower and when served with the melted gruyere it's just a match made in Mexican heaven. Served with warm tortillas, guacamole and a bit of fresh salsa.
If you're looking for an alternative to your usual roasted potatoes,  or for those of you who are more adventurous with flavours and like to try something new, this recipe is for you! These Roast Potatoes Luchito Style are made using our most loved hero product – Chipotle Paste.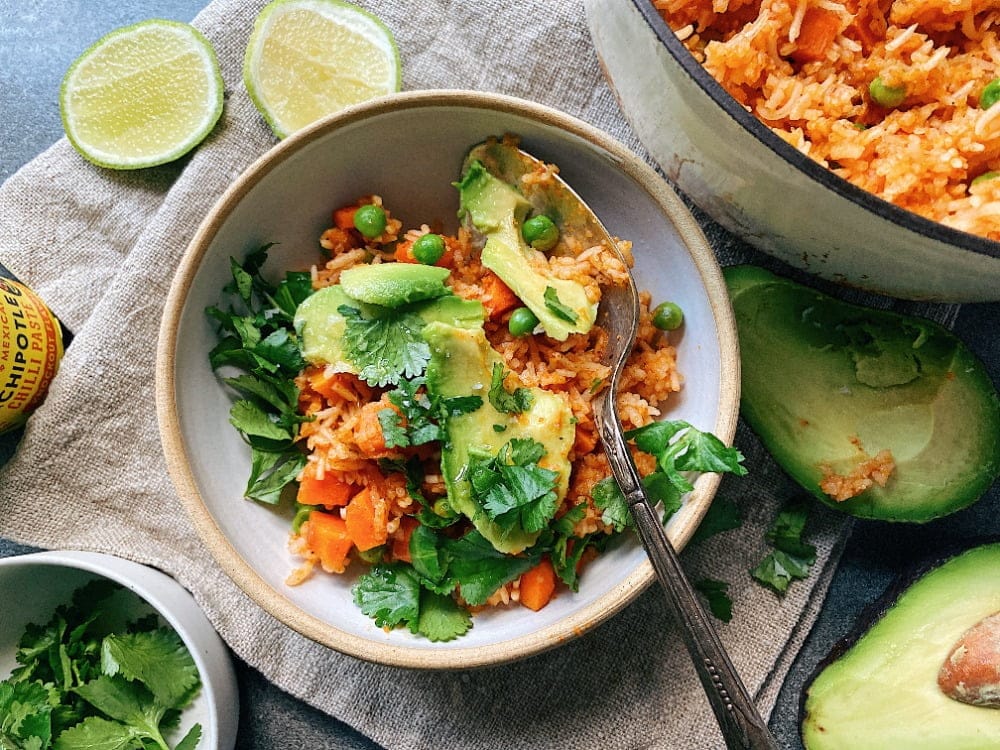 Boiled rice… boring! Jazz up your weekly dinners with this tasty and colourful Mexican rice recipe. Being one of the Mexican Side Dishes that is truly authentic, as well as containing veggies, this might even become your go to recipe to batch cook and freeze for future weeknight dinners. If you are a rice lover, check out our Mexican Pulled Pork Fried Rice.
In terms of Mexican Side Dishes, these Chipotle Honey Roast Carrots are truly delicious! Glazed in our scrummy sauce, topped with coriander, tossed and roasted in the oven. There is not much other competition. These carrots go really well with our Mexican Roast Chicken recipe.
Our Chipotle Paste is used here to give this classic dish a punchy flavour. You can have these Mexican baked beans on toast as a side dish to accompany your main course, or spooned on top of it! Either way, as one of our Mexican Side Dishes, we found they go extremely well with our Mexican Pulled Pork or Pork Meatloaf recipes.
Another way to use up the Chipotle Paste would be with this Aubergine side dish. It is a warming, smoky and creamy dish, with plenty of flavour. Very simple to put together, and the results are impressive! This would be a good one to whip up for a BBQ or dinner with friends. It goes well with our Mexican Roast Chicken or Chipotle Glazed Salmon.
Corn is probably the most commonly planted crop in Mexico. That is why it is so widely associated with Mexican cuisine. Corn found in the US pales in comparison to the shapes, sizes and colour of the maize found in Mexico! It is therefore the perfect example to be used in this blog on Mexican Side Dishes! Here we give you a street corn salad, using our Chipotle Mayo to give it its flavour. If you prefer your corn on the cob, try our Baked Mexican Elotes!
Cactus is a staple in Mexican cuisine due to it being a historical and cultural symbol in Mexico. For more information about it's origins, and to learn more, please visit our page Interesting Facts About Cactus. This Authentic Cactus Salad, using our Sliced Green Cactus, is good if you are looking for something simple, light and fresh to serve alongside your main course.
Our Mexican Patatas Bravas is a sure way to get everyone reaching for seconds! Crispy and herby roast potatoes topped with grated Parmesan and delicious tomato Chipotle Ketchup. The photo is enough to make you start salivating. Pass the bowl and a fork please! No need for a plate..
This rich and hearty Slow Cooker Dhal With Smoky Chipotle was extremely popular with the Gran Luchito team! It uses lovely brown lentils, lots of fresh herbs and spices, and a big dollop of our Chipotle Paste to give it its lovely smoky flavour. Packed full of protein and nutrients, as well as being great for digestion, everyone will want to try this as one of your satisfying Mexican Side Dishes.
Add some vibrant colour to your table with these deep red Slow Roasted Peppers. Bursting with flavour and added juiciness from the tomatoes, they would be a great healthy addition to any meal. Here we have used our Chipotle Paste again to give them our signature smoky kick. In general, the merging of sweetness and smoke in Mexican Side Dishes is a winning combination.
Do you have any favourite Mexican Side Dishes to share? We'd love to hear!
For more food inspiration and blogs like this one, please visit Best Mexican Side Dishes For A BBQ, Mexican Snacks, Mexican Starters