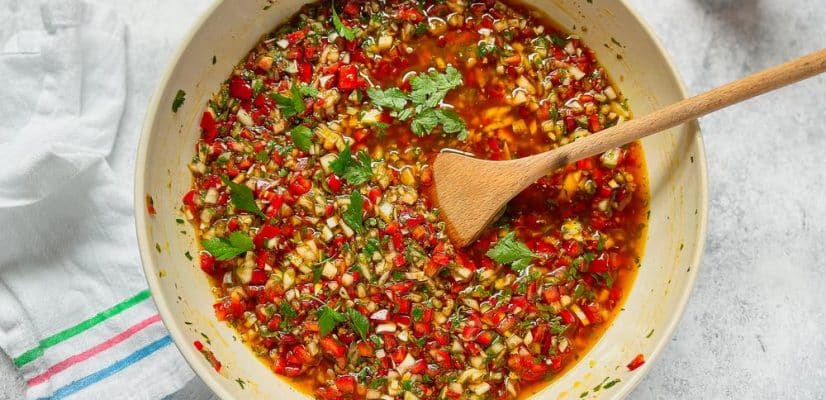 Chimichurri
Chimichurri is a fresh condiment used in Argentina and very much loved all around the world, the truth is that this relish or parsley sauce can go on everything and is the perfect one to make during BBQ season. It is an uncooked sauce traditionally prepared with finely chopped parsley, dried oregano, minced garlic, olive oil, vinegar and a pinch of salt. Everything is mixed together and left to rest before using. 
We couldn't resist making a spicy version of Chimichurri using our Gran Luchito Chipotle Fajita & Taco Mix! The result is a smoky and deliciously spicy red chimichurri that goes well on everything, from fish, to chicken, pork, beef steak and vegetables.
You can also try these two different variations of chimichurri sauce using our Fajita & Taco Mix spices :
A herby version with: onion, garlic, oregano,

Gran Luchito Habanero Fajita & Taco Mix

, olive oil, vinegar, salt and pepper.

A milder based version with: yellow peppers, onion, garlic, oregano,

Gran Luchito Guajillo Fajita & Taco Mix

, olive oil, vinegar, salt and pepper.
We recommend preparing a big jar of this chimichurri recipe and keeping it in your fridge to use throughout the week. If you're making this chimichurri for a BBQ party though it'll probably all be gone on the day, so just make sure to make it ahead of time as it tastes even better when left to rest, ideally overnight.
A chimichurri sauce recipe is great to use as a marinade, or to add on top of your protein or veggies once they are cooked. The most classic pairing of chimichurri salsa has to be with steak, so why not try our Mexican Steak recipe with this.
Prep time

Cook time

Total time

Ideal for

Side Dish

Make it

Mexican

Serves

6
Nutrition: Per serving
kcal 274
fat 28g
saturates 4.0g
carbs 3.5g
sugars 2.7g
fibre 1.6g
protein 0.9g
salt 1.1g
How to make it
In a bowl add the finely diced red peppers, onion, garlic, oregano, Chipotle Fajita & Taco Mix, parsley, olive oil, apple cider vinegar, sugar, salt and pepper. Mix everything with a spoon and taste, adjust the seasoning if necessary, or add more chipotle spice if you prefer it spicier.
Transfer the chipotle chimichurri into a jar or container with a lid and let it rest overnight. This will help the ingredients to meld well together and to mellow down the raw garlic taste.
To use, simply take it out of the fridge and add it onto chicken thighs as a quick marinade, serve it with a juicy ribeye steak, or simply drizzle it over a platter of grilled veggies and enjoy!
What To Serve With Chimichurri
Serve this chimichurri with any recipes from our Mexican BBQ page, including our recipes for these three dishes:
Download Our Free Guide To Mexican Classics
Your free guide will be emailed to you immediately.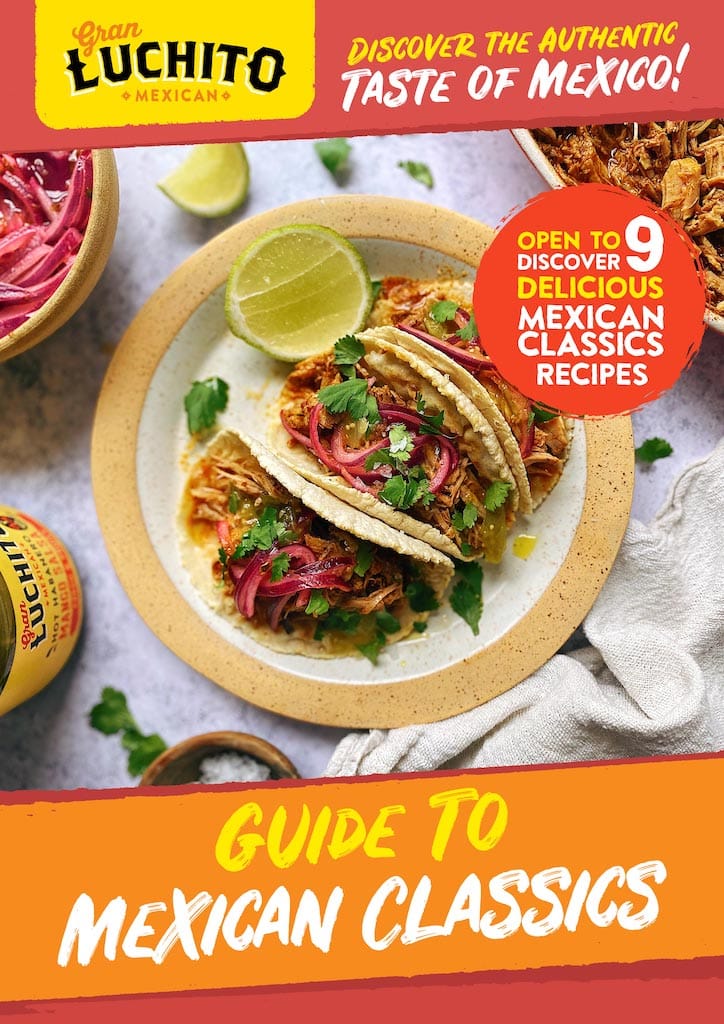 Similar Recipes You Might Like to Try
FAQs
What is chimichurri?
Originally from Argentina, the traditional chimichurri recipe is mostly herbs parsley, oregano, garlic, olive oil, vinegar, and salt. It is a much-loved parsley sauce that is added to meat and veggies as a relish/condiment, especially loved during BBQ season!
Is chimichurri spicy?
Traditionally no, but for our Gran Luchito version we have added chipotle chillies to the recipe in the form of our Chipotle Fajita & Taco Mix, and so there is a bit of heat, yes.
What is the difference between chimichurri and salsa verde?
Mexican salsa verde is mostly made with tomatillos and chillies, whereas chimichurri is more herby!
Comments / Questions / Tips

Subscribe now for a free copy of the Gran Luchito e-cookbook filled with delicious, authentic Mexican recipes and join our mailing list for all the latest recipes, news and blog updates.