Here we have compiled a list of our favourite Mexican Snacks to reach for when hunger strikes! Whether you are relaxing on the sofa, on the go, or contemplating late-night munchies, these go to recipes should fill that void. 
---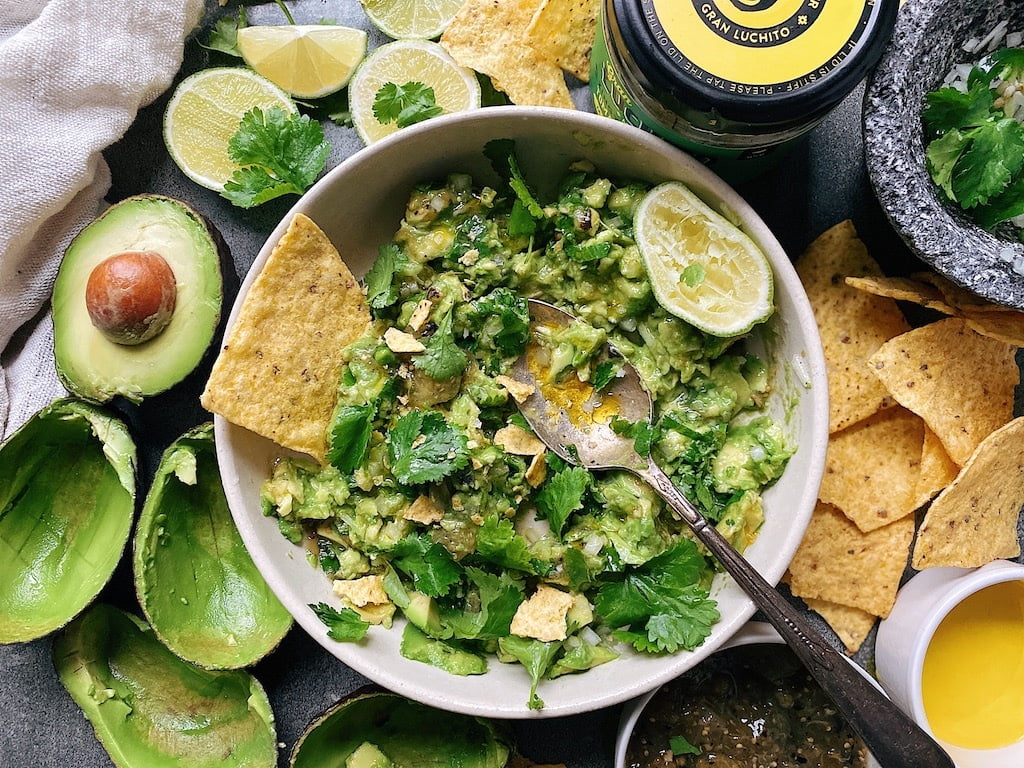 Invented by the Aztecs, Guacamole is essentially a mix of mashed avocado and spices. You can't go wrong making a fresh batch every week. In terms of Mexican snacks, it is our No.1. Full of healthy fats and fiber it is actually good for you, as well as being utterly moreish. Team it with our Lightly Salted Tortilla Chips and Super Smoky Chipotle Salsa.
---
Queso fundido, if you aren't already familiar, is a very popular snack in Mexico. What's not to love about cheesy deliciousness melted in a skillet under the grill?! Often you will find queso recipes with chorizo as in our Chipotle Queso Fundido recipe. In this recipe we use roasted cauliflower flavoured with Gran Luchito Chipotle Honey glaze and a bit of Smoky Chipotle Fajita and Taco Mix. This gives heavenly roasted flavoured edges to the cauliflower and when served with the melted gruyere it's just a match made in Mexican heaven. Serve with warm tortillas, guacamole and a bit of fresh salsa.
---
Molletes Mexicanos are a very popular and wonderfully delicious snack served in Mexico. Our recipe consists of some artisanal sourdough bread topped with Refried Beans and grated cheese. This is then placed under the grill or in the oven until the cheese melts and is lovely and gooey. A fresh homemade salsa of red onions, cherry tomatoes and a Chipotle Paste dressing is then served on top. A drizzle of creme fraiche and some chopped coriander finish it off to perfection.
---
Chicken Nachos are a classic Tex-Mex Snack. Lightly Salted Tortilla Chips are typically loaded with shredded chicken, creamy guacamole, sour cream, salsa and melted cheese. 
---
These beauties are healthy and simple grab and go Mexican snacks. Make a batch at the beginning of the week to keep in the fridge, and the rest does the talking! For these particular Quesadillas we have added Sliced Cactus and Tomatillo Salsa to our Soft Wheat Soft Taco Wraps.
---
Next on our list is another Quesadilla and this version is packed full of pulled pork. Alongside that, we have added guacamole, red onions, sweetcorn, coriander and mozzarella cheese. Such a delicious combination, all baked until the cheese inside has melted and the outside is golden. If that wasn't enough, these Mexican snacks are also freezer friendly! 
---
A Taquito is a small rolled up taco that contains filling, is then fried and topped with further ingredients. Our recipe here is brimming with chicken, which has been marinaded with our Smoky Chipotle Fajita and Taxo Mix. Sour cream on top is optional, but what goes really well with these is feta cheese and our Jalapeño and Pineapple. 
---
Fries.. the ultimate snack! These Chilli Cheese Fries satisfy that urge completely. Topped with Chilli Con Carne, using our Chipotle Paste, they are then sprinkled with a generous amount of grated cheddar and dollop of sour cream and guacamole. A perfect snack for your next film night or big match afternoon or evening in!
---
These Quick cheese Empanadas with sweet potato and brie are easy to make using pre-made shortcrust pastry sheets, full of flavour and spice and a total crowd pleaser. Chipotle Honey is used to caramelise a red pepper and onion mixture, and this flavoursome concoction is then mixed with the roasted mashed sweet potato. A final spoonful of Chipotle Paste is added for an extra kick. Pastry circles are filled with this tasty mixture and a piece of brie is pushed into the filling and then sealed by pressing the edges. Once they are baked the cheese will melt inside and combined with the delicious sweet potato and chipotle is a match made in heaven.
---
Small pastries filled with meat, cheese and vegetables. Empanadas are popular throughout Latin and South America. They are the perfect snack size and also suitable for freezing. Having said that, it would be simple to cook up a batch and freeze any leftovers. When needed, just transfer straight from the freezer into the oven! Simple! These ones are brimming with Chilli Con Carne.
---
Originating from the Spanish word meaning "toasted", Tostadas are another perfect big game or film night snack! The main ingredients needed for these Mexican snacks are Lightly Salted Tortilla Chips, chicken, mozzarella, Chipotle Salsa and Garlic and Guajillo Fajita and Taco Mix. Extremely moreish, fun and a guaranteed crowd pleaser!
---
Finally we have a classic and humble dish loved for it's simplicity. Tomato on toast! Barely any cooking needed and not many ingredients used. Nice thick bread, tomatoes, olive oil, garlic and salt are the staples. For this Mexican snacks recipe we have jazzed it up with anchovies and our Chipotle Paste.
Inspired by some of these recipes? Let us know your thoughts. For other blogs like this one, please visit:
Late Night Snacks That Are Easy To Make,
Party Food Ideas You Can Eat With Your Fingers,