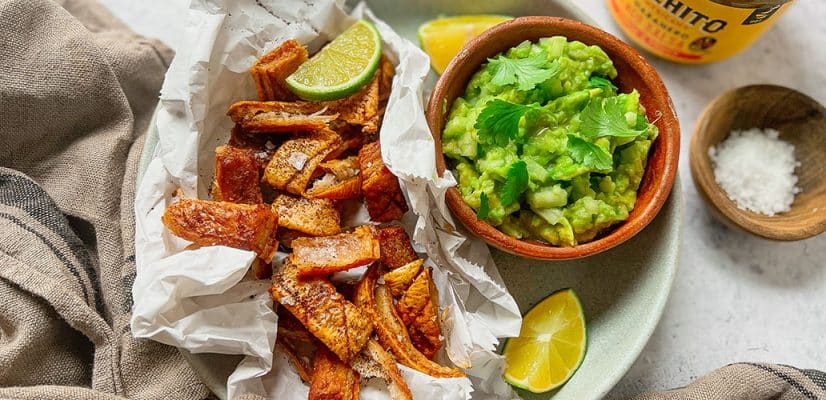 Chicharron
Chicharrón, a highly sought-after Mexican treat, predominantly comprises deep-fried pork rinds or pork skin. Known for its crispy texture, savoury saltiness, and mouthwatering meaty taste, it is hard to resist. Traditionally, chicharrón is often served with a fiery salsa and paired with a refreshing beer, or enjoyed alongside tequila or mezcal.
Chicharron is commonly offered as a "botana" or appetizer to enjoy before a meal, a small shared snack to savour while waiting for the main course. Homemade chicharrones can also be found in Mexican market stalls, available in large pieces or sheets that can be broken into smaller fragments. These delightful pieces are typically relished with freshly made salsa and a squeeze of lime. Another well-liked pairing for chicharrones is guacamole, often served as a delightful accompaniment to enhance the flavours of this savoury treat.
To prepare pork chicharrones at home you will need a piece of pork rind with some of the fat and a bit of the meat attached. This is normally found at your local butcher, or sometimes even in mainstream supermarkets.
Our chicharron recipe is one that anyone can prepare at home. We love serving our Mexican pork rinds with hot Gran Luchito Mango Habanero Salsa or mild Gran Luchito Tomatillo Salsa. Don't forget to make our recipe for perfect homemade Guacamole and have some fresh limes on the side.
Prep time

Cook time

Total time

Ideal for

Snack

Make it

Mexican

Serves

2
Nutrition: Per serving
kcal 395
fat 29g
saturates 10g
carbs 4.2g
sugars 1.4g
fibre 0.5g
protein 28.6g
salt 2.7g
How to make it
Preheat the oven to 180˚C/350˚F.
Begin by scoring your pork rind with a sharp knife, then place the piece of meat on a baking tray and season with the flaky sea salt. Place in the oven and bake for 20 minutes.

After 20 minutes remove your pork rind from the oven and cut into smaller pieces with a sharp knife, then place it back into the tray and bake for a further 15 to 20 minutes, allowing the pieces of pork rind to get crunchy.

Once ready, remove from the oven and while your chicharrones are still hot sprinkle the

Smoky Chipotle Fajita and Taco Mix

on top and mix with the help of a spoon, making sure they are nicely coated in the Mexican spice mix.

Serve with a side of homemade guacamole, Habanero Mango Salsa, and the lime wedges on the side.
Download Our Free Guide To Mexican Classics
Your free guide will be emailed to you immediately.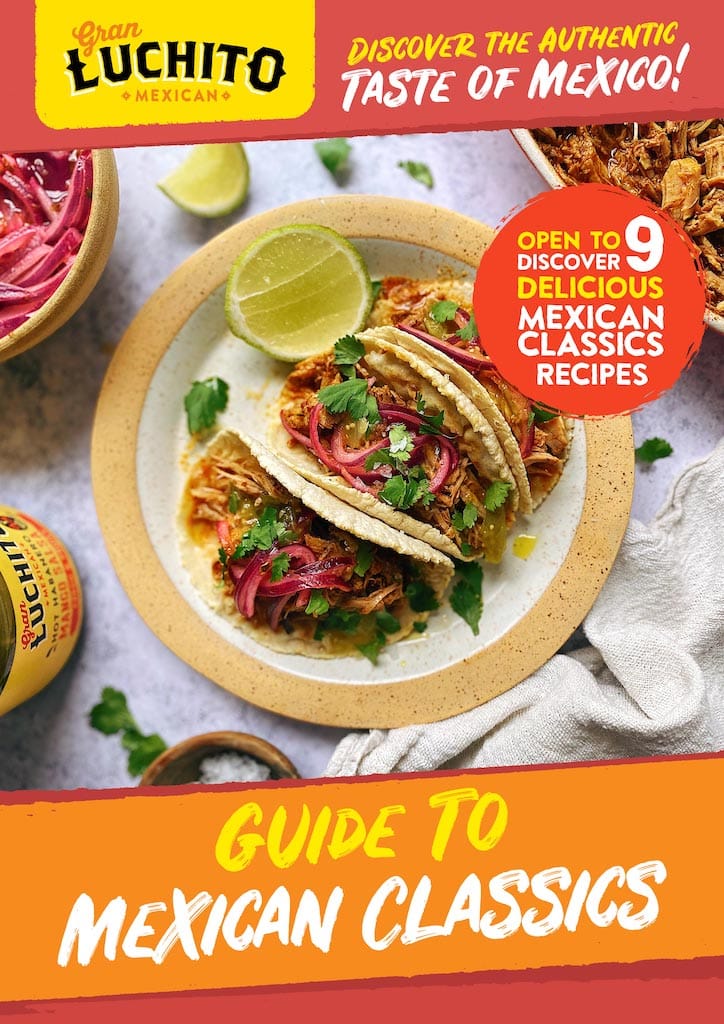 What To Serve With Chicharron?
Serve these chicharron with some Gran Luchito Salsa or Homemade Guacamole. You can also crunch them up and serve on top of either of these two recipes:
Similar Recipes You Might Like to Try
FAQs
Where to buy pork skin?
You can buy it from your local butcher, and some big supermarkets now sell it. Ask them at the meat counter!
How to eat chicharrones?
You can eat them as finger food, dipped in your favourite salsa or a homemade guacamole. Alternatively wrap them in a soft flour tortilla! You could also crunch them up and sprinkle over your scrambled eggs, on top of soup, or into your black beans.
Where does a chicharron originate?
Mexico is one of the world's largest producers and consumers of chicharron, although they originated in the Andalusia state of Spain and gained popularity in the rest of the world afterwards.
What is chicharron in english?
Chicharron is the Spanish name for pork rinds.
Are pork rinds unhealthy?
Pork rinds are a savory, carb-free, high protein snack. They have a fair number of calories and are quite high in unhealthy saturated fat. Plus, a serving of pork rinds provides nearly half the amount of sodium you should eat in a day.
Comments / Questions / Tips

Subscribe now for a free copy of the Gran Luchito e-cookbook filled with delicious, authentic Mexican recipes and join our mailing list for all the latest recipes, news and blog updates.