Estimated reading time: 14 minutes
We have rounded up our favourite Mexican Chicken Recipes guaranteed to spice up your life! From soup, a traybake, to nachos, tacos, risotto, and of course the all-important perfect Mexican roast chicken. When you're b-o-r-e-d with plain old grilled chicken breasts, these delicious and easy Mexican chicken recipes will help you to find the fun in chicken again.
---
First up on our best Mexican Chicken Recipes is a favourite dish at your local Mexican restaurant that is super easy to make at home – yes, Chicken Fajitas! We think you might even find that our version is the best chicken fajitas recipe thanks to the flavour you get from our chipotle chicken fajita marinade. Our secret ingredient is our smoky Chipotle Paste which adds some Mexican magic and gives a great depth of flavour to the chicken. So delicious mixed with freshly squeezed lime juice, dried oregano, olive oil and salt and pepper.
---
This Mexican chicken soup always impresses regardless of whether it's for a mid-week lunch or a starter for a Mexican dinner party. Chicken and black bean is a popular combination in Mexico and this Mexican soup recipe has been inspired by Fergus our founders trip to San Miguel.
---
We think that traybakes, one-pan or one-pot meals are the perfect answer to feed your loved ones, as they have all the flavour without all of the hassle. Besides, what's not to love about an easy chicken traybake with a bit of Chipotle Paste and Chipotle Honey mixed in with delicious Mexican chicken juices and vegetables? We think it's a very practical one of our Mexican chicken recipes.
---
When it comes to Nachos it's always handy to have a quick chicken nachos recipe for a movie night in, one that doesn't involve hours of preparation and that you can put together in no time. Our Easy Chicken Nachos is just that recipe! It's perfect for two people but can easily be increased depending on how many are watching that film together.
---
---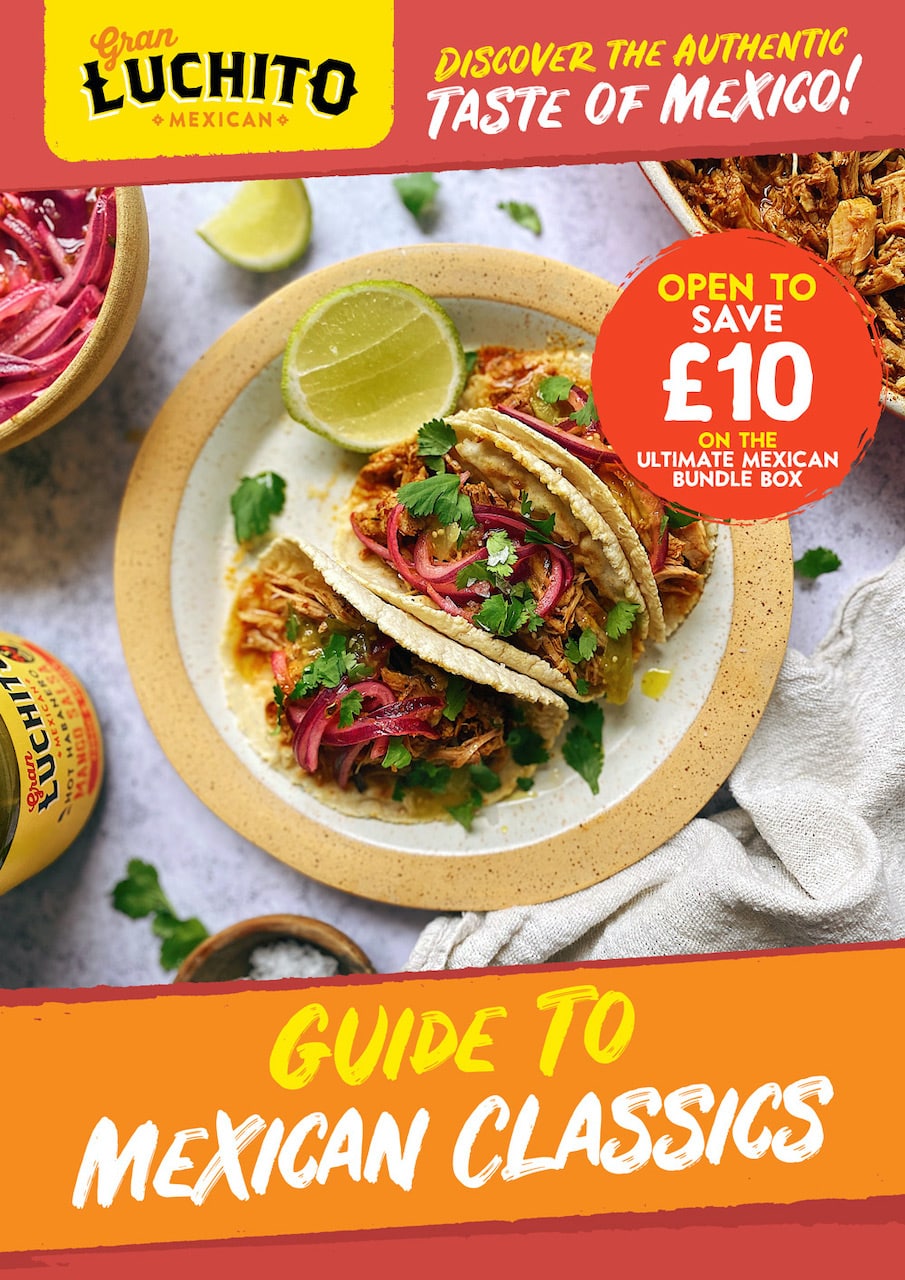 Sign Up To Download Our Free Guide To Mexican Classics
Free Mexican Cook Book

Save £10 On Our Ultimate Mexican Bundle Box  (UK Only)

Monthly Newsletters with our latest recipes and special offers
---
The perfect roast chicken, Mexican style! You can throw this dish together in 5 minutes and the beautiful aromas of the spices, herbs, and aromatics will do wonders in under an hour. Tender, juicy and loaded with flavour, this Mexican roast chicken recipe is guaranteed to be a knockout!
---
This is a healthy chicken taco recipe! Perfect for the summer – when you have a bit of time to get the barbecue going. But if that's not the case, the chicken works perfectly cooked under the grill or over a hot pan in your kitchen. These chicken tacos are quick, simple and easy to prepare. Sometimes, all you need is some homemade guacamole and pico de gallo to go with chicken tacos!
---
When we say fried Mexican chicken tacos, you say hell yeah! This is one of those Mexican chicken recipes that is perfect for outdoor summer eating with some of your bestie amigos. Add some cold beers and we reckon you're in Mexican food heaven!
---
There is nothing better than making good use of the remaining ingredients in our fridge and cupboard and repurposing them into a tasty Mexican recipe for the family. With the help of a few Gran Luchito ingredients, we can transform the remains of that chicken from yesterday's roast into a whole new meal in the form of these delicious Easy Chicken & Chorizo Tacos. That's why having Chipotle Paste in your cupboard becomes really handy, as it's the best way to spruce up and add flavour to any meal.
---
Our Mexican Chicken Tinga Tacos are made with only a few ingredients which makes it perfect for everyday meals! Here at Gran Luchito, we have done all the work preparing the lovely Tinga Taco Simmer Sauce for you, so you can make this authentic chicken tinga recipe for your family and friends in no time.
---
Finally on our list of Mexican Chicken Recipes is our Chicken and Chorizo Risotto. It's easy enough to make midweek, but also decadent enough to make for a weekend Mexican dinner. Comfort food at its finest, the combination of chicken and chorizo is a classic, and paired with creamy risotto its a sure-fire hit!
---
Look how yummy, yet fresh and healthy this chicken enchilada recipe looks. It's also super quick to make. With our Enchilada Cooking Sauce, we make it easy for you to prepare a delicious Easy Chicken Enchiladas recipe with only a handful of ingredients in no time. Finally, chicken enchiladas can be made on a weeknight!
---
Here is another chicken enchilada recipe, although this one is slightly more of a labour of love. Give it a go on a day where you have the time to make an incredible homemade red enchilada sauce of your own. Authentic Mexican Chicken Enchiladas will always go down a storm with the friends and family.
---
"Pollo Asado" or grilled chicken in English, is a very popular dish you can normally find in well-known franchised takeaways all over Mexico. The dish is all about the Pollo Asado seasoning, or marinade, and letting your chicken absorb all the flavours before cooking it. So make sure to leave enough time for marinating before cooking!
---
Lastly for our Mexican Chicken Recipes is this easy Chicken Quesadilla recipe. This is a great recipe to do early in the week, after that Sunday roast. It incorporates the breast and dark meat from half a cooked roast chicken. We have made our own fresh salsa, but if you wanted it even easier you could use Gran Luchito Chipotle Salsa.
---
15. Chicken Burrito
This is a classic Chicken Burrito recipe made with tender slow-cooked chicken using our Chipotle Paste for a delicious, smoky flavour. It's our go-to Mexican burrito recipe and there's a reason we keep coming back to it!
---
We hope you have enjoyed reading about our favourite Mexican Chicken Recipes and would love to hear from you! Be sure to leave your review at the end of this blog or any of our recipes. Happy cooking from all of us!
Some More Cooking Blogs You May Also Like: