What's one of your favourite leftover chilli con carne recipes? Have you even got a favourite recipe for chilli con carne? What goes well with chilli con carne?
Everyone loves a bit of rice, but variety is the spice of life and spice is what we're all about here at Gran Luchito. So we've put together a few ideas to get you thinking outside the box. If there's one thing our Chipotle Paste works well in, it's a recipe for chilli con carne. So if you haven't tried it, add some to your next batch and taste the difference for yourself. It's not like the standard chilli con carne mix.
Here's our super easy chilli con carne recipe, ultimate chilli con carne recipe and our vegan chilli con carne recipe. Once you've mastered the ten ideas below we recommend you turn your attention to our other Gran Luchito recipes.
So go on, feast your eyes below and click to discover the ideas in full.
First on our list is, a chilli con carne burrito. What better way to use leftover chilli than loaded up in a burrito wrap with your favourite toppings. In this recipe we share a new chilli con carne recipe using our Cantina Beans and the result is delicious!.
First up for our leftover chilli con carne recipes is this one. Chilli dogs are a classic American dish that we knew would work really well, given the Gran Luchito treatment. We used our Chipotle Paste to make a rich and smoky chilli con carne, and spooned it onto meaty Toulouse sausages in a bun, topped with grated mature cheddar. One for the meat-lovers for sure! 
Red peppers work amazingly well with chilli con carne. Once you've made your chilli, mix it with some rice and spoon it into the peppers before sprinkling with a little cheese and baking.
Not much explanation or justification needed here. You can tell just by looking at it that chips are a worthy substitute for rice. This makes for a great sharing dish as well.
Bunny chow is normally a curry served inside a hollowed-out loaf, but we think chilli is perfect for it too. Whether you eat your bowl as you go along, or at the end, is completely up to you. Either way, you get to eat your bowl!
We couldn't think of any good reason why this wouldn't be amazing.  Make your own pizza, or top a margarita with homemade chilli and extra cheese.
Delicious crumbly pastry stuffed full of tasty chilli con carne. A great way to take your chilli to a picnic, and perfect for parties.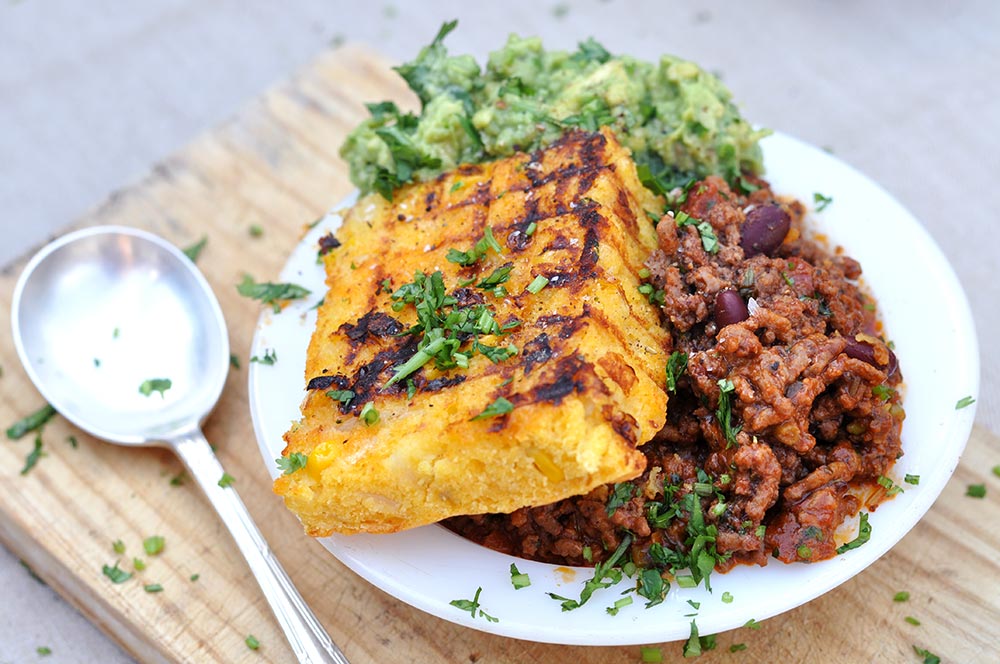 Chilli con carne is often eaten with cornbread in the southern states of the USA and makes for a delicious alternative to rice. Serve it on the side in chunks or make a lid for your pot of chilli to keep it warm until you're ready to serve. Our cornbread recipe has chunks of sweetcorn and caramelised onion for a bit of extra flavour and texture.
When we made mac n cheese balls, they went down an absolute storm. So whilst brainstorming for our quest to bring you new ways to enjoy Gran Luchito con carne, we thought we'd see if these work. Work they do! Chilli con carne balls in a crust of crushed tortilla chips and fresh coriander. This is a great way to use up leftover chilli con carne.
Another fantastic way to use up leftover chilli. Get yourself some tortilla wraps, eggs, guacamole and tomatoes and enjoy a breakfast/brunch that'll set you up for the rest of day. The most important element here is to nail your fried egg to perfection.
Plenty More Where That Came From…
If that's not enough chilli con carne for you, be sure to check out this great chilli inspired homemade burger recipe…
So what's one of YOUR favourite leftover chilli con carne recipes? Let us know in the comments below!
Some More Popular Recipes You May Also Like:
Easy Mexican Recipes, Tasty Tex-Mex Recipes,  Guide to Tacos, Leftover Chicken Recipes, Mexican Fusion Recipes, Our Favourite Egg Recipes, 10 Interesting Facts About Oaxaca, Nine Big Green Egg Recipes, Party Food Ideas, Family Meal Ideas, Late Night Snacks, Meatball Recipes, Leftover Pulled Pork Recipes
This blog was originally published in October 2018 and has been updated in October 2020 with added content