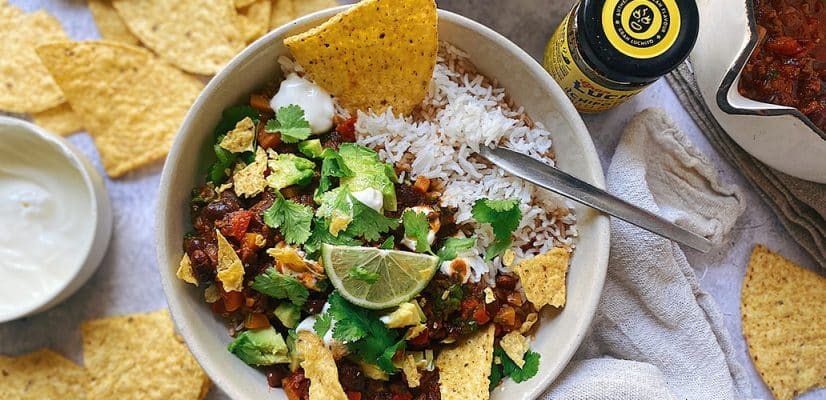 Slow Cooker Chilli Con Carne
A bowl of steamy chilli con carne will always be a favourite of ours, especially on a cold and rainy day. There really is nothing more comforting than a warming homemade chilli. If you have a bit of extra time, or you just simply want to make your chilli extra special, you should try this Slow Cooker Chilli Con Carne recipe.
By slowly cooking the minced beef it becomes deliciously tender, and the flavours intensify even more. Anything that's cooked for longer with extra time spent preparing it, you know it's going to taste better!
Serve this slow cooker chilli with steamed white rice, spoonfuls of sour cream, fresh avocado slices and our Gran Luchito Lightly Salted Tortilla Chips, ready to scoop up all that goodness.
Prep time

Cook time

Total time

Ideal for

Dinner

Make it

Mexican

Serves

5
Nutrition: Per serving
kcal 109
fat 5.7g
saturates 1.9g
carbs 9.9g
sugars 3.5g
fibre 1.6g
protein 5g
salt 0.4g
How to make it
Add the olive oil into a frying pan and once it's hot enough, break the minced beef and stir with a wooden spoon. Add 1 teaspoon of the

Chipotle Paste

into the pan and cook until the meat gets nicely browned, once ready, set aside.

In a slow cooker add the browned meat, the rest of the

Chipotle Paste

, the peppers, carrots, onion, garlic, cumin, cinnamon, oregano, tomato paste, brown sugar, passata, beef stock, coriander stalks, salt and black pepper. Stir and combine all the ingredients then cook slowly for 5-6 hours.

In the meantime, you can prepare your steamed rice.

30 minutes before your chilli con carne it's ready, remove the lid and add the

Cantina Beans

(with juices), put the lid back onto your slow cooker and let it finish cooking.

Once ready, open your slow cooker and taste. Adjust the seasoning if necessary, then serve in a bowl with the steamed rice, top with spoonfuls of creme fraiche, avocado, the remaining coriander and

Lightly Salted Tortilla Chips

.
Note: It's important to brown your meat before putting it into the slow cooker. By doing this, your meat will get so much more flavour!
What To Serve With Slow Cooker Chilli Con Carne
We recommend serving our slow cooker chilli con carne recipe on a bed of Mexican Rice with a dollop of homemade guacamole on top.
As a side you could try some Mexican Coleslaw or a Mexican Salad which will bring lots of interesting texture and colour to your chilli feast!
Explore The Gran Luchito Home Of Chilli!
Whether you are keen to try an authentic chilli, the ultimate, vegan, or a quick & easy version, we have a delicious chilli recipe for you along with our best tips for making chilli and inventive ideas for any chilli leftovers you might have including recipes for stuffed chilli peppers, tasty empanadas, rolled up in a burrito or layered over nachos.
Download Our Free Guide To Chilli Con Carne
Your free Chilli guide will be emailed to you immediately.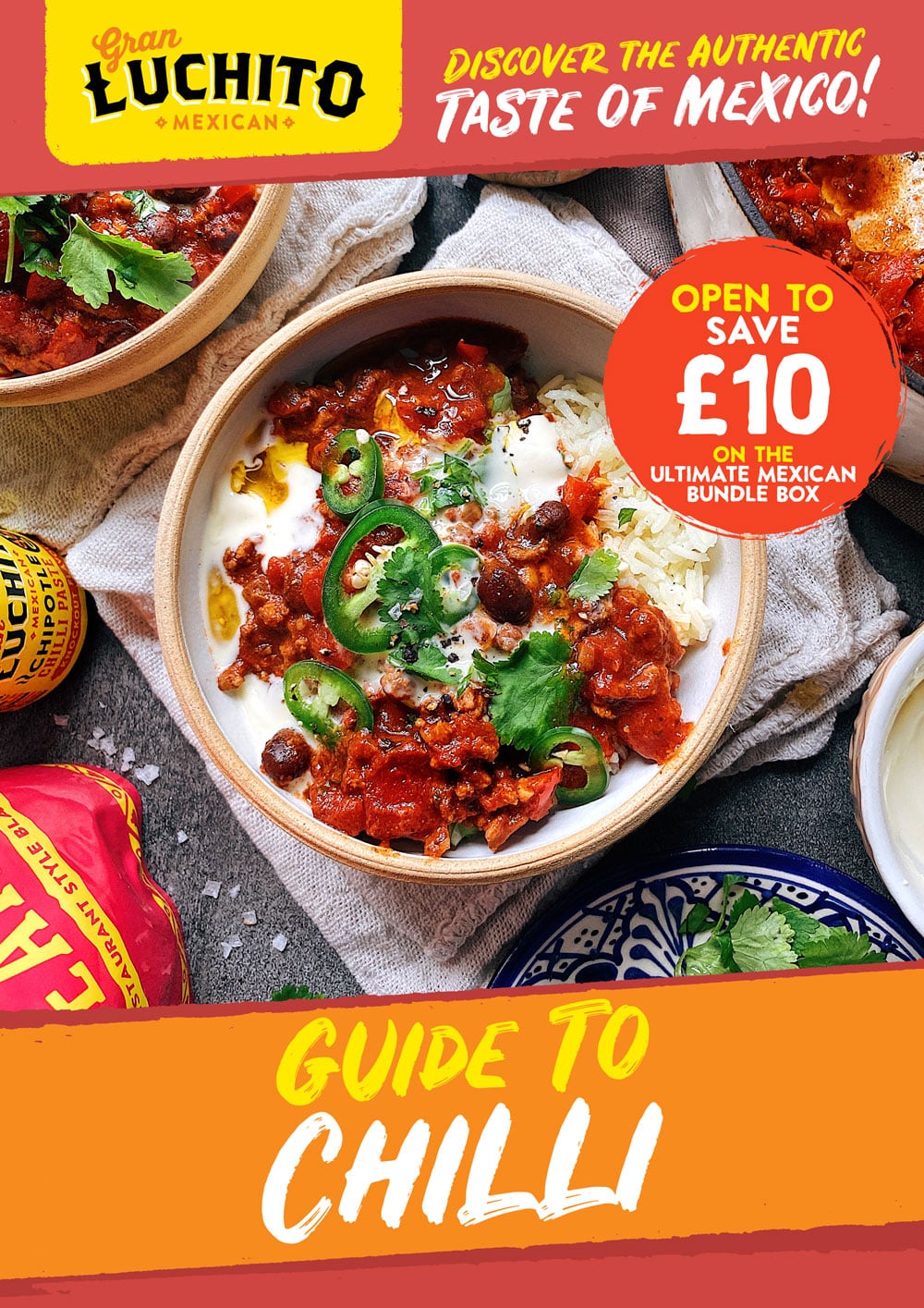 Similar Recipes You Might Like to Try
FAQs
When to add beans to slow cooker chilli?
You add them at the end, just before eating. Make sure they are heated through first, so if it's adding them to a slow cooker then add 10 mins before eating.
Can you put raw ground beef in a slow cooker?
Ground meat should always be browned before it is added to the slow cooker with the other ingredients. This will prevent it from clumping together as it cooks and cut down on the amount of grease in the final dish. Also caramelizing the meat creates richer, bolder flavors.
How long are you meant to cook chilli for?
Chilli recipes need time for the flavours to infuse. Collagen-rich meat (like chuck roast or ground beef) needs 90 minutes to two hours to fully break down and become tender. If you don't have time for a long simmer, try using a slow cooker or making it the day before. Any longer than 8 hours in the slow cooker and the beef and beans break down and become overcooked.
Comments / Questions / Tips

Subscribe now for a free copy of the Gran Luchito e-cookbook filled with delicious, authentic Mexican recipes and join our mailing list for all the latest recipes, news and blog updates.