Estimated reading time: 8 minutes
Sydney is a multicultural hub and one of the most iconic cities in Australia. With a gorgeous and majestic coastline of over 100 beaches and an impressive sightseeing scene – this is a city that over 5 million people call home but also one that should most definitely be on your travel bucket list. While lucky enough to be exploring this phenomenal city, we just had to check out the best Mexican restaurants in Sydney we could find and treat our tastebuds to. To say the least – we were not disappointed.
Check out Our Guide to Mexican Food in Sydney – from sophisticated to street food, there is something for everyone!
---
1. Cantina Bar
This gorgeous little cantina is the perfect mix of casual and that slightly more formal feel you may want in a restaurant. The service is friendly, the food spicy and the margaritas delicious. Cantina Bar offers a tasting menu but if you are going a la carte, we would suggest their seared scallop tostadas; the chipotle beef nachos and their chimichanga was just spectacular.
---
2. Taco Muchachos
Tacos Muchachos is a relaxed temporary weekend pop up restaurant serving wonderfully flavoursome, extraordinarily wholesome Mexican street food. We tucked into their beef and cauliflower nachos to share and they were mouth-watering. The chicken option looked great too! For their names sake, we had to try the El muchachos burrito (available in beef, chicken and cauliflower). Once again, homely Mexican food at its best!
---
3. El Gringos Locos
El Gringos Locos is a vibey and fun little restaurant with fabulously helpful staff. Their extensive selection of nachos leaves your options open! We completely fell head over heels in love with the pulled pork quesadilla. There was a bit of a wait for the food but with the live Mexican band keeping us entertained we barely noticed and after tasting the food, and noticing the generous portion sizes – it was well worth it! Wedding is in 3 months – everyone is welcome, see you in Mexico.
---
4. Alma Avalon
Alma Avalon is an icon with a community feel. It is the perfect spot for cocktails and Mexican snacks to catch up with friends but also an elegant and authentic location with a great ambience for that special occasion such as an anniversary dinner.
We devoured, and savoured, their luscious crab tostadas; chicken pibil and carne asada. I couldn't pick which I preferred out of the three as they all left me wanting more.
---
5. Bondi Rumba
It would be near impossible for this hidden gem to have anything but the most gorgeous, cozy vibe considering its location. They have given their tacos fun and playful names and even have a kids menu making Bondi Rumba perfect for a family outing or a late-night stop in. Their caipirinhas and margaritas have made an impression on everyone (including us) and we will be back the next time we are in Sydney.
Our faves off their menu were the Cheech and Chong taco, ultimately a chicken tinga taco as well as the pulled pork quesadilla.
---
Discover The Authentic Taste Of Mexico With The Gran Luchito Mexican Chilli Gift Box
Discover the authentic flavours of Mexico with the Gran Luchito Chili Gift Set. Features our smoky Chipotle Paste made with a blend of chipotle and rare Mexican chillies, spicy and crunchy Salsa Macha and zesty Chipotle Lime Paste.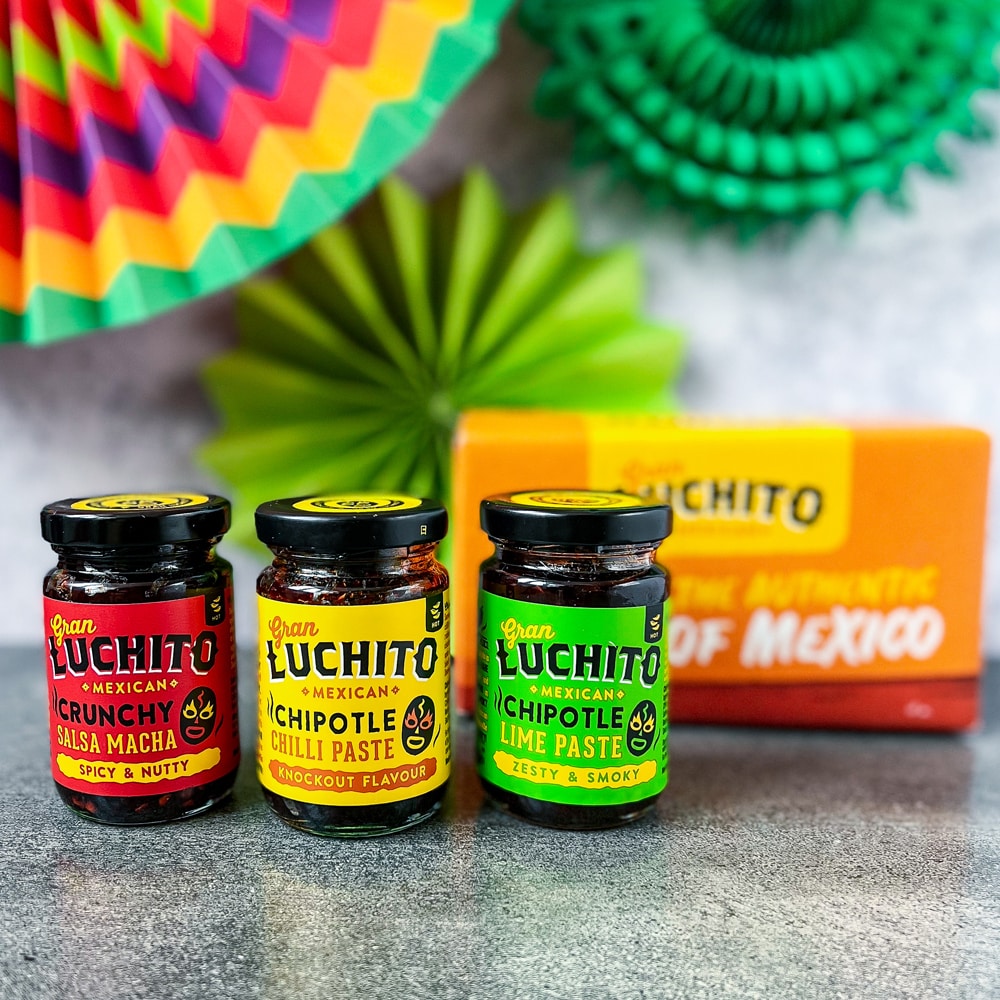 ---
---
6. SoCal
The perfect embodiment of a name and perfect authentic Mexican fusion food. SoCal has a bubbly atmosphere with a striking outdoor area that is irresistible when the weather is good. Their Mexican vegetarian and Mexican vegan options are exceptional.
We would suggest the Baja fish tacos or Ocean Trout Ceviche and for the veggies out there the Roast mushroom quesadilla or the Cauliflower enchilada.
---
7. El Topo
El Topo is a cute little Mexican Cantina that feels just like Mexico. The outdoor area is amazing and the tacos are even better.
El Topo has brilliant Taco Tuesday specials and the food is truly exceptional quality. Their cactus taco is something to write home about.
However, putting their tacos aside for just a minute – we also loved their beef enchilada and chicken quesadilla.
---
8. El Loco
With 2 locations across Sydney, El Loco has all your Sydney Mexican food needs covered. This is the perfect place to spend a Saturday afternoon relaxing, having drinks and some Mexican Snacks or a meal with friends.
Be adventurous and order their secret taco or DIY your platter – the world is your oyster.
We can recommend the chorizo quesadilla, nachos supreme, the eggplant and the Mexican steak. Delicious!
---
9. Tequila Mockingbird
A bit more elegant, Tequila Mockingbird has an incredible reputation and we were not going to miss our opportunity to experience this one. Carrying 34 tequilas from around the world, this is a tequila lovers heaven on earth.
This is a fun yet sophisticated venue with new and exciting ventures constantly on the horizon.
Tequila Mockingbird currently offers a set menu option as well as private dining experiences. They are currently working on a 'Dining in the Dark' experience – a concept first introduced in Vietnam by a restaurant named Noir. This will be the first of its kind in Australia.
We decided to eat a la carte and relished in the intricate flavours of the queso fundido, elotes, roasted lamb shoulder and chargrilled octopus.
---
---
Discover Our Authentic Mexican Recipes
---
We hope you have enjoyed our tour of Mexican food around Sydney. Check out some of these incredible spots the next time you visit this splendid city and let us know what you think. The comments section below is open for thoughts as always – we love feedback.