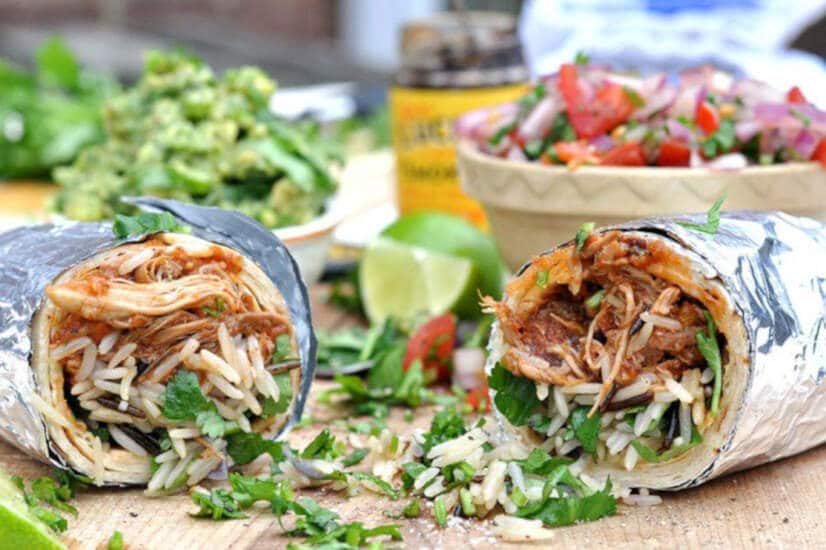 Chicken Burrito
Here is our take on what has become one of the most popular fast foods out there in recent times.
For this chicken burrito, we've slow cooked chicken until it's tender enough to pull apart and served it with fresh guacamole, pico de gallo salsa and lovely rice.
Our chipotle paste works really well here giving the burrito wraps a subtle smoky spice that you'll be wanting again and again. Chicken can be marinated and cooked beforehand.
Serve this chicken burrito with a side of chipotle slaw or some super easy to make nachos.
Some More Burrito Recipes Collection
Prep time

2 hrs 30 mins

Cook time

30 mins

Total time

3 hrs

Ideal for

Lunch

Make it

Mexican

Serves

6
How to make it
Before anything else, get the chicken marinating so it can be left for as long as possible. Put the chicken in a freezer bag or airtight plastic box and add the lime juice, chipotle chilli paste, chorizo, olive oil, red onion, garlic and coriander stalks and a splash of red wine. Give it a good massage, then seal and leave in the fridge to marinate for at least 2 hours, preferably overnight.
While the chicken is marinating, get cracking on the other elements of the burrito (guacamole, salsa and rice).
Once the chicken is marinated sufficiently, put it in a large saucepan and add the tomatoes. Stir well. Pop a lid on and cook on a very low heat for a couple of hours until the chicken is falling apart.
Transfer the meat to a bowl, using a slotted spoon. Return the sauce to a high heat and boil for about 15 minutes to reduce and thicken it. Season to taste.
Meanwhile, shred the chicken with a couple of forks, discarding the bones. The skin is delicious crisped up on a hot griddle pan, then chopped to add extra texture to the burrito. Stir the chicken into the sauce and leave for as long as possible before serving.
Warm the tortillas in a pan. You can put all the elements in a wrap or just wrap the meat and serve the guacamole, pico de gallo and rice as sides.
Have you tried these recipes?