Just like we did with burgers a little while back, we're looking to make the ultimate Chicken burrito. In preparation for this, we decided to carry out a little hands-on research into the subject to pick up some ideas.
We hit the streets of London to find the best burrito in London…
---
Poncho 8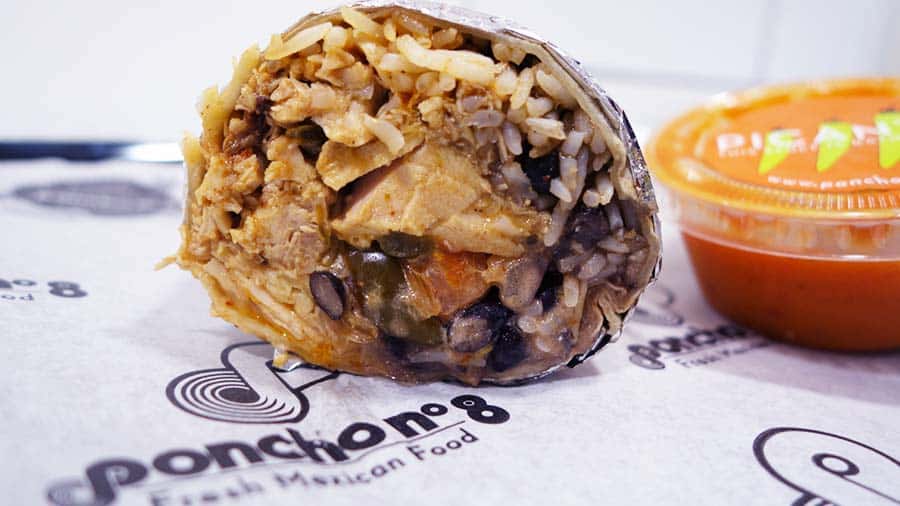 Voted the best burrito in London by Esquire magazine last year, Poncho 8 offers a healthy alternative to the burrito experience. Opened in 2009 by a couple of former city finance businessmen, their original location in Spitalfields was our first port of call. We went for the grilled chicken filling, but there are also barbacoa, British steak, Mexican pork and vegetarian.
Nice to be offered a choice of rice (we went tomato over brown). The burrito came sufficiently filled, but not overly stuffed, with delicious marinated chicken, sour cream, peppers and black beans. Its consumption didn't pose any logistical difficulties, holding together well.
---
Chilango
Another trendy burrito joint frequented by city workers looking for a nice spicy lunchtime treat. The Chilango style was inspired by a trip to the US made by the founders in order to discover the best burrito.
To keep things fair, we went chicken again. Keeping things classic, you can also go for beef steak, pork or veggie. The chicken was tender and juicy, served with both pinto and black beans, peppers, onion, rice, salsa and sour cream. The filling was moist, tasty, but (although we appreciate the value for money) a little over-filled for our liking, making it tricky to eat without getting messy. But we realise many people will see that as a reason to choose this over the others.
---
Lupita
This is more of a restaurant than a lunchtime fast-food joint. Upon questioning them on their burritos, Lupita was keen to stress their focus on more authentic Mexican dishes, such as tacos and tostadas. That being said, we went ahead and ordered their 'Tinga' (shredded chicken breast). Also on offer were vegetarian, Carnitas (pulled pork) and Tinga beef.
We were delighted with what we got. The chicken was slow-cooked and shredded rather than chunks as in the other ones we'd tried so far. This gave the whole thing a slightly different texture and seemed to have a somewhat deeper flavour. Like the others, however, it was served with lettuce, beans and rice. The salsas served alongside the burrito were excellent, including a 4 chilli sauce (habanero, arbol, serrano and jalapeño) as well as a delicious chipotle mayo. Overall, a great burrito that we'll certainly remember when it comes to making our own. We couldn't resist a taste of their famed tacos, which were also top-notch.
---
Burrito Bros
Next on the list was Clerkenwell's Burrito Bros. This was probably the least impressive burrito we tasted on our travels, to be honest. We appreciated the choice of beans and rice, which were both pretty tasty. However, the chicken was pretty bland and dry, something we'll be working hard to avoid when it comes to making our own.
They offer the standard options of chicken, Mexican pork, beef or veggie.
---
Benito's Hat
Our last port of call to discover the best burrito in London was Benito's Hat near Smithfield's Market in Farringdon. We were very happy with our burrito here, with chipotle-marinated chicken. Moist, well-packed and tasty, we left full and happy. A nice handful of homemade tortilla chips was a nice little addition to the meal too. Obviously, we were taking this very seriously and weren't indulging in alcohol, but their frozen margaritas looked pretty good. You can also get tacos and a nice-looking selection of sides (chipotle coleslaw with pomegranate seeds; oregano sweetcorn…)
---
So that brings us to the end of our mission to taste the best burrito in London. We'll be looking to take what we've learnt and come up with an awesome chicken burrito recipe for you to try at home using Gran Luchito. Please feel free to comment below and let us know your favourite burrito and any top tips we should bear in mind.