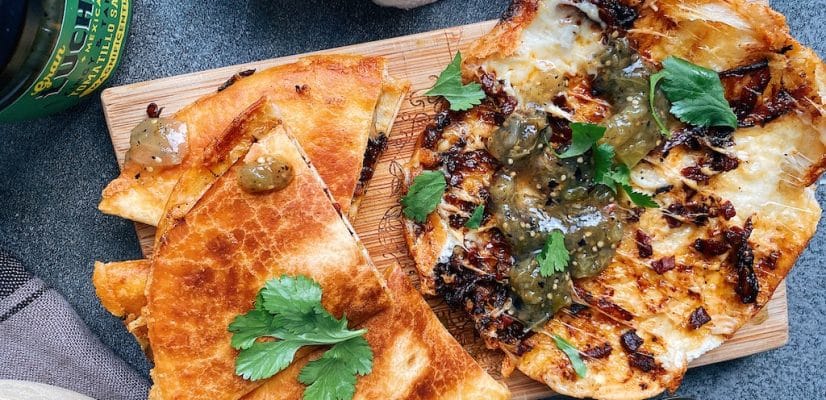 Easy Quesadilla Recipe Luchito Style
Quesadillas are quick and easy to make, satisfyingly filled with melted cheese and perfect for a snack or lunch. There are lots of ways to enjoy Quesadillas, filled with pulled pork, fajitas, or chicken are just a few. But our favourite way has to be this easy Quesadilla Recipe, Gran Luchito Style. If you were looking for a simple recipe to nail the perfect quesadilla, this is it!
All you need to do is to cook the chorizo and onion in a bit of cooking oil. Fry gently, letting the onion get lovely and soft while the chorizo releases all the flavour, then finish them up with a teaspoon of Gran Luchito Chipotle Honey to crisp them up slightly. Then fill the Gran Luchito Soft Taco Wraps with a mix of cheeses. We think gruyere and cheddar work beautifully for flavour and melt. Then add a spoonful of crispy onions and chorizo mixture, fold in half and place them over a hot pan.
It is not necessary to add any oil to the pan, just let the heat do its magic and the cheese melts over a medium heat. Once the gooey cheese begins to come out of the edges you know your quesadilla is ready, make sure you toast them until golden brown on both sides, serve warm.We like to add a dollop of Gran Luchito Tomatillo Salsa for a zingy finish.
We would love to hear what you think of this recipe, be sure to leave us your feedback in the comments section below!
Prep time

5 mins

Cook time

5 mins

Total time

10 mins

Ideal for

Snacks

Make it

Mexican

Serves

6
How to make it
Heat up the oil in a pan and fry the chorizo and onion over a medium heat. 

Add the Gran Luchito Chipotle Honey and let it caramelise and crisp up slightly, remove your pan from the heat and reserve. 
Add the grated cheese and caramelised chorizo onions to the Gran Luchito Soft Taco Wraps and fold in half.

Warm up in a medium heat pan and let the heat do its magic until they are golden brown on both sides and the cheese melts.

Serve with Gran Luchito Gran Luchito Tomatillo Salsa.
What to Serve with Easy Quesadillas?
We like to serve these moreish Easy Quesadillas with:
Our How To Make Quesadillas blog will help you to master everything you need to know about making delicious homemade Quesadillas. And our Quesadilla Recipes is our collection of tried and tested Quesadilla recipes with more flavours, protein and veggie options.
Download Our Free Guide To Quesadillas
Your free guide will be emailed to you immediately.
Similar Recipes You Might Like to Try
Please let us know what you think of this recipe