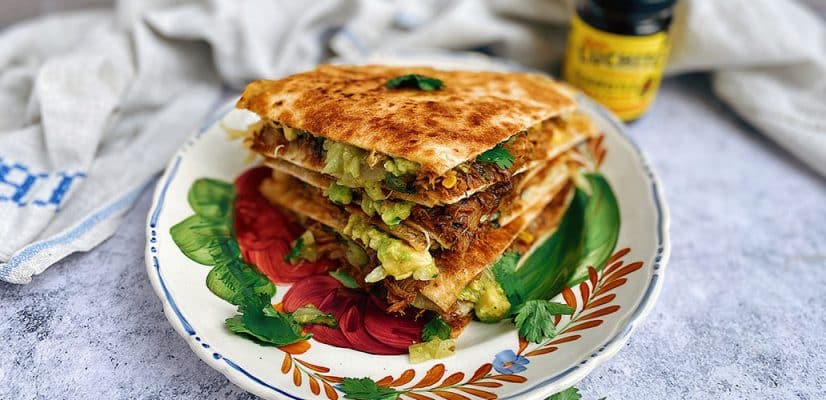 Pulled Pork Quesadilla
Prep time

30 mins

Cook time

20 mins

Total time

50 mins

Ideal for

Lunch

Make it

Mexican

Serves

3
How to make it
Heat up the olive oil over a frying pan and add the red onion, then cook slowly over medium heat. 

Add the brown sugar and corn kernels, then season with salt and pepper. Stir and cook for another 10 minutes until the onions have begun to caramelize.

Add the pulled pork and cook for another 5-6 minutes. Once ready, remove from the pan from the heat and finish with fresh coriander scattered on top.

Place one of the Burrito Wraps over your kitchen counter or on a chopping board and add the grated cheese on top. Add a layer of pulled pork and finish with a bit more cheese. Place another burrito wrap on top and brush with a bit of olive oil.

Heat up a large frying pan and place your quesadilla in it. Once the bottom gets golden and crispy and the cheese begins to melt, flip your quesadilla and finish cooking the other side.

Once ready, remove your quesadilla from the pan and place it over a chopping board. Cut it into quarters and serve warm with a good amount of our homemade guacamole recipe, and enjoy!
Similar Recipes You Might Like to Try
Please let us know what you think of this recipe