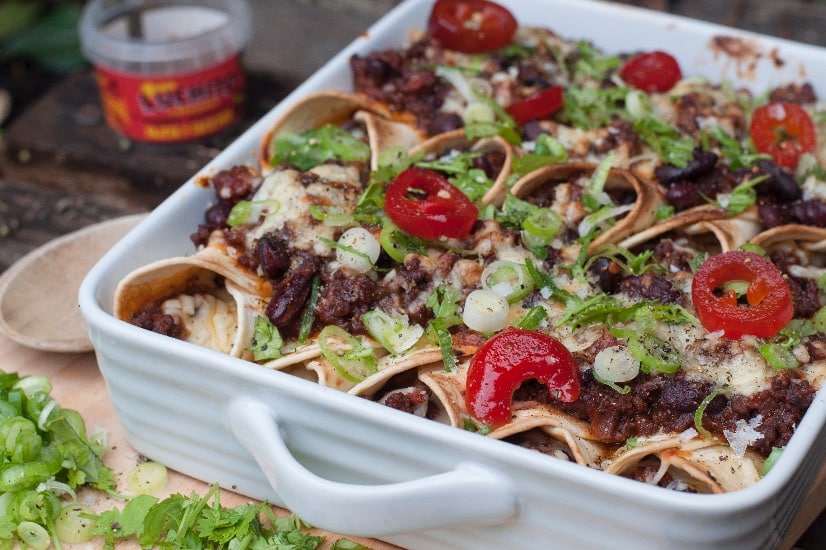 Beef Enchiladas
Home | Recipes | Enchiladas | Family Favourites | Mexican Classics
Beef Enchiladas are a great new way to mix things up and use that packet of mince on your weekly shop.
If you don't know the difference between your fajitas and enchiladas, enchiladas are tortillas filled with a yummy meat (or veg) filling, rolled and then topped with a sauce and loads of cheese then baked until melty and golden. Rich and indulgent, they are the ultimate Mexican comfort food!
We recommend serving our Beef Enchiladas with a crisp green salad. If you have a non meat eater then we recommend trying our Vegetarian Enchiladas. Our Slow-Cooked Chicken Enchiladas are another deliciously ooey, gooey enchilada option.
Prep time

5 mins

Cook time

1 hour 35 mins

Total time

1 hour 40 mins

Ideal for

Dinner

Make it

Mexican

Serves

4
How to make it
In a large saucepan, add a little olive oil and the beef mince. Over a medium/high heat, cook until the beef is nicely browned all over. Remove the meat to a dish, reduce heat to medium then add chopped onion and Gran Luchito Smoky Chipotle Taco & Fajita Mix to the same pan. Cook until softened (15 mins).

Add the tomato puree, chopped tomatoes, stock, beans and the meat. Wait until later to add salt as the stock will have plenty in it.

Stir well and cook for 1 hour uncovered over a low heat. The sauce will reduce down and the beef mince will become very tender.

Towards the end of the hour, pre-heat oven to 200C. Grease a medium baking dish.

Lay out 1 pack Gran Luchito Soft Taco Wraps and add a spoonful of the beef mix to each one (use about ¾ of the sauce inside the tortillas and save the rest for the topping). Add a small handful of grated mozzarella to each too (again, save some for the topping).

Roll up the tortillas and place in the baking dish. Repeat until all tortillas are filled and the baking dish is full. Top with the remaining sauce and cheese then bake in the oven uncovered for 20 minutes, or until the cheese is golden and the sauce is bubbling.

Serve topped with roughly chopped spring onion, coriander and Gran Luchito Jalapeño & Pineapple.
Have you tried these recipes?