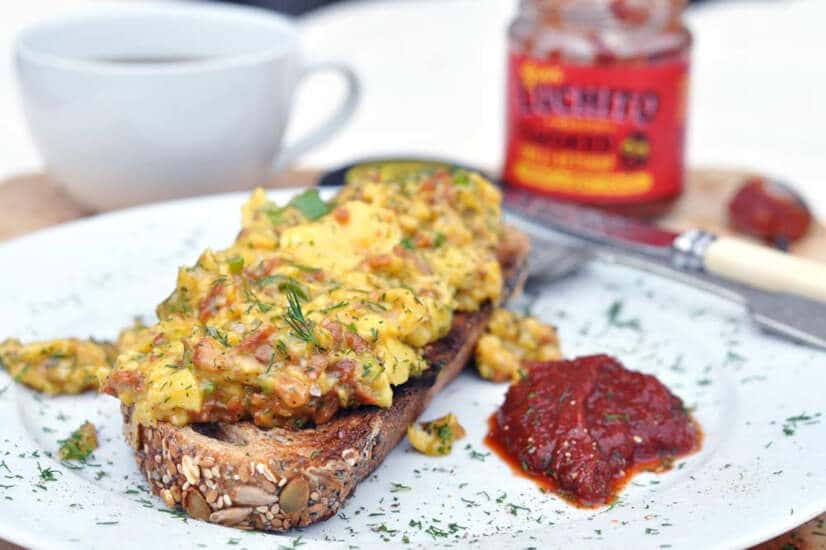 Mexican Scrambled Eggs
This Mexican scrambled eggs recipe is all about bringing together good-quality ingredients and letting them shine. The key to this dish is getting the eggs perfectly scrambled (you can't rush good scrambled eggs … it's low and slow all the way!).
The chorizo, spring onions and deliciously spicy Chipotle Ketchup will take you to breakfast heaven, guaranteed.
For a super indulgent breakfast check out our Chorizo and Corn pancakes and for something a little lighter try our Pan Con Tomate.
Prep time

5 mins

Cook time

20 mins

Total time

25 mins

Ideal for

Breakfast

Make it

Mexican

Serves

2
How to make it
Heat a frying pan over a medium heat and add the crumbled chorizo. It will release enough fat of its own, so don't worry about adding oil. Cook for a few minutes until cooked through and beginning to go crisp.
Add the spring onions and cook for 2–3 minutes until beginning to soften. Remove from the heat.
Melt the butter in a non-stick saucepan over a low heat. Add the eggs and, using a spatula, stir the eggs fairly regularly for about 3 minutes until almost cooked but still soft and moist. Be careful not to overcook them (remember they'll continue to cook after you turn the heat off, so take it to just undercooked). Season with salt and pepper.
Once you're happy with the eggs, add the chorizo and spring onions, sprinkle with the dill and stir well.
Toast the bread and spread with dollops of chipotle chilli ketchup. Spoon the scrambled eggs on top and serve with extra ketchup.
Have you tried these recipes?