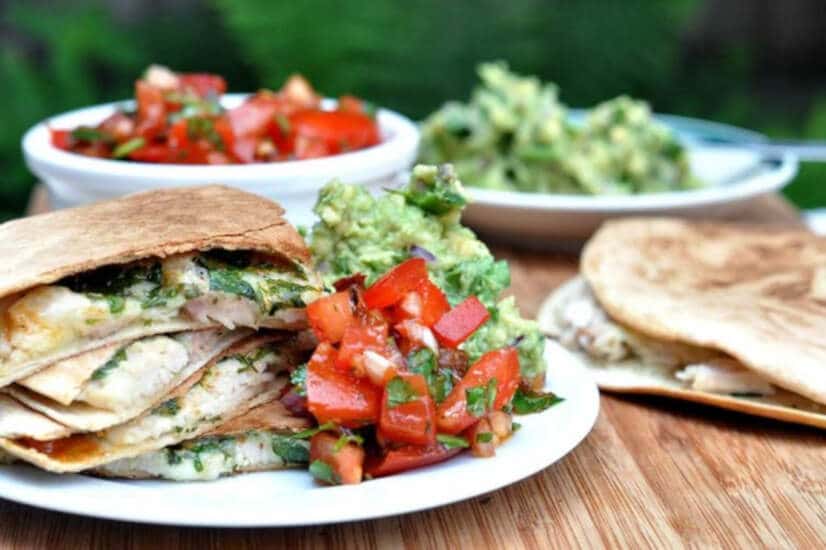 Easy Chicken Quesadillas With Chipotle Salsa
Home | Recipes | Mexican Classics | Quesadillas
If you've got leftover chicken and you're looking for an easy and delicious way to use it up, you've found a great recipe. This Easy Chicken Quesadillas recipe uses our Gran Luchito Chipotle Mayo and is unbelievably moreish. If you haven't got time to make the chipotle salsa from scratch, you could use our Chipotle Salsa instead!
Shredded roast chicken, melted cheese, soft tortillas all served with spicy salsa and fresh guacamole.
Chef's tip
This is great served on a platter for everyone to dig in and help themselves.
Prep time

15 mins

Cook time

10 mins

Total time

25 mins

Ideal for

Lunch

Make it

Mexican

Serves

2
How to make it
Begin by shredding the or chicken. If it's still on the bone, remove all the meat and break it up into small pieces.
Heat a frying pan on a medium heat. Once hot, place a Burrito Wrap into the pan.
Add half of the shredded meat on top of the Burrito Wrap in the pan, followed by half of the chopped mozzarella, half the grated cheddar and half of the coriander.
Finally, add another Burrito Wrap on top. Be careful not to burn the bottom tortilla. When beginning to brown, use a spatula to carefully flip the whole thing and crisp up the other side. You might need to reduce the heat to stay in control.
The cheeses will eventually melt. At this point, it's ready. Remove from the pan.
Repeat the steps to make a second quesadilla and keep warm in the oven on low.
Now you can quickly make the guacamole and salsa.
Salsa first: In a bowl, add the tomatoes, onion and coriander, olive oil, Gran Luchito Chipotle Paste and a generous sprinkle of salt & pepper. Mix well.
Guacamole: Cut avocado in half and remove stone. Scoop out flesh with a spoon and roughly mash in a bowl with a fork (a few lumps are nice).
Add the coriander and red onion. Add the lime juice and a sprinkle of salt and pepper. Mix well.
When ready to serve, remove the top tortilla from each quesadilla and spread the Gran Luchito Chipotle Mayo onto the underside before replacing on top of the filling.
Cut the quesadillas into quarters and serve with the guacamole and salsa.
Have you tried these recipes?