Mexican food is made for cooking slow and low, and letting the flavours meld together. If you don't have one, a slow cooker is a brilliant tool to have in the kitchen. With minimal prep, the slow cooker will do all the work for you with no standing over a hob for hours. It can transform a tough, inexpensive cut of meat into tender, melt-in-your mouth deliciousness. Here we've rounded up our favourite and super easy Slow Cooker Mexican Recipes which are perfect for stuffing into tacos, burritos, layering on nachos or simply served over a bed of rice.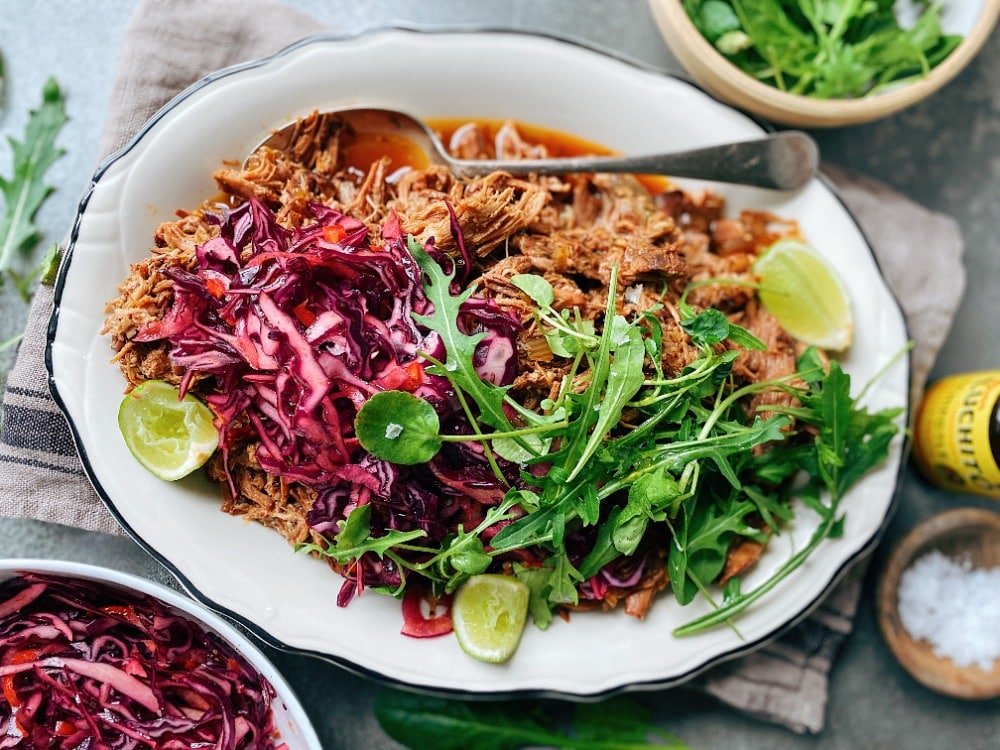 Slow Cooker Pulled Pork….now there's an idea for a lazy Saturday or Sunday morning. It's traditionally cooked in the slow cooker on a low heat for several hours. This allows the fat to dissolve making the meat so tender it falls apart easily when shredded. Our Chipotle Paste is the ingredient needed, and you can go classic and use soft brioche rolls to serve the meat in, or go Mexican and use Soft Taco Wraps. If you love pulled pork check out our other pulled pork recipes for further inspiration!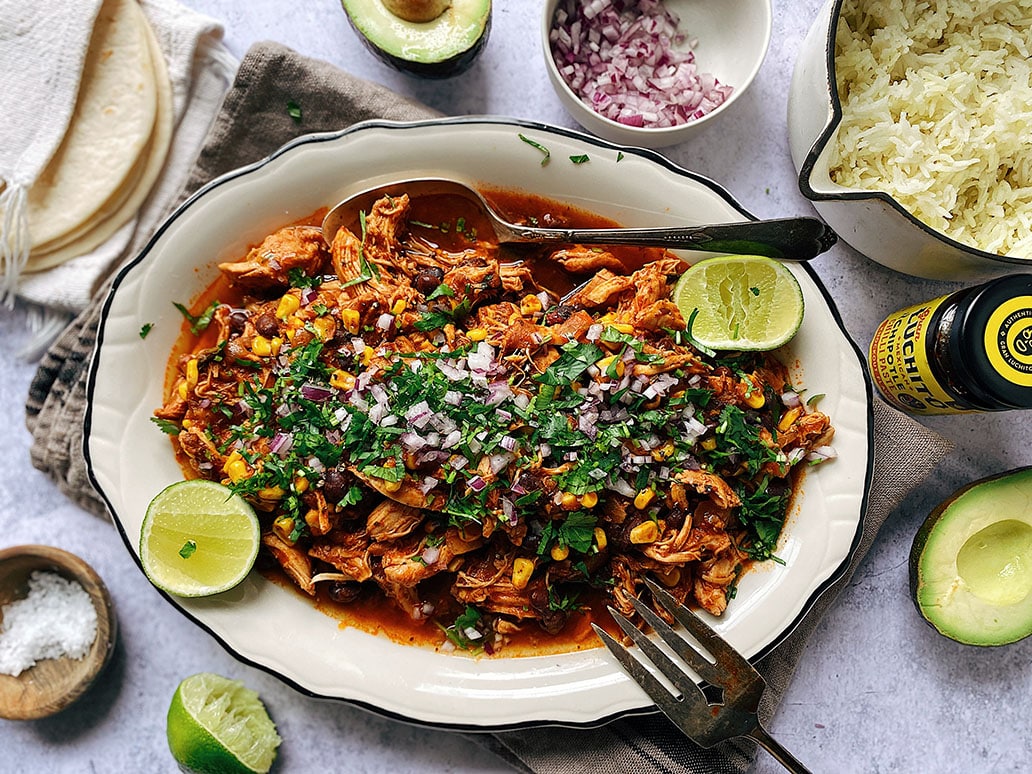 A hearty slow cooker Mexican Chicken Stew infused with the sensationally smoky flavour of our Chipotle Paste. Everything is tipped into the slow cooker where the flavours meld together over hours of slow cooking. It's a delicious and warming stew perfect for those cold, wintery nights.
Shoulder of lamb is a great cut of meat that really benefits from slow cooking – the meat falls off the bone and is tender and delicious. This Slow Cooker Chipotle Lamb Shoulder recipe uses our Chipotle Paste to bring a smoky depth of flavour for a delicious twist on your usual lamb recipe.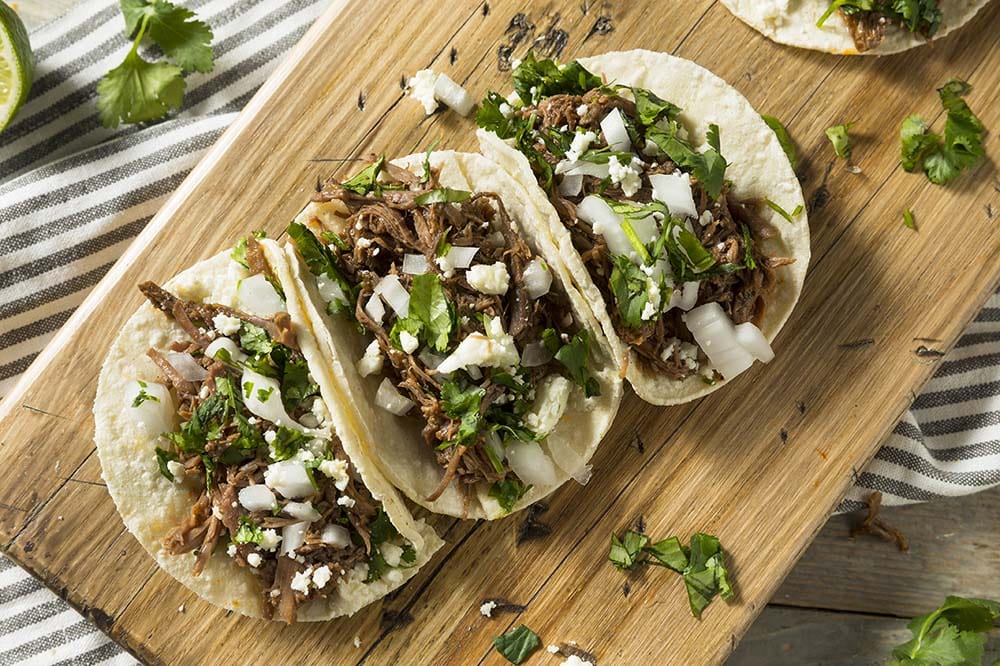 Barbacoa, delicious and tender shredded beef, is surprisingly very easy to make with a slow cooker. We like to season a beef brisket joint with our Garlic and Guajillo Taco Mix, brown it on all sides and tip into the slow cooker with some Chipotle Paste. 6-8 hours later you have smoky and delicious Slow Cooker Barbacoa Beef perfect for stuffing into burritos or tacos.
Next up on our list of Slow Cooker Mexican Recipes is our Chicken Tinga. Using our Tinga Taco Cooking Sauce, you get amazing flavour with minimal effort. It's handmade in Mexico using smoked Chipotle chillies simmered with sun-ripened tomatoes and garlic. All you have to do is brown the chicken and onions, pour in the sauce and set off your slow cooker. It's ready when it easily falls of the bone and shreds between two forks. Slow Cooker Chicken Tinga makes an irresistible filling for tacos, burritos, nachos, whatever you fancy.
Pork shoulder is made for the slow cooker. Make sure to ask your butcher to remove the layer of fat. Our Tinga Cooking Sauce is the perfect ingredient to infuse the pork with loads of flavour, and to create our Slow Cooker Pork Pibil.
Now time for our perfectly tender slow cooker pork Carnitas recipe. Our Chipotle Paste brings all of the lovely flavour and spiciness, and your slow cooker does all the work.
Slow Roast Pork Belly…mmm. An absolutely delicious and special dish. Strips of succulent pork belly smothered in our Chipotle Honey glaze and then crisped up for the ultimate in taste bud heaven! Decadent, naughty and extremely moreish. Best served with our Mexican Mash.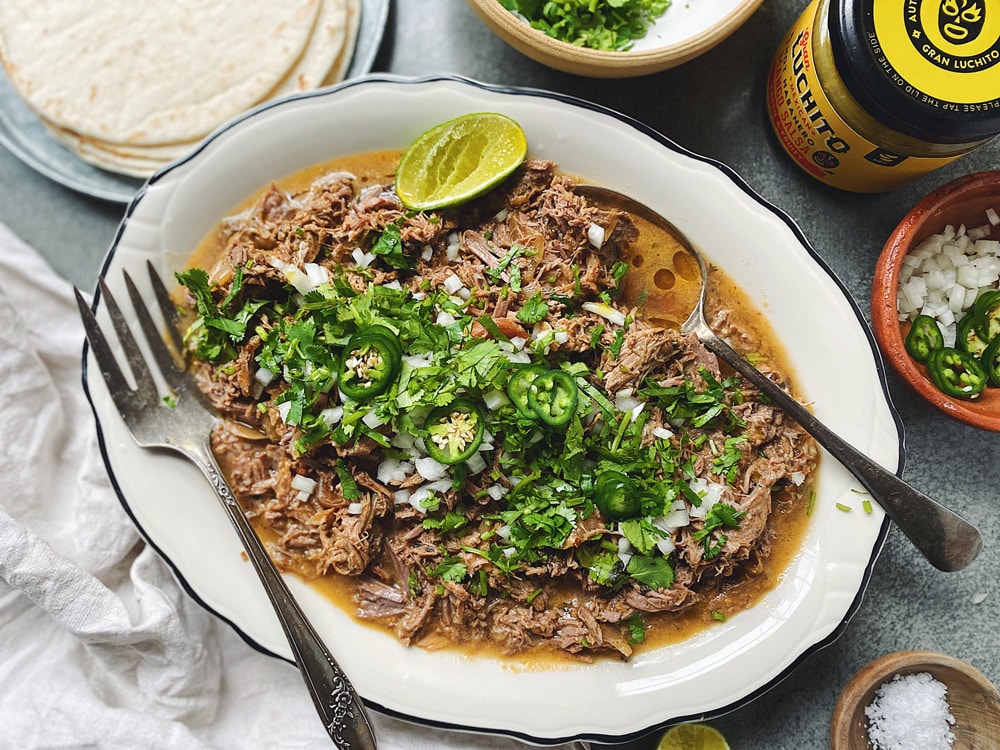 Our Slow Cooked Leg of Lamb is another treat for the family. This one is a gorgeous take on a classic dish, with our Chipotle Paste in the starring role! It's just added into the slow cooker with all of the other ingredients, and couldn't be easier. Just wait for it to do it's magic!
Enchiladas are an authentic Mexican classic, and these Slow Cooked Chicken Enchiladas therefore had to have a mention. Create them in a big baking dish, and present to the family with a bottle of red on Friday night! Everyone will love them and be asking for Mexican forever more.
To finish off our Slow Cooker Mexican Recipes we thought we'd bring you this delicious side dish as a treat! Pair it with any of the recipes above or many other main dishes for a warming, hearty meal, full of goodness.
We hope you have enjoyed this blog on our Slow Cooker Mexican Recipes, for delicious and authentic Mexican food made by you. Happy cooking from the team here at Gran Luchito!
For other similar blogs please check out