Potato & Chorizo Tacos
Chorizo & Potato Tacos are delicious and popular Mexican street food dish. The chorizo infuses the crispy potatoes with its signature spicy flavour making for an irresistible and hearty taco. This is a great dish to try when you're low on supplies as it can be whipped up using store cupboard essentials.
We recommend serving these Chorizo & Potato Tacos with a side of Mexican Corn or some Chipotle Beef Nachos for a more indulgent pairing.
If you love chorizo, you should try our Chorizo Sandwich and Huevos Rancheros recipes.
We would love to hear what you think of this recipe, be sure to leave a review after you've tried it! Scroll to the bottom of the recipe to find the comments section.
Prep time

Cook time

Total time

Ideal for

Snacks

Make it

Mexican

Serves

4
Nutrition: Per serving
kcal 157
fat 7.5g
saturates 2.8g
carbs 15.1g
sugars 2.2g
fibre 1.1g
protein 7.1g
salt 1.1g
How to make it
Add some water to a saucepan and bring to the boil.
Meanwhile, cut the potatoes into small 1 ½ cm / ½ inch chunks (you can leave the skin on).
When boiling, add 2 teaspoons of salt and carefully add the potatoes to the water. Cook for about 10 minutes or until tender.
Drain the potatoes and leave until they stop steaming. This will ensure they're dry and allow them to crisp up.
Heat a large frying pan over a medium / high heat. When hot, add a good lug of vegetable oil. When shimmering, add the potatoes, stir so they are all covered in oil and cook until crispy. You may need to do this in 2 / 3 batches so as not to crowd the pan (if doing this you'll need to add more oil for each batch).
Once crispy, set aside in a bowl and add the Gran Luchito Smoky Chipotle Fajita & Taco Mix and toss to coat.
Add the chorizo and sliced onion (not spring onion yet) to the pan. Cook for around 10 minutes, stirring regularly. When the chorizo is nice and crispy and the onions have softened, turn off the heat then add the green parts of the spring onions to warm through and wilt slightly.
Warm the tortillas in the microwave or oven. You can use the naked flame from the hob to carefully char them a little if you like.
Spoon a little potato & chorizo onto a tortilla and top with Gran Luchito Tomatillo Salsa, the white parts of the spring onions, some roughly chopped coriander and a sprinkle of cheese.
Serve with lime wedges.
Download Our Free Guide To Tacos
Your free Taco guide will be emailed to you immediately.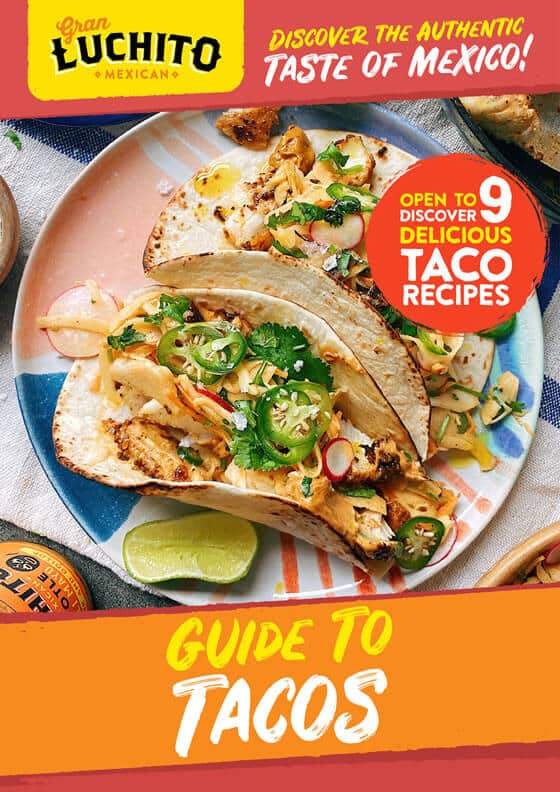 Similar Recipes You Might Like to Try
Comments / Questions / Tips

Subscribe now for a free copy of the Gran Luchito e-cookbook filled with delicious, authentic Mexican recipes and join our mailing list for all the latest recipes, news and blog updates.