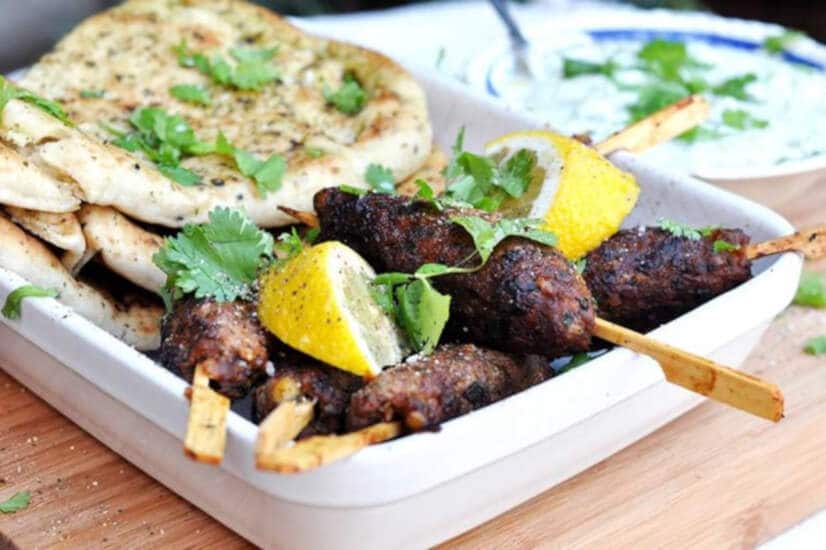 Spicy Lamb Koftas
Home | Recipes | BBQ | Family Favourites
It seems that many countries have their own take on lamb koftas, so why not Mexico?
For these spicy lamb koftas, we mixed in a healthy spoonful of our chipotle paste, crunchy pine nuts and fresh coriander.
We've served it with naan breads and a yogurt dip to make it a little fusion dish, but there's no reason why you couldn't wrap it in tortillas and serve with guacamole to keep it more Mexican!
If you're looking for lamb recipes be sure to look at either our slow cooked leg of lamb or our pulled lamb flatbreads.
Prep time

1 hour 30 mins

Cook time

10 mins

Total time

1 hour 40 mins

Ideal for

Dinner

Make it

Mexican

Serves

5
How to make it
Use a food processor to reduce the onion to a paste.
Toast the pine nuts in a dry frying pan, tossing the pan for a few seconds and being careful not to burn them. Chop roughly.
Put the onion and pine nuts in a mixing bowl and add the lamb mince, chipotle chilli paste, mint, coriander and a good pinch of salt and pepper. Using your hands, mix well until everything is combined.
Shape into long sausages and push onto soaked wooden skewers. Leave in the fridge for an hour.
Brush each kofta in a little olive oil and place on a hot barbecue or grill. Start them off quite hot or 5 minutes or so to give them some colour, then move to a cooler spot on the barbecue to finish cooking through. Cut one open to check if it's cooked to your liking.
Wrap in foil and leave to rest for 5 minutes before serving.
FOR THE REST
Mix the yogurt with the mint and cucumber to make the dip.
Serve with warm flatbreads and wedges of lemon to squeeze over the kebabs.
Have you tried these recipes?