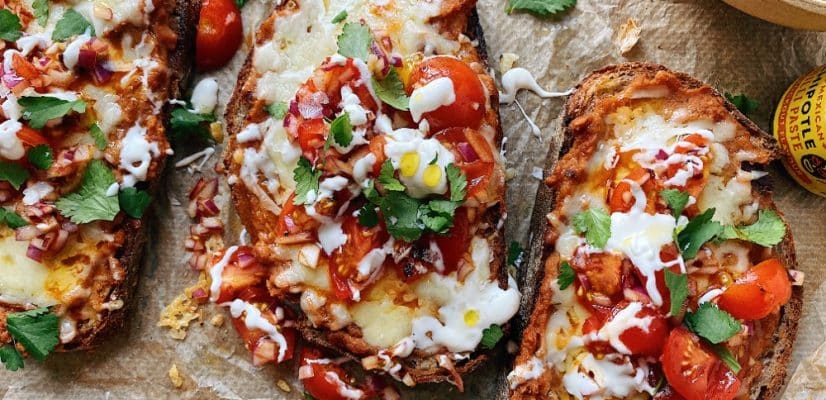 Mexican Molletes with Refried Beans
If you have never tried a molletes recipe before we want to show you how to make this amazing Mexican toastie in the comfort of your own home and with a little help from Gran Luchito Chipotle Refried Beans.
Molletes Mexicanos mainly consist of crusty bread topped with refried beans and grated cheese. They are then placed under the grill or in the oven until the cheese melts and is lovely and gooey, normally served with a simple fresh salsa such as pico de gallo.
We love molletes because they're a full and nutritious meal for your family that also happens to be super easy to make. It's like the Mexican version of beans on toast.
We hope you'll fall in love with them too and by using our Gran Luchito Chipotle Refried Beans you can put this together in no time for a quick breakfast, lunch or snack.
Prep time

10 mins

Cook time

10 mins

Total time

20 mins

Ideal for

Lunch

Make it

Mexican

Serves

3
How to make it
Preheat your oven to 200°C / 390°F.
Place the Gran Luchito Chipotle Refried Beans into a small saucepan and add a splash of water, cover them with a lid and warm them up over a low heat.
Cut thick slices of sourdough bread and spread the butter on top.
Place your buttered slices over a lined baking tray and add a spoonful of warm refried beans on top, spread them over with the back of a spoon or a palette knife.
Add the grated cheese on top and place your tray in the oven for 10 minutes.
In the meantime prepare a quick fresh salsa by cutting your cherry tomatoes into quarters and finely dicing the red onion. Place them into a small bowl and add the Gran Luchito Chipotle Paste, lime juice, extra virgin olive oil, a pinch of salt and freshly ground coarse pepper, mix everything with a spoon and set aside.
Remove your molletes from the oven and serve with the fresh salsa on top, a drizzle of creme fraiche, a pinch of salt and roughly chopped coriander, enjoy!
Download Our Free Guide To Mexican Breakfast
Your free guide will be emailed to you immediately.
For some Mexican side dishes that pair well with this molletes recipe, check out:
Similar Recipes You Might Like to Try
Please let us know what you think of this recipe