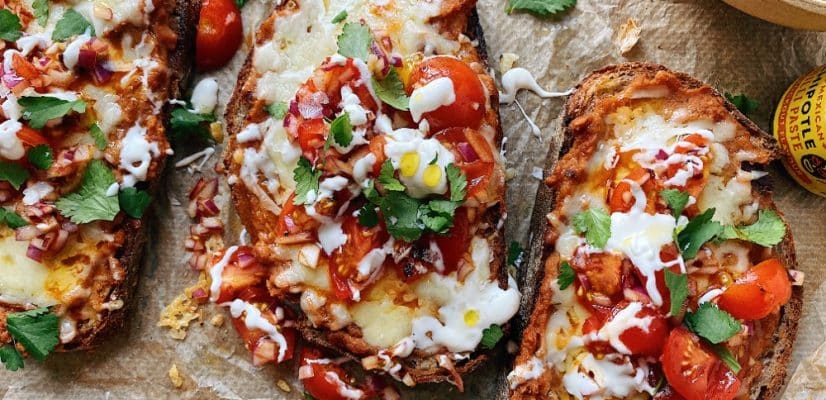 Molletes mexicanos con frijoles refritos
Si nunca has probado una receta de molletes, queremos enseñarte a preparar este delicioso antojito mexicano en la comodidad de tu casa y con un poco de ayuda de los frijoles refritos Gran Luchito Refried Beans.
Los molletes mexicanos consisten principalmente en pan crujiente cubierto con frijoles refritos y queso rallado. Luego se colocan bajo la plancha o en el horno hasta que el queso se derrita y quede delicioso, normalmente se sirven con una sencilla salsa fresca como el pico de gallo.
Nos encantan los molletes porque son una comida completa y nutritiva para tu familia que además es superfácil de hacer. Es como la versión mexicana de pan tostado con frijoles.
Esperamos que tú también te enamores de ellos y, al utilizar nuestros frijoles refritos Gran Luchito Refried Beans, podrás prepararlos en un santiamén para un desayuno, comida o merienda rápidos. ¿No sabes muy bien qué son los frijoles refritos? Echa un vistazo a nuestro blog Qué son los frijoles refritos.

---
---
Prep Tiempo

Cook Tiempo

Tiempo Total

Ideal para

Comida

Hazlo

Mexicana

Porciones

3
Nutrición: Por porción
kcal 193
Grasa 12g
Saturada 6.8g
carbs 14.4g
Azúcares 2.1g
Fibra 0.8g
Proteína 5.6g
Sal 0.77g
Cómo Hacerlos
Precalienta el horno a 200°C. Pon los frijoles refritos en una cacerola pequeña y añade un chorrito de agua. Cúbrelos con una tapa y caliéntalos a fuego lento hasta que empiecen a burbujear.

Corta rebanadas gruesas de pan de masa madre y úntalas con la mantequilla. Coloca las rebanadas untadas con mantequilla sobre una bandeja de horno forrada y añade una cucharada de frijoles refritos calientes por encima, luego espárcelos con el dorso de una cuchara.

Añade el queso rallado por encima y mete la bandeja en el horno durante 10 minutos, hasta que el queso se funda y el pan de masa madre quede bien tostado.

Mientras tanto, prepara un pico de gallo rápido añadiendo en un tazón pequeño los tomates cherry, la cebolla morada, la pasta de chipotle, el jugo de limón, el aceite de oliva virgen extra y una pizca de sal y pimienta. Mézclalo todo con una cuchara y resérvalo.

Cuando estén listos, saca los molletes del horno y sírvelos calientes con el pico de gallo fresco por encima. Añade una cucharada de crema fresca y el cilantro esparcido por encima, ¡buen provecho!
Con qué acompañar los molletes mexicanos
¡Sirve estos molletes mexicanos clásicos con estas guarniciones para el brunch más épico!
Descarga gratis nuestra Guía de desayunos mexicanos
Your free guide will be emailed to you immediately.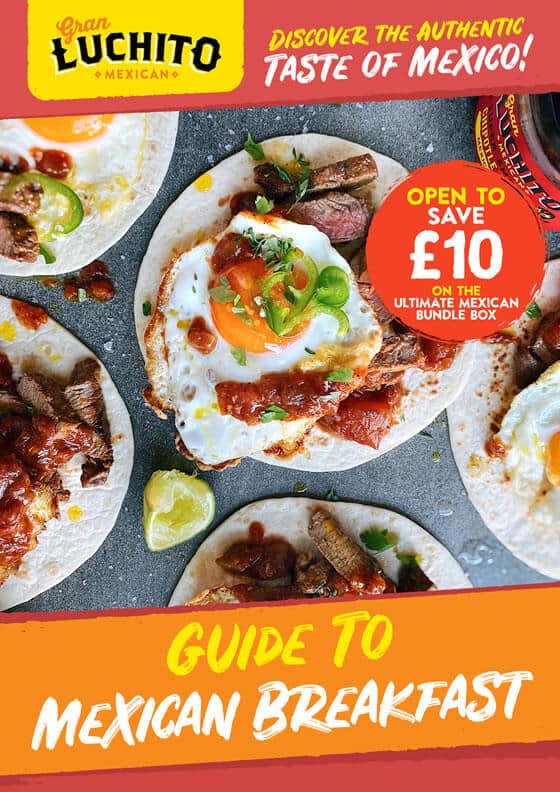 Recetas Similares
Comentarios / Preguntas / Tips