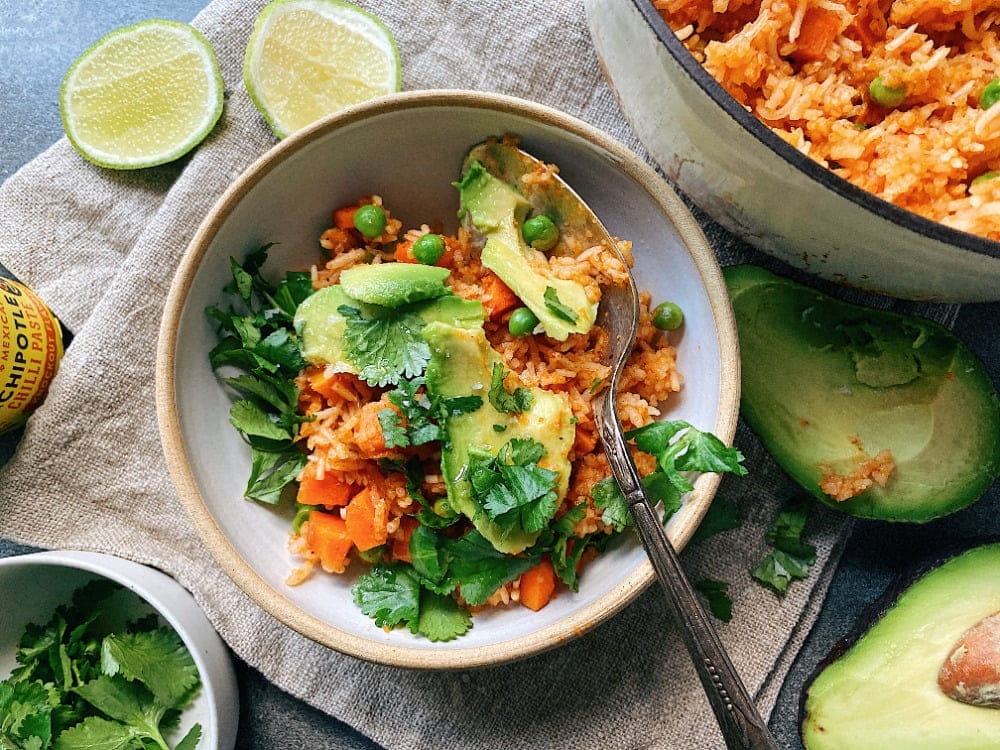 Mexican Chipotle Rice
Home | Recipes | Family Favourites | Mexican Classics | Quick & Easy | Sides & Salads | Vegan & Vegetarian
When it comes to Mexican food, apart from beans and tortillas, red rice is another staple that takes part in everyday meals. The beauty of Mexican rice is not only how delicious it is, but also how easy it is to prepare, and that it goes well with almost any meal. This makes it one of the most cooked Mexican side dishes.
Now rice is very easy to make but there are a few rules you have to always follow in order to get perfect rice, and that is:
Always wash your rice before cooking. Place it in a fine mesh sieve under the tap and wash until the water under it runs clear. This means you wash away some of the starch and it helps to avoid your rice from sticking and getting mushy whilst it's cooking.

Rice and cooking liquid ratio is always 1:2, so if you are cooking 1 cup of rice you make sure you cook your rice with 2 cups of water, stock or any liquid.

Never stir the rice while it is cooking otherwise it will become mushy, simply let it cook by adding the liquid, covering your pot with a lid and letting it simmer on a low heat until the liquid is absorbed and the rice is cooked through.
Now with that said, for this recipe there may be a slight variation as the amount of liquid you add might change depending on how big your roasted tomatoes are and how much roasted tomato puree you get. Bearing that in mind, you need to add the remaining liquid you need in order to achieve the 1:2 ratio. This can be in the form of chicken or vegetable stock. Here is our recipe!
Prep time

20 mins

Cook time

25 mins

Total time

45 mins

Ideal for

Lunch

Make it

Mexican

Serves

4
How to make it
Preheat your oven to 200°C/392°F.

Cut your tomatoes into quarters, peel the garlic clove, and cut the onion into big chunks. Place them into a small baking dish, add a drizzle of olive oil, and pinch of salt and pepper. Bake for 20 minutes.

In the meantime prepare 2 cups of basmati rice, and place it in a fine mesh sieve, wash under the kitchen tap with cold water until the water runs clear, then let it dry.

Once your vegetables are roasted, take them out of the oven and place them into the blender, add the Chipotle Paste and blend smooth. Measure the amount of puree you get, it should be about 1½ cups.

In a deep saucepan add a drizzle of olive oil and the diced carrots, and cook them for a minute or two.

Add the rice into your pot and the Chipotle tomato puree. Stir and pour in the remaining liquid about 2½ cups of chicken or vegetable stock, season with a pinch of salt and freshly ground pepper. Stir once to make sure the liquid is distributed evenly, and add a bay leaf and cover your pot with a lid. 

Simmer on a low heat for 20 minutes or so. Add the frozen peas 5 minutes before your rice is ready (without stirring), and cook until all the liquid is absorbed and you get lovely fluffy rice.
Have you tried these recipes?